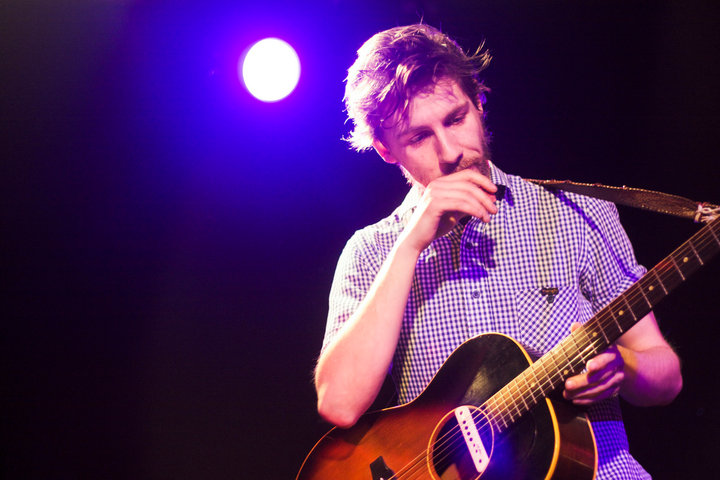 It's funny to see Dan Michaelson still referred to as 'former Absentee singer', especially now that the release of his third album sees his solo output surpass his former band's by 50%. But let's not dwell on the past. The good news is that Dan's new record Sudden Fiction is excellent; a stripped-down, melancholic late night countrified cracker. Although he's more solo on this album than ever before, he's more assured as a solo artist and is fast becoming a strong singular voice, carving out a clear place for himself in the messy world of music. And speaking of voice, the sparse arrangements on Sudden Fiction provide an even clearer platform for his gruff, ravaged vocals, which are as delightful as ever.
Dan's been featured on the blog a few times in the past, but the new record gives me another opportunity to fire a handful of questions his way. Like a true gent, he responded quickly.
1. The first and most obvious question is about the lack of Coastguards in the album title. The cast list's a bit shorter for this record – was this a natural result of producing a more stripped-down set?
The recording process for this record was much more direct than I'm used to. I engineered and produced it and recorded the vocals and guitar live together so there was really nothing in the way of me and what ended up as the song. No opportunity to edit or change anything afterwards. Although I asked some coastguards to come and add their unique parts to the songs, I felt that both the process of recording and where the songs came from were very singular. For that reason, it made sense for me to take responsibility for it by giving it my name.
2. You may have had your music classified as 'Americana' in the past, but this time it seems that you set out to make an Americana record. Tell us about the inspiration for the album – musical and otherwise.
The record was inspired partly by a trip I made to Texas last year. Though cliched, early mornings spent contemplating the vast, unpopulated and oddly romantic surroundings really stoked my coals and got me thumbing about what my next record might sound like.
3. How did you find the solo production of this record? Does working on your own suit you these days?
I liked working on my own for as long as I did. I wouldn't want it that way forever, but I felt like I wanted to remove the recording engineer for this album. Engineers and producers are like translators for your ideas and that's important but with this I wanted a direct communication of the sound, so I'll have to accept that not everyone will hear me right the first time.
4. I looked up 'sudden fiction' on the internet and got this definition from the reliable Wikipedia is a "a style of fictional literature or fiction of extreme brevity". A song seems like the perfect vehicle for this sort of fiction, but is this what you had in mind for the album?
Yes, I was reading a lot of short fiction at the time. People like Lydia Davis and Raymond Carver, and thinking about what they share with songwriting. Or what they can share. It's not a perfect coupling but it was a way of trying to learn something about directness in language. I have no idea if it was a success in that sense.
5. How are plans for the tour shaping up? Will it be a solo show this time, or will old bandmates creep back?
This first tour will be stripped back. Piano. Pedal steel, cello and me, then early next year I'll attempt to lure the missing Coastguards back with promises of unfathomable wealth and respect..
6. Since we're back in the albums of the year zone again, what have you been enjoying this year?
I almost threw the towel in when I heard King Creosote's collaboration with Jon Hopkins earlier this year. A record very close to perfect, I thought. Though I've only heard a handful of songs, I'm really looking forward to Keaton Henson's album whenever he's ready. Twin Sister seem to be fulfilling my (very limited) disco needs. Other than that, I'm looking forward to seeing Josh T Pearson play again.
Sudden Fiction is out now on Editions records. Buy from Rough Trade.
A couple of tracks from Sudden Fiction:
mp3: Dan Michaelson - Breaking Falls
BREAKING FALLS by DANMICHAELSON
Dan's done a video for 'Knots'
Dan Michaelson - Knots - Official Video from harry dwyer on Vimeo.
And before I go, a couple of covers by Dan. First a famous one:
COVER OF CANDY SAYS(VELVET UNDERGROUND) by DANMICHAELSON
mp3: Dan Michaelson - Candy Says
Then a less famous one:
mp3: Dan Michaelson - Give and Take (Broken Family Band cover)