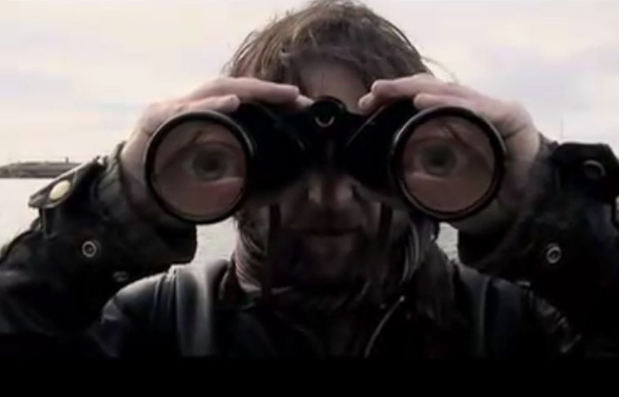 Last week, in a BBC 6 Music interview with King Creosote and Jon Hopkins about their Mercury-nominated album Diamond Mine, Kenny Anderson mentioned his songbook. Now there's a thought. I'm trying to imagine a songbook big enough to hold all the songs written by one of the most prolific songwriters of our time.
Even though I'm sure PJ Harvey deserves to win the Mercury for her hugely impressive Let England Shake, my heart's with KC and JH, mainly because I've loved Anderson's music for so long and it's great to see him getting some recognition for it. And it's heartening that his success has been achieved on his own terms, since he operates almost totally outside of the music industry and its way of doing things.
I know he's involved in the business, and even was signed briefly to a major label, but his way of working is refreshingly different. He's assembled a gang of like-minded people around him in the Fence Collective which has grown beyond a cottage industry and punches above its weight. It might seem presumptuous to expect the music world to come to them in their wee corner of Fife, but they do, and they do. Not least in their annual Homegame festival, which sells out in seconds each year.
Anderson isn't just physically remote from the music world, his way of working is different too. Not for him the painstaking process of perfecting a perfectly honed album every two years. He believes in just getting stuff out there. No-one really knows how many albums he's released, on CDR, on his own Fence Records, and on bigger labels like 679 and Domino, which is why the songbook might provide the only record of his myriad works.
One of the many pleasures of King Creosote's work is seeing how his songs develop over time. His self-released albums on Fence are often the breeding grounds for tunes that reappear later, on his higher-profile releases. So KC fans will have recognised Diamond Mine's 'Your Own Spell' as a track that appeared on 2003 Fence album Psalm Clerk, which is full of songs that turn up on later records.The track's here for your interest, but I'd strongly recommend buying the CD from Fence.
mp3: King Creosote - Your Own Spell
My favourite track on Diamond Mine is 'Bubble', which has apparently been around for a very long time. The first time I heard it was on last year's excellent Cold Seeds album, a collaboration of sorts which saw Matthew Song, By Toad recording King Creosote, Meursault and Animal Magic Tricks in his house. The version is different but equally breathtaking. Again, you need to get yourself a copy of the album, not just for the KC tracks, but the others too.
mp3: Cold Seeds - Bubble
Thankfully there are more King Creosote tracks with Jon Hopkins than the brief seven that appear on the album. There's a new EP - Honest Words - released on 19 September. On it there's another past classic, this one from the 2008 collaboration with Fence friend HMS Ginafore, which is sadly no longer available. Enjoy, and track the CD down if you can.
mp3: HMS Ginafore & King Creosote - Aurora Boring Alias
I could go on about the development of King Creosote tracks, but I don't want to end up boring you. I just want to encourage the casual KC listener. who maybe only knows Diamond Mine, to dig a little below the surface and discover the joys of the back catalogue. Unfortunately a lot of them are out of print, but the Fence website is your friend. If you can't buy what you're looking for, someone on the forum might know.
So a week on Tuesday, I'll be quietly cheering on King Creosote and his songbook, He'll never win, but being there is still a victory of sorts. Recognition for a unique, brilliant artist who doesn't play by the normal rules. His Queen Elizabeth Hall gig on 9 September is already sold out. It may not be Glastonbury Pyramid Stage, but it's a start.