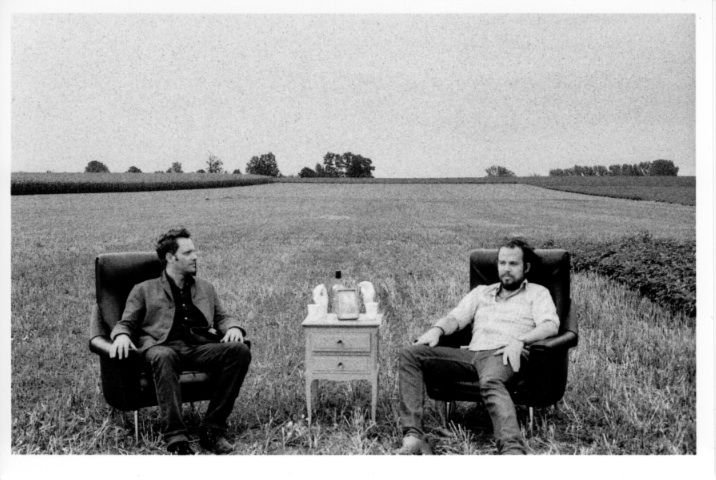 A Winged Victory For The Sullen is the new project combining the talents of Stars Of The Lid founder Adam Wiltzie and LA-based composer Dustin O'Halloran. It seems to bring together what they're both best at, and form something greater than the sum of their parts. So there's definite traces of SOTL's ambient guitar-washed drone, and though I'm not familiar with O'Halloran's material, it seems that the carefully stroked piano and perfectly judged strings is what he brings to the table.
The collaboration originated at a meeting of the two men in Bologna back in 2001 when Wiltzie was playing with Sparklehorse on their last European tour, and their recording and mixing adventures since have taken in a church and former DDR radio studios in Berlin and a 17th century villa near Ferrara, Italy.
The results are quietly stunning. This is a record that reflects the large acoustic spaces they sought for the recording, where everything sounds like it's been very carefully thought about and every long note lasts exactly as long as it should. Sure, it's minimalist and with song titles like 'We Played Some Open Chords and Rejoiced, For The Earth Had Circled The Sun Yet Another Year', it's not going to be the album of choice for yer regular Tesco CD buyer. But it would be a great shame if it was unthinkingly passed over as being too 'difficult'. It's not; it's a very accessible record, but the key is to treat it with respect. In other words, don't have it as background music. Listen to it properly, and you'll be gently awestruck. Lovely stuff.
Your audio and visual sampler comes courtesy of two of the album tracks, the first below being created in memory of the untimely passing of Mark Linkous, The video shows the final string quartet recording sessions in the DDR radio studios last August.
A Winged Victory For The Sullen is set for release via Erased Tapes on the 12 September in the UK. Pre-order from Rough Trade.
A Winged Victory For The Sullen - Requiem For The Static King Part One by erasedtapes
mp3: A Winged Victory for the Sullen - Steep Hills of Vicodin Tears
A Winged Victory For The Sullen – Steep Hills Of Vicodin Tears by erasedtapes