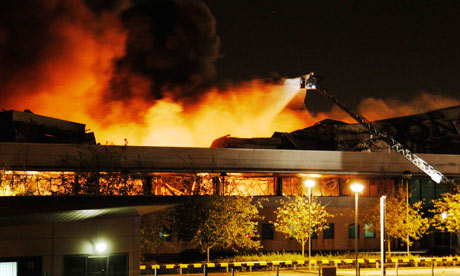 So I had been planning my return to blogging after my holiday on Monday when London went mad. For most of the past couple of days, my latest witterings about my musical likes have seemed irrelevant. And yesterday's music news has only been about one thing - the fire at the Sony warehouse in Enfield which saw the stock of PIAS, the biggest distributor of independent record labels in the UK, go up in flames. A terrible day for British indie music for sure, but I've been heartened by the amazing responses of support on Twitter and across the internet. The main thing that's emerged naturally is massive encouragement to everyone to buy digital albums from the labels affected (which are loads). You'll have read all about this already so this post is fairly irrelevant, but I couldn't write about anything else before mentioning this.
The music in this post is relevant though, not just because Emmy the Great is one of the many awesome people who were out on the streets of London yestarday helping to clear up the mess, but because when she played this song on Marc Riley's show last night, it was dedicated to her own community in West London and the indie music community in general, both of whom had sorrows to seek as a result of the riots.
mp3: Emmy the Great - Baby I Love You (live on BBC 6 Music)
Along with anyone else, I'm encouraging anyone who hasn't already, to download an album from the labels on this list. The Quietus has some recommendations. Support indie labels.