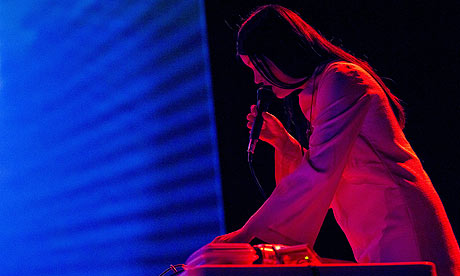 Lunchtime Twitter today brought a real shock. Rife tweets about the death of Broadcast singer Trish Keenan and althout it was still unconfirmed, what little hope there was of it not being true was quashed early afternoon with the announcement on the Warp website, the grim confirmation that nobody wanted to hear.
It is with great sadness we announce that Trish Keenan from Broadcast passed away at 9am this morning in hospital. She died from complications with pneumonia after battling the illness for two weeks in intensive care.
She was only 42. It's so sad. I only ever saw Broadcast twice, and both times are long enough ago for my memories not to be the clearest, but I do recall a unique band, with a distinctive sound and presenation. Listening to their albums today, like no doubt many others have too, that's definitely true. She'll be missed for sure, but she'll definitely not be forgotten.
Thoughts to her friends and family just now.
mp3: Broadcast - America's Boy
Buy Broadcast music from Bleep.