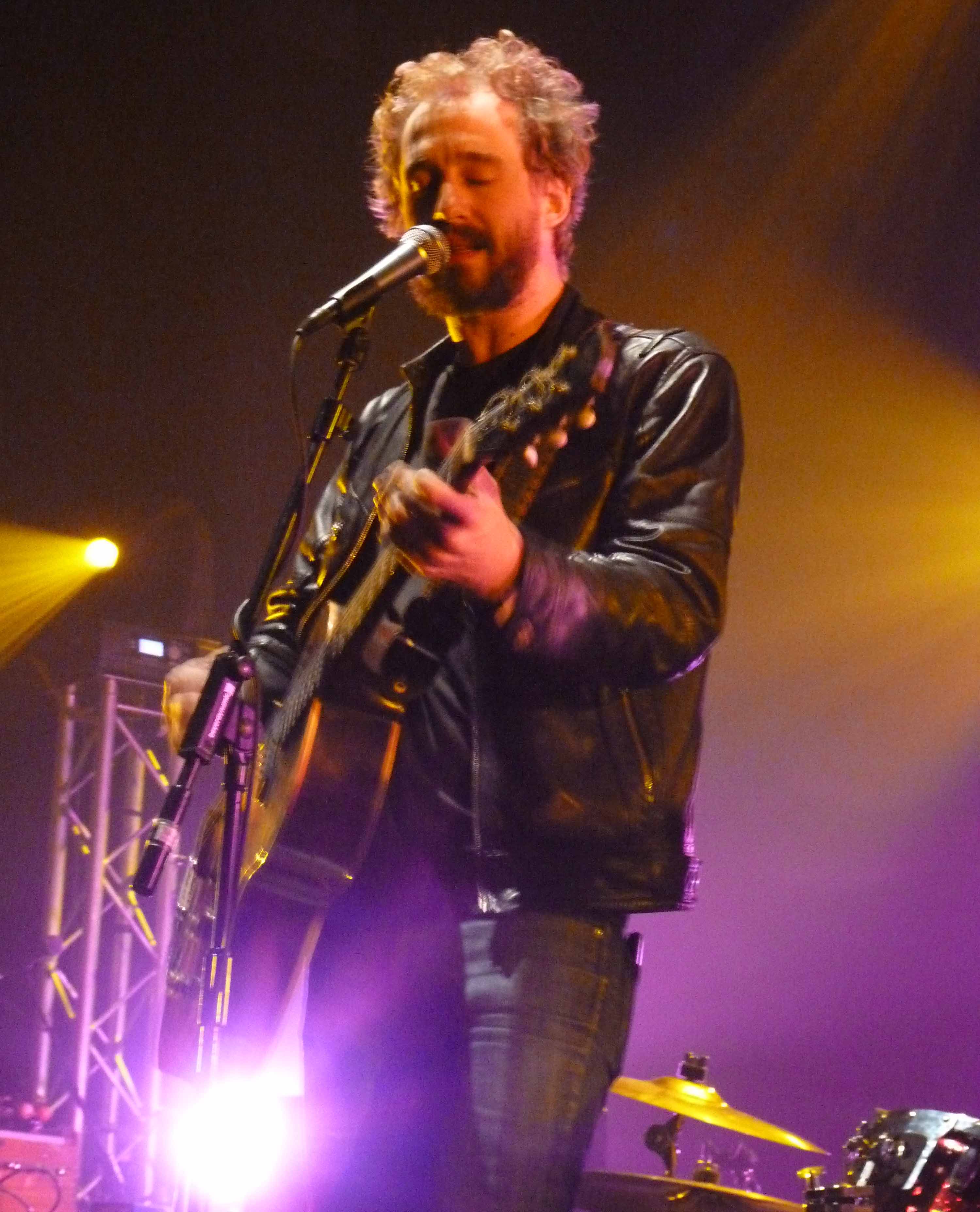 It's been a good twelve months for Phosphorescent. As the end of year polls came flooding in towards the end of 2010, a whole load of praise was heaped on Here's to Taking it Easy (No.25 in the TLOBF 2010 list, No. 5 in the Rough Trade Shops list). In the eight months since it was released in May, it's become a firm favourite with critics and fans alike. Matthew Houck is naturally happy about this "I feel great about that. I worked hard on it" he says and agrees that it's good to get the recognition.
Looking the very picture of laidback cool only an hour before he and his band take to the stage at Brixton Academy in support of The National, he's excited about the show, but also very keen to get home. One of the drawbacks of having a successful year is that touring begins to take a toll. "We've been out eight months this year; eight months we've been away from home" he says, not obviously sounding like it's a great hardship, so does he like life on the road? "I used to like it a bit more than now. Now I cherish the ability to be at home. I'm looking forward to slowing down. We're going home in a week, I can't wait for that."
Phosphorescent are now performing to some of the biggest indoor crowds they've played all year and are certainly benefiting from The National's massive rise in popularity. The tour is going well, and Phosphorescent are impressing the National's fans. Matthew and the band have already played large venues this year in support of a rather less obvious fan – David Gray. The bobbing-headed singer songwriter may be much derided over here, but Houck is relaxed about the lack of cool factor. He's happy that Gray's a fan of his music. His love of the previous Phosphorescent album Pride led Gray to email, asking them out on the road. Matthew was happy to accept and by his account it was all good. "People like music" he diplomatically suggests.
The first time I saw Phosphorescent play it was in support of Akron/Family at Cargo three years ago. That evening Houck ended his solo set with a intense version of a song called 'The Party's Over', which I later discovered was a Willie Nelson song. It was the first indication I had of his love for Nelson's music, but I wouldn't have expected a whole album of Willie covers to follow a year or so later. So how did To Willie come about? "It was kind of organic", Matthew offers "basically all the songs on that record were favourites of mine for a long time, and I'd play them all now and again at my shows. When I saw the record [Nelson] put out called To Lefty from Willie, a light bulb went on and I thought 'To Willie'! The idea came just like that". It was easy choosing which songs too "There wasn't a selection process. Once I knew I was going to do that record I knew what the eleven songs were." Has Willie Nelson heard it though? "Yeah" Matthew smiles "a few months after it came out, Willie called my cellphone out of nowhere" and gave him the thumbs up. "It was a total honour."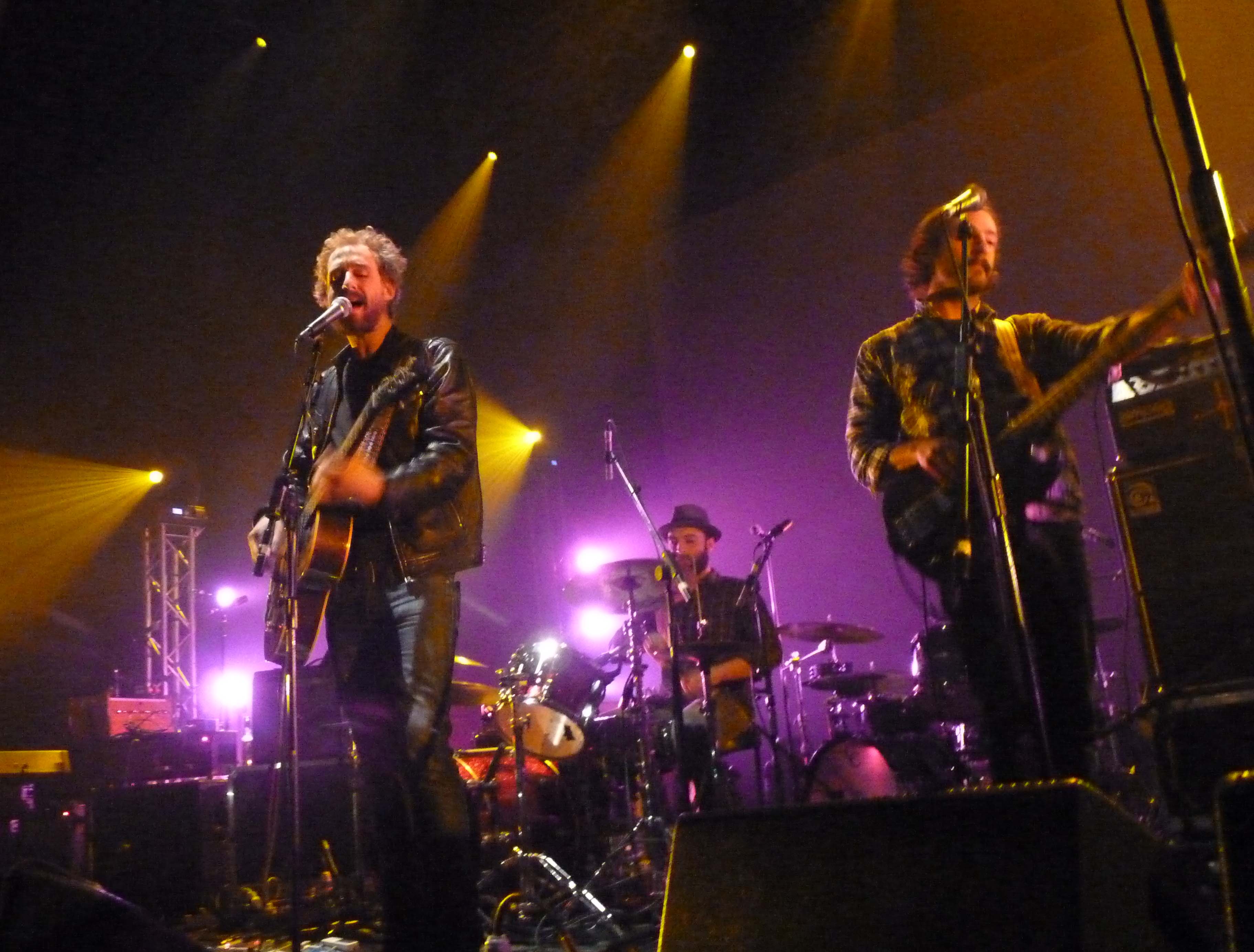 Given that Here's To Taking It Easy continues in a similar countryfied vein, the obvious question is how much did To Willie influence what happened next. Houck reflects "It influenced it a little bit. The band is the same, so there's a natural progression. The song 'Heaven Sitting Down' sounds like a Willie Nelson song, because I wrote it during the recording of To Willie – it just crept in there. I think that there's been a little bit of a miscalculation in the press – the main thing that they picked up is that these records are different from what I did before, and I guess that Pride was the first record that most people heard. I'm aware that I put out two records that are country-ish but I think that the next record is going to veer away from all that. Phosphorescent is an album by album project. I like to find a vibe and spread it across the record."
He's right about the response to the nature of the past two albums. Certainly, there's a shift in tone from the woozy late night reveries of Pride to the laidback country rockin' of To Willie and Here's To Taking it Easy.  But the interesting thing about Phosphorescent is the consistency throughout his recorded output. Onstage at End of the Road festival in September ("definitely the best festival we played this year") the songs from Pride seemed perfectly comfortable dressed up in cowboy hat and spurs. And if anyone baulked at the horns when they first heard 'It's Hard to be Humble' earlier in the year, they only had to look back to the 2004 album The Weight of Flight to hear more of those. The same record also has a cover of 'My Heroes Have Always Been Cowboys', another Willie Nelson song. Phosphorescent is constantly evolving, but there's a consistent thread running throughout. His songs evolve over time too "some of them drastically" he adds.
Phosphorescent is now a five-piece band, but it's not always been so. Most of the earlier material was Houck on his own, writing, recording and performing. How did he make the move from being a solo artist to what's happening now? "It happened really organically. There's always been a strict division between the albums and live shows for Phosphorescent and I think that will be changing. A lot of the records I overdubbed myself and I don't think that would be interesting live. I have the records in one world, and live shows in another. I enjoy having the celebration"
"I got the current band together for To Willie. Scott and Jesse and Jeffrey had been in and out of my band and on various tours but never totally worked out. But we started going after Pride and we gelled over a period of time. So when realised I was going to make To Willie, I knew I would do it with them. They're amazing musicians." This is all undoubtedly true, but can he see himself going back to solo performing again? "Yeah. You can only do one thing at a time, but yeah, I think I could." Despite his uncertainty about that, Houck's point about the difference between live and studio Phosphorescent is underlined by the fact that each album is worked out by Matthew alone, before drawing on the expertise of the wider band; "The writing and recording process is usually starts as a solo thing. It can take a long time and it's a solitary endeavour, but then if I need a guitar part played out, I know I've got one of the best guitarists around that I can go to for that"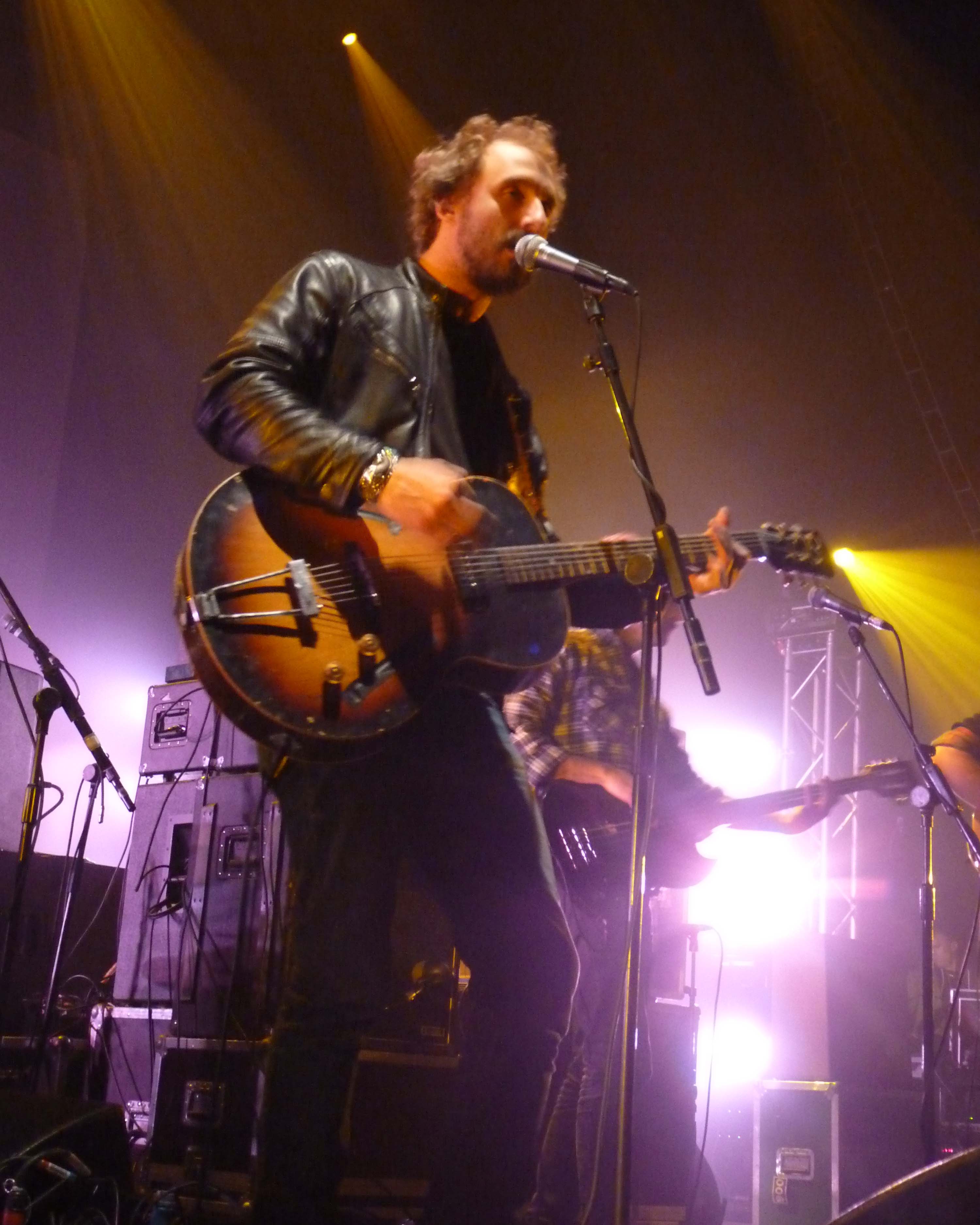 Matthew's already mentioned a possible new direction on his next album, so has he started working on it yet? "I've done a little bit of recording but it's mostly been just writing." Given that he's spent so much time on the road this past year, has he been writing whilst on tour? He shakes his head "I can't write on the road. You can write snippets of stuff, but there's just so much happening you need moments to gather your thoughts. I've got at least two records I want to make. Different records. I can't wait to get back into the studio and get to work. I'm ready. If it was up to me, I'd like to make them real fast and get them out there."
I ask what he's listening to at the moment, perhaps to get an idea of where he might go next. The answer is a little surprising "I've been listening to a lot of hip hop and R'n'B. and also a lot of electronic stuff; more textured weird stuff. On tour we're all listening to a lot of hip hop." He doesn't seem to be bullshitting either, because later in the band's dressing room, hip-hop beats are indeed blasting out of a computer.
Finally, after the now-legendary tour bus theft incident in Brooklyn in July, I can't resist asking how secure the tour van is these days. "Very secure" he laughs. It's still incredible that the van was found intact later with nothing stolen. It must have been unbelievable to get all the stuff back. "Everything was still there. It was amazing" he recalls "it was the craziest rollercoaster of four days."
And with that I leave him to get ready for the show. Onstage an hour or so later, once their set gets going, it becomes clear that Phosphorescent are already moving on. If the aforementioned End of the Road set was very in the Willie Nelson vein, this one is much more Neil Young. Not the Young of Harvest, but the searing guitars of Weld. It's an awesome performance, Phosphorescent turned up to 11, which proves, as if it was needed, that wherever Houck goes next, whether it be country, hip-hop, guitar noise or experimental electronica, it's going to be interesting and exciting. But expect there to be something reassuringly familiar about it as well.
mp3: Phosphorescent - The Mermaid Parade
mp3: Phosphorescent - My Heroes Have Always Been Cowboys
Here's to Taking it Easy is out now on Dead Oceans. Buy from Rough Trade (with bonus live CD).
This interview also appears at The Line of Best Fit.