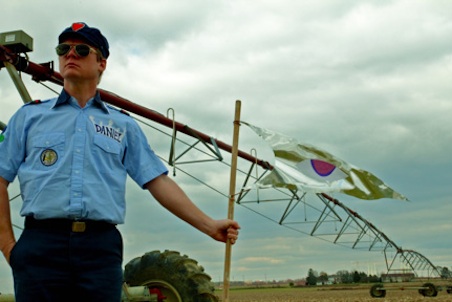 The other old favourite that I'm hugely looking forward to seeing return this year is Danielson. Towards the end of last year, news came out about Daniel Smith's new album The Best of Gloucester County; last week brought the exciting unveiling of the first available track from the record.
The song 'Grow Up' continues pretty much from where Ships left off in 2006, with all the trademark Danielson features happily present. If you're a fan, you'll know what to expect. If you haven't heard them, just bear with the voice, and you may well grow to love them. These days Danielson are a less abrasive prospect, but that doesn't mean that they've gone all slick and had all the wonderful idiosyncrasies ironed out. But in turn, that doesn't mean that it's lo-fi either. According to the press release, the album promises thoroughly arranged tracks, an extra electric guitar player and a "rhythm section [which] sounds more like a rock and roll rhythm section than ever before".
There have been personal changes too. It's less of an actual 'Familie' these days with the departure of Daniel's two brothers Andrew and David and others. But it's still a happy extended family and Gloucester County sees a new line-up which unsurprisingly includes his good pal Sufjan Stevens on banjo. So new year, new Danielson, new album. Can't wait. Oh, and PLEASE come over and play in the UK again.
mp3: Danielson - Grow Up
The Best of Gloucester County is out on 14 March on Fire Records. Pre-order from the label's website.