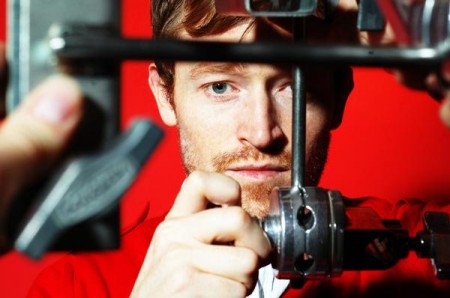 James Mathé has already been on here recently with a song of the week - a demo of the excellent 'The Load' off his latest EP. Given that he's been a big Daily Growl favourite under his former guide Barbarossa, I was obviously interested in asking him a few questions about the change in name, what he's been up to and what's coming up next year. So I did and James took the time to give me some good answers, as well as his end-of-year picks.
What prompted the move away from the Barbarossa name?
I basically felt like I wanted to mark a new chapter for my music. I am so proud of what I achieved with Barbarossa and I have tried to incorporate some of what I did in Barbarossa into what I am doing now, like the intimacy and heart.  I felt Barbarossa was getting only part of what I am musically out there, but there was a lot more genres that I love that I felt I wanted to explore, and I wanted to keep Barbarossa more organic. I also didn't want to hide behind anything with this new stuff, a new start with no limitations in genre, just songs that I can embellish in any way.
Since Chemical Campfires, you've put out the limited edition Pallyacho Tapes EP, but what else have you been up to?
Other than finishing off the record, I have been playing keyboards and doing harmonies for Johnny Flynn. I have also done some music for a short film, called 'No More Loneliness' which I really enjoyed and plan to do more in the future. I did some writing for other artists too recently, I wrote a track with Cocknbullkid which I thought was pretty good. I have also been putting the live thing together, I found 2 amazing musicians, Ben Brown (beats) and Tommy Hinkley (bass/guitar). It has evolved over the last year into something I am hugely proud of and excited about. We have supported Johnny Flynn a fair bit, and it has gone down really well. I do it with a few old Casiotone keyboards and an Omnichord, with Ben on live kit and Roland spds sampler and Tom on live bass and guitar.

I know you've been playing with Johnny Flynn- How's that been going this year?
I really enjoy playing with Johnny, not only is he a great friend but I think his songs are some of the best written by any artist in the UK right now, he is the 'real deal'. We have such a great time on tour, all the band have such unique personalities, real characters, but there is a huge respect between all of us and we get on really well, which is crucial when touring! I have also learned a lot from being in his band, like how important it is to get the right personalities together in a band rather than the best players, of course they need to be able to play the parts, but you can't underestimate how important it is to have the right mix of people around you in order for everyone to feel supported and free to create. It is also helpful to be in a band and not be the leader; it makes me very aware when I am playing with my band members, to be considerate to them like Johnny is with us.
Why release an EP of demos? Why not wait for the 'real thing'?
I always feel demos have something special about them, a charm and a freshness  because it is new and exciting. When I writing these songs as soon as I had the basic melody and lyrics I got straight on my laptop and would demo them quite quickly, I would just keep laying down loads of ideas, both  in terms of production and melody. I just wanted people to hear the songs in this form, I am really proud of them and have used a lot of what is on the demos for the main recordings.
For those of us who know and love 'Chemical Campfires', what changes can we expect on the new album?
The main change is no acoustic guitar, I have basically replaced it with Casiotone keyboards, Wurlitzer, Rhodes and an Omnichord.  The hip hop beats are still there and the touches of electronica. It is slightly more hi-fi than chemical campfires too, although I was keen for it to have an analogue feel to it .
What else do we need to know about it?
The record has basically happened in 2 stages, I went in with Christian and Nicky Madden from the Earlies and recorded most of the tracks totally live, using all Christian's amazing old synths etc. I then took the stems in with a guy called Andy Chatterley who has had years of experience making dance music, but has also recently worked with some pretty high profile pop acts like Kanye West and Kylie. He has an amazing sense of turning a song into a real sonic experience without losing the punch of the hooks. We have had a lot of fun making this record but it has been a long process. The working title at the moment is 'Care Cracks', which is one of the tracks off the record.
Since it's the end of the year, give us your best of lists
Albums of the year:
Junip – Fields
LCD Soundsystem –This is Happening
Neon Indian – Psychic Chasms
Glasser – Ring
Zola Jesus – Stridulum II
Caribou – Swim
Local Natives – Gorilla Manor
Sufjan Stevens – Age of Adz
Johnny Flynn – Been Listening
Ra Ra Riot – The Orchard
Gigs of the year:
LCD Soundsystem and Hot Chip at Alexandra Palace
Lykke Li at Heaven
Anna Calvi (toured with Johnny in Feb)
Songs of the year:
Empire Ants – Gorillaz
Amazon Love – Johnny Flynn
All I Want – LCD Soundsystem
Odessa – Caribou
The Shape we Made – Peggy Sue
Sleep Paralyst – Neon Indian
Too Much – Sufjan Stevens
Collector – Here We Go Magic
You should know better – Robyn and Snoop Dog
Tightrope-Janelle Monae
mp3:James Mathé - Pallyacho (demo)
The Bedrume Cassettes EP is out now. Buy from Rough Trade.