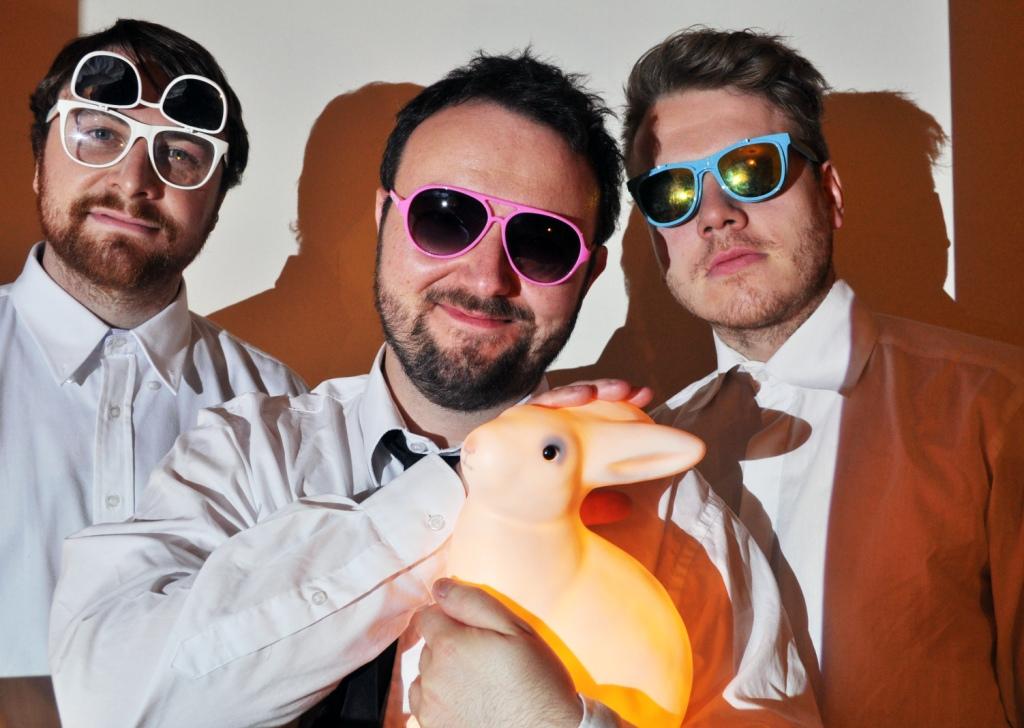 Belfast's self-proclaimed party band Not Squares has just released its first album. I've not seen them live, but by all accounts their boast is not an idle one. Certainly the recorded version kicks hard. Its release has been perfectly timed to coincide with the coldest weather for ages. Now people across the land will be that little bit warmer after leaping around their rooms to the chunky beats and electronic goodness coming from their speakers. Things have got so energetic that I'm sitting at my desk tapping my feet furiously. Crazy. I stopped momentarily to pop the trio some questions.
I hear that Not Squares formed after drunken conversation held in a dark alleyway about how Belfast needs a party-band. Has your city got that party band now? And is Belfast a better place as a result?
After word of the formation of NS got out, an all-party conference was immediately called in a local club. Drafted in to DJ, we rode the fader, supplying tunes to ease tempers and excite resolution. In the end, the euphoric afro disco of Tony Allen had politicians of all persuasions chanting in unison, 'Progress is what we're looking for, Progress, Progress, Progress, Progress'. I'd say that was a pretty positive result.
Since then we have mostly been playing to groups of sweaty party people, who are increasingly au fait with our desire to dance the fuck out the place. All good Daddy O.
How is the Northern Ireland music scene these days anyway?
The Northern Ireland music scene is healthy. A lot of new band are emerging that are full of a confidence that was all too lacking for many years. We have always maintained that there has been an interesting scene in NI for years – particularly in regards to dance and punk music. What has changed is that bands of many different genres are realising that they can make records and organize tours without waiting around for someone to say that it is OK. This has been helped my an amazing sense of camaraderie and an effort by more experienced bands to always 'look back' to NI.
London gig crowds are notorious for not moving much. How do you take the 'impress me' looks off people's faces and get them to dance?
Buckfast and bassdrum.
How did you manage to bring the sounds of the party to a small plastic disc?
We always approach playing live quite intuitively. If we are having a great time doing it, we assume that other people may have a great time listening to it. Whilst this may have been a dangerous assumption if we were a improv jazz band, it seemed to work very well for Not Squares. We approached the album with a similar philosophy. We felt it was futile to try and somehow 'capture' the live performance and opted instead for experimenting (in the sense that it was new to us) with programming synth lines, routing them through our guitar pedals, and having fun with the vox. That said, the album would not have been possible without the help of Vinny (The Vinny Club/Adebisi Shank) who really managed to make it exactly what we wanted it to be. He had a lot to do with crafting the sounds and developing some of the programmed sections into exciting off-kilter dance songs.
How will you celebrate the release of your album?
We will celebrate with a launch gig in Belfast on November 27th in the basement of Queen's Student Union. A great no-wave dance band from Dublin shall being joining us along with the Deformative DJs, who run some of our favourite clubs here in Belfast. After that we are hitting the road for an Irish tour with Two Door Cinema Club, before hitting the UK with a string of dates throughout December.
What else is coming up for Not Squares?
The album comes out in Japan in December and we have begun planning to play some shows there in the Spring. We are also hoping to tour as widely as possible in the UK and Europe next year. In the meantime we have already begun writing for a new 12" single and are working on a couple of remixes. Exciting times.
How long before you appear on the Rice Krispies advert 'Great Squares of the World'?
How long is a stiece of pring?
mp3: Not Squares - Asylum (David Holmes Remix)