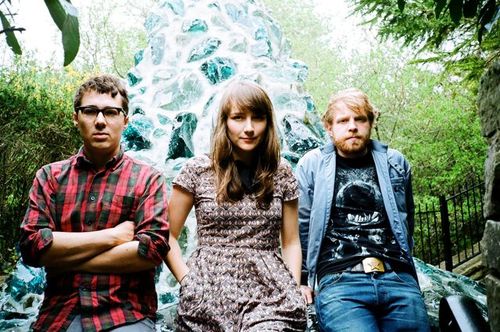 Here's the second Seven Songs with a Leeds-based band in a couple of days. Mind you, this one should have been here months ago, so apologies to Sky Larkin, particularly since they had the decency to all pitch in and give me seven songs each. Their second album Kaleide, released back in the summer, is a cracking little slab of perky noisy pop music, pretty much impossible to diskile. It's not a million miles away from their debut, but you can hear a band who are honing their craft; becoming better. Katie's guitar switches effortlessly from crisp to scuzzy. Doug's bass seems more propulsive and Nestor's further enhanching his reputation as a drumming powerhouse. Over to the band then, for their songs…
1. A song that's been in your head today
Katie: 'Lies' by Fleetwood Mac
Nestor: 'Neon' by The Knife
Doug: 'Over And Over Again (Lost And Found)' by Clap your Hands Say Yeah
2. A song that you can all agree is amazing
K: 'Minerva' by Deftones
N: 'Regular John' by Queens of the Stone Age
D: 'Africa Just Wants to Have Fun' by volcano!
3. The best song you've heard in the past week
K: 'Tithe' from the new Menomena record Mines
N: 'Audience No. 2′ from the new Autolux record entitled Transit Transit
D: 'Big Bird in a Small Cage' by Patrick Watson
4. A song that you think everybody should hear
K- 'Hit Schmooze For Me' by Napoleon IIIrd
N: 'Roses' by Harvey Milk
D: 'Anna' by Charles Spearin (From The Happiness Project). This song might need to be heard in the context of the album, which if you haven't heard you really ought to.
5. A song that you're enjoying playing live
K: 'Still Windmills'
N: 'Tiny Heist'
D: 'Still Windmills'
6. Tell us something about a song from your new album
K: I sing through a trumpet mute at the start of 'Landlocked'.
N: The drum loop on 'Smarts (Shh version)' is a heavily processed sample of me pranging the biggest marching drum I have ever seen. Much fun was had.
D: There are 5 keyboard layers on 'ATM'

7. A song from an album that you're enjoying just now
K: 'Consolation Prize' from I Can Wonder What You Did With Your Day By Julie Doiron.
N: A song called 'Sweet T' from an album called Thriller by a band called Part Chimp.
D: 'Coattails' by Low from The Curtain Hits the Cast
mp3: Sky Larkin - Spooktacular
Kaleide is out now. Buy from the Wichita shop for just a fiver!
The band's 'Year Dot' EP is streaming on Soundcloud now. Title track from the album, plus a cover of Heart's 'Barracuda' (seriously) and a bunch of remixes.