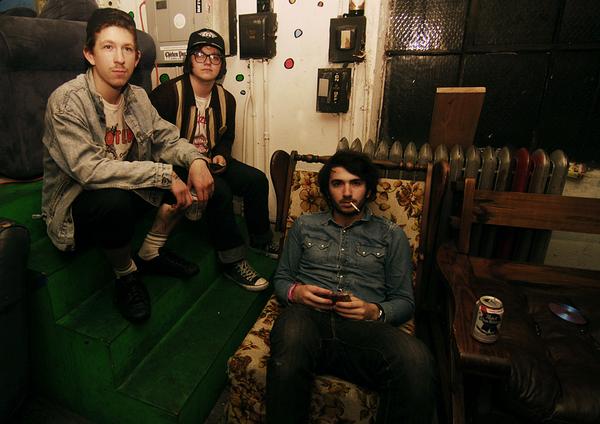 It's not long since Let's Wrestle were on here, but since they're awesome, here they are again. They are the late-night kebab of bands - low budget, a bit messy and quite possibly bad for you. But in the right place and time, just perfect; exactly what you want. Actually, forget that. They're perfect pretty much all the time, not just at 3am after a night of indulgence.  They've gone up even further in my estimation since I heard them on the radio saying that their new album is going to be called 'Trout Mask Wrestlica'. What more do you need to know? What their seven songs are? Oh, here you go…
1. A song that's been in your head today
I've mainly been working on songs so new Let's Wrestle ones really, the last one I remember having stuck in my head was Grandaddy's 'The Crystal Lake'
2. A song that you can all agree is amazing
'Velouria' by The Pixies, one of the best songs ever! others include 'Candy Says' by The Velvet Underground or 'Uncle Albert/Admiral Halsey' by Paul And Linda McCartney
3. A song that helped make Let's Wrestle the band it is today
'Keroscene' by Big Black mainly 'cos Steve Albini recorded our second album and honed our sound, but I was also listening to a lot of Big Black and other similar stuff at the time like Slint, Fugazi. Our record doesen't sound too much like that stuff but it sounds heavier.
4. The best song you've heard in the past week
'Right Side Of My Brain' by Veronica Falls - my favourite new band and good friends of ours
5. A song that you think everybody should hear
'Which Way Is Up' by Cause Co-Motion
6. Tell us something amusing about any track off your album
I am afraid I'm going to be very boring and say I can't think of anything amusing to say [that may be true for this question, but he's said a lot more about every track on In The Court of the Wrestling Let's here - it's worth a read]
7. Since the government are going to force the unemployed to work, 'My Schedule' will soon be a relic of the past - recommend us a song about hard work instead
'Gotta Get Up' by Harry Nilson
mp3: Let's Wrestle - We Are The Men You'll Grow To Love Soon
Let's Wrestle's re-released debut album In the Court of the Wrestling Lets is out now on Full Time Hobby. BUY! from the label's shop and get a bonus CD!