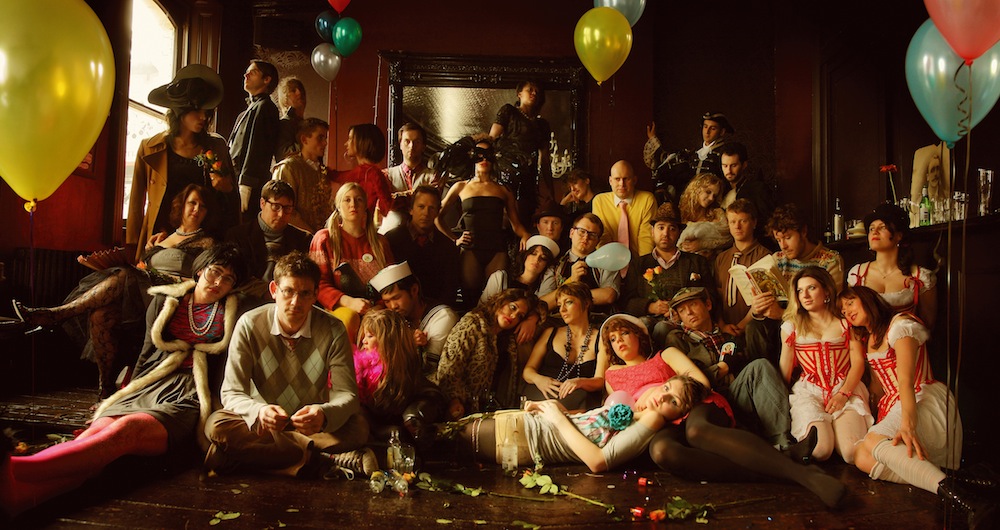 It's freezing outside, so here's something to warm you up, because it's pretty hard to listen to Bellowhead's big band folk and not try to shake a bit of leg. I did earlier, and though the results weren't pretty, I do feel warmer now. They may play songs that are centuries old, but these are no loose-knit beardy folkies, they're an 22-legged party machine. If they weren't, why would they call their album Hedonism, the inside cover of which features a picture of someone waving a bottle of gin while wearing a horse's head. These people know how to celebrate, and if their recorded album is this joyous, they must be fearsomely good live.
A couple of weeks ago, they stopped momentarily to answer my Seven questions, before getting back to what they're best at. I'm very grateful.
1. A song that's been in your head today
Orphan Girl by Crooked Still (from Crooked Still Live). I saw Crooked Still last week in Leeds, and it was definitely one of the top five gigs I have ever seen.
2. A song that you can all agree is amazing
I think this is impossible to answer. There are eleven of us with differing music tastes, but we all enjoyed singing along to Mavis Staples' version of 'The Weight' at Calgary Folk Festival last summer.
3. A song which helped Bellowhead become the band they are today
'London Town' from Burlesque. If Bellowhead all died in a freak accident, I think this might be the song we would be remembered for. It's become a bit of an anthem for us.
4. The best song you've heard in the past week
Since playing Later… With Jools on Tuesday I have been hooked on 'Radioactive' by Kings of Leon. It was phenomenal to be in the same studio as them as I have only ever seen them from a distance, in a field of 80,000 people!
5. A song that you think everybody should hear
'When You Walk In The Room' by Fyfe Dangerfield from Fly Yellow Moon. This is opening track from Fyfe's debut solo album. It's the perfect pop single and everyone should know it and love it.
6. The most hedonistic song you know
Again, really difficult! I have recently rediscovered 'Friday I'm In Love' by The Cure. Is that hedonistic enough?! Or how about 'LoveStoned' by Justin Timberlake? I have been known to attempt a cover of this with my friend on melodeon after a few beers.
7. Tell us a tale about a song from Hedonism
Once upon a time, I came back from a trip to Norway and whilst sitting on the toilet, this tune popped into my head. I dedicated it to my friend Hannah for her birthday and named it after her new dog, Hudson. So, 'Hudson's Hornpipe' became the first tune in the instrumental track 'Parson's Farewell' on Hedonism.
mp3: Bellowhead - Cold Blows the Wind
Bellowhead - Cold Blows The Wind by Stayloose
Hedonism is out now on Navigator. Buy from the label's shop.