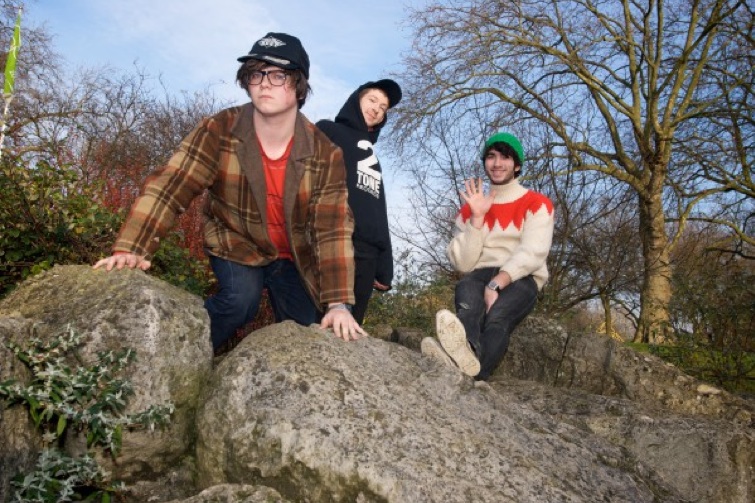 Thank goodness for reissues. Not something I'd usually say, since so many are lazy repackagings to squeeze more money out of old fans. However, they might just sometimes win some new ones. So I'm grateful that Full Time Hobby have re-released Let's Wrestle's debut album In the Court of the Wrestling Let's, which first came out in June 2009 on Stolen Recordings.
Back then I didn't give it much of a chance and moved swiftly on, seemingly sure that it didn't improve on the enjoyable early singles and EP. But I was wrong. Listening again, over a year later, the record rattles past, chock-full of good tunes, cheeky humour and a youthful energy that easily covers over the cracks. Sure, you can quibble about stuff like the production being a bit thin in places, and Wesley's vocal limitations being exposed on the slower, less raucous numbers, but that would be daft then there's so much to enjoy. Despite 16 tracks, it never feels too long and the songs' shortness means they never outstay their welcome.
Let's Wrestle's wry take on the lazier, seedier side of life is pretty funny, full of tales of lame romance, being on the dole, fighting, old people and Princess Diana's hair. Y'know, the stuff of life. And surely My Schedule is a new slacker anthem, but thankfully one that doesn't involve skateboards and long-haired youths who say 'dude' a lot. Sometimes coming across like a faster, more unhinged Wave Pictures, Let's Wrestle grab your attention and twist it to an extent that I'm sure I must have been medicated not to notice first time around. They are, as their song suggests, The Men You'll Grow To Love Soon. It won't take long.
mp3: Let's Wrestle - My Schedule
Let's Wrestle 'My Schedule' by fulltimehobby
In the Court of the Wrestling Let's is out now on Fully Time Hobby, complete with bonus disc of the band's previous recordings. Buy from the label's shop. They tour in support of Titus Andronicus later this month.