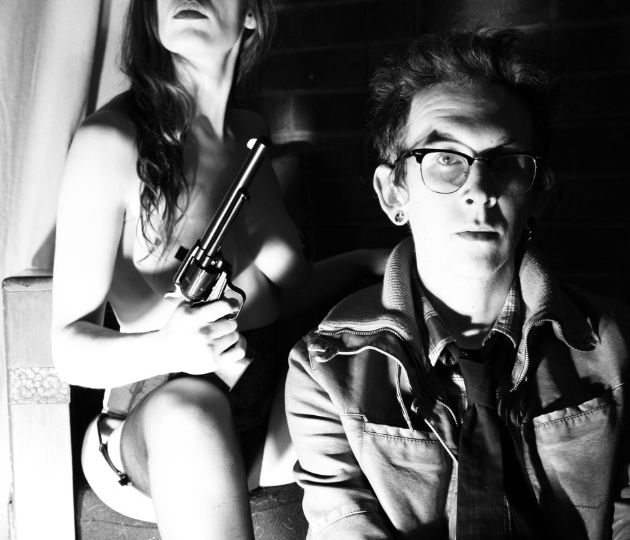 I find it hard to believe that Micah P Hinson has released his fifth album. It feels like no time ago since I first saw him, alone and a little nervous onstage at the 12 Bar Club back in 2004, just before the release of his amazing debut The Gospel of Progress. The last time I saw him was in 2006 at the first End of the Road Festival, around the time of his second album, complete with screaming and pain. He's in a better place now four years later, happily married and the injury and demons of the past don't seem to be knocking so loudly. The latest LP, The Pioneer Saboteurs hints at this. But although there's the romantic inclusion of a song about his wife (Dear Ashley) there's still plenty of the trademark bleakness and mortality amidst the lush strings.  It's grand statement, an ambitious album that still has room for a one-take acoustic track, and further evidence that Hinson is a heavyweight songwriting talent.
Micah gave me his seven songs a few months ago, but I've been neglectful in puting them up here until now. Thankfully it ties in with his return  to the UK this week. His live set-up is pretty minimal these days, but there's a proper full band show with orchestra and everything at the Queen Elizabeth Hall on Sunday night. It promises to be a special evening.
Seven songs after the jump…
A song that's been in your head today
No More Auction Block For Me - an old gospel hymn. It's been there for months.
A song that's inspired you to do what you're doing now
Love in Vein by Skinny Puppy off the LP Last Rights
The best song you've heard in the past week
I found an old, original MGM Hank Williams 78 with some obscure, unknown song on it, as the title sticker must have been eaten off by a rat or a possum. cost me 50 cents at a junk shop.
A song that you think everybody should hear
Gettin' It Done by Toppie Haynes.
A song that you're enjoying playing live
A new song I wrote called God is Good. The wife, Mrs. Ashley Bryn, and myself have been singing it together on stage on the road.
Tell us something about a song from your new album
The recording of Take off That Dress For Me is the first and only take I did of that song. I knew the structure, but was making up the words as I went. It was meant to be a demo, guess that didn't work out.
A song from an album that you're enjoying just now
All in the Golden Afternoon by The Friends of Dean Martinez off the LP Lost Horizon.
A song you were listening to while you were recording your new album
The Present by Bedhead off the LP Transaction de Nova
mp3: Micah P Hinson - 2s and 3s
Micah P Hinson and the Pioneer Saboteurs is out now on Full Time Hobby. Buy from Full Time Hobby. Micah finishes his UK tour on Monday and then pops off to Europe for a bit.