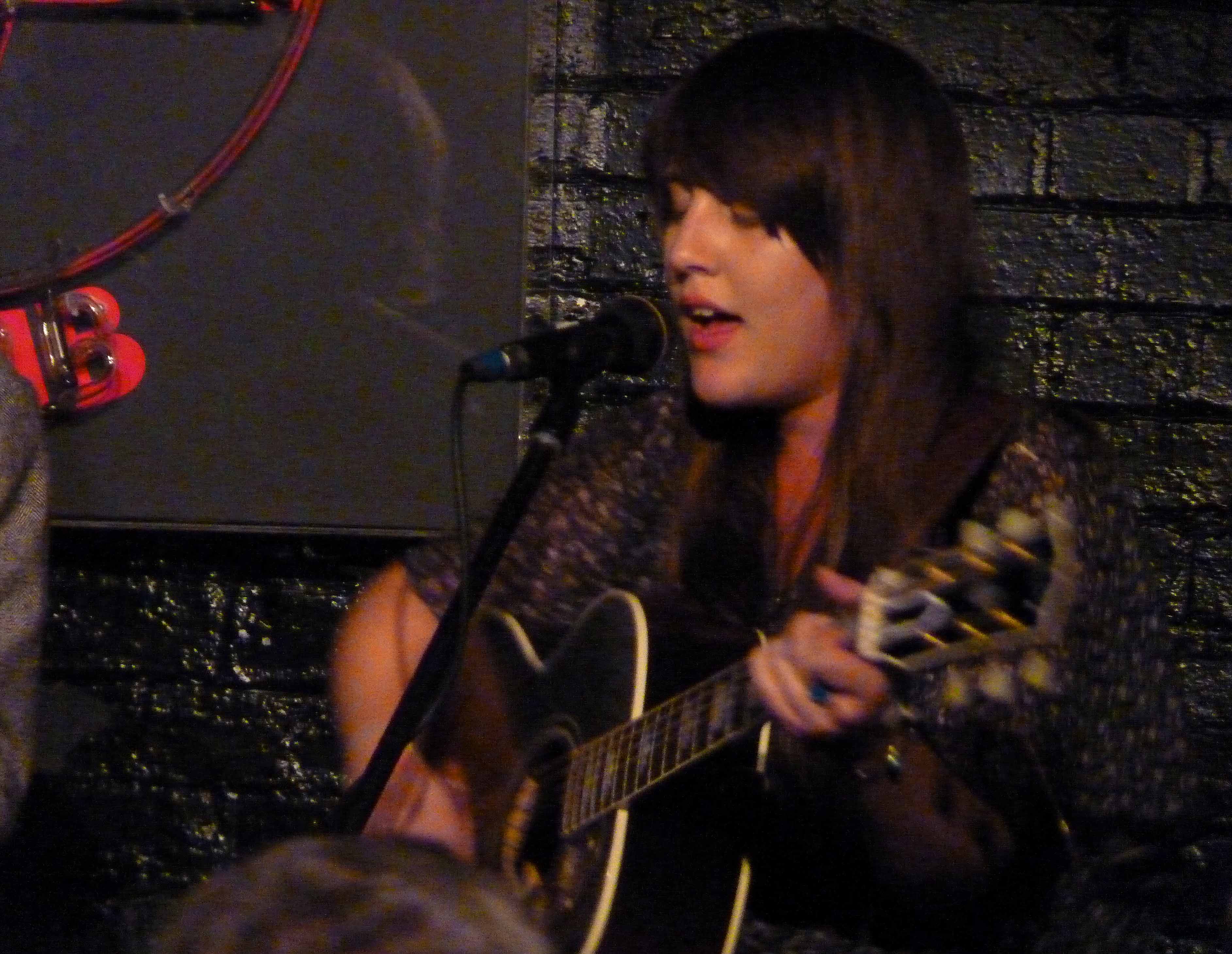 Caitlin Rose is on a roll, and clearly enjoying herself. She's in the middle of a UK tour which has already seen her playing venues that are way too small to meet demand following a slew of excellent reviews for her debut full-length Own Side Now. Tonight in the lovely venue under the Slaughtered Lamb pub in Clerkenwell, the throng of people squeezing in make it uncomfortably hot, but all attention is on the stage – sorry, corner of the room – where  Caitlin and her band are breezing through a setlist which holds everyone to pin-dropping levels of attention.
Come year end and the inevitable lists, Own Side Now will be perched high on mine, not because it's doing anything particularly new or innovative, but because it's just plain wonderful. Caitlin's not pushing boundaries here – her song writing is firmly in the traditional of classic Nashville country rock and pop, and her tales of bruised love are not unique – but she does that classic sound remarkably well. She has an impressive voice, but the excellence of her record goes beyond that – there's something fresh and uncomplicated about her style which makes it so engaging. And it's not particularly 'alt' either. Although it's produced by Lambchop's Mark Nevers, it's a proper country record, and Rose is clearly in thrall to her heroes like Patsy Cline, Stevie Nicks and Linda Ronstadt.
Her previous calling card, the Dead Flowers EP (originally from 2008, but only released over here in March), was a fun and charming little record, but it's very much the aperitif for a more satisfying and substantial collection to follow. Its sketchy songs and covers mark out the emergence of a talent which is beginning to be fully realised on her new songs.
It seems evident that Caitlin herself knows this too. The set is heavy on the new album and when she does play the older numbers solo when she's run out of newer tunes, she's almost dismissive. She mocks the chord progression on Docket (which she admits was written as a punk song without a punk band), and jokingly accuses her band standing watching of being disappointed in her. However, she manages to inject some fun into these songs by getting everyone to provide clapping-based percussion to her a capella rendition of Gorilla Man and to join in by appropriately shouting along to the celebration of drunkenness that is Bottles.
Elsewhere, it's pure magic. Her voice, so pure and clear is awesome. Her fresh-faced band are all excellent (her reason for her insecurity about the solo numbers). And the songs, stripped from the lush production of the album still sound so strong. To cap it off, she's an engaging, amusing and totally natural performer, born to be on stage. Everything seems effortless, and there's no slouching in the musical department, even though she's evidently consumed a fair amount of booze. Her between-song chattiness is just another added bonus. They should advertise her shows as 'an evening with Caitlin Rose' – proper all-round entertainment - sublime tales of heartbreak delivered with a dose of relaxed cheer and a cheeky wink in the eye.
mp3: Caitlin Rose - For the Rabbits
mp3: Caitlin Rose - Sinful Wishing Well
Own Side Now is out now on Names. Buy from Rough Trade.
Caitlin plays a few dates here and there, including End of the Road Festival, before embarking on a UK and European tour in support of Deer Tick, until early October. All dates on the myspace.
And finally, a video of Caitlin and band playing Spare Me, recorded at this gig by Anika.