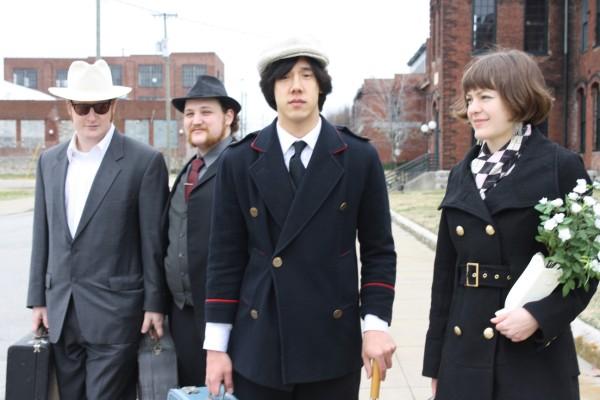 It's been a good eight months since there's been any mention of The Young Republic on here, which must be some sort of record. So it's time for an update. They've been busy - trying to crack their home country, recording not one, but two albums, changing line-ups (bye Nate and Bob, hello Wes) and moving to somewhere called Sky Mountain in Tennessee. If that all sounds a bit Oh Brother Where Art Thou, just wait till you hear their new ol' time country and bluegrass album, naturally called Music From Sky Mountain. It's all good stuff. The other album is Hipster Blues and British Birds and contains the Panda Bear-baiting Hipster Blues and a song all about Abi from the Zutons.
Anyway, enough waffle from me. I'll leave it to frontman Julian Saporiti himself to fill us in on some more of the happenings in camp YR.
I last saw you on the last night of your UK tour in November. There seems to have been a lot happening since then - what's been going on?
I suppose that was less than a year ago but it seems ages longer. We've really taken the time to make a home up on Sky Mountain here in Tennessee. When we're not on the road, we're constantly recording new records for ourselves or other bands in our studio.
How have you been going down across your homeland?
After spending a couple of years mostly concentrating on the UK, we've made an effort to try and tour around the states more. We're starting to see the fruits of our labor pay off I suppose, but like with all things YOUNG REPUBLIC, it's a slow and steady climb. It sure is good time though.
Two new albums this year - have you hit a purple patch of songwriting and recording form?
No purple patches, just the same ol', same ol'. I reckon having our own studio and micro-label allows us to record a record (or two or three) when we feel like it and then press it up and sell it online or at shows without waiting three months or a year to time the release. That's nice.
Does Music From Sky Mountain herald a new country direction for the YR, or is it a mere interlude?
That's something we've always been doing, or at least, I have growing up in Nashville. This year the band started to do a set of old timey country music during the day to try and make more income on the road to support our nightly electric music habit. The first few times we performed, we received loads of requests for CDs and were selling them Balletesque. We felt poorly about doing this as Balletesque is a big loud monster of a record and the busking set is pretty low key. So, during a three day break from the road, we cut a bunch of songs I had written in this style and threw on a few tunes from this part of the country and there you go, an album was born. It's just what we do during the day -farmer's markets, street corners, pedestrian malls etc -  and at night and forever we are a rock n' roll group. Music From Sky Mountain is the Bruce Wayne to our Batman (do British people like Batman?) but funnily enough it has outsold Balletesque about 2 to 1 in the states. Some day people will hopefully get that we just like to play all these different styles of music. Might as well right? If we're good at 'em, well that's for the audience to decide, but sometimes that hillbilly music hits the spot.
We can obviously buy these albums from your website, but can we expect 'proper' UK releases?
To be quite honest we haven't gotten any definite plans from End Of The Road on putting out any of the new material we've released this year, which is a shame as we are very grateful to our UK fans and wish they could pick up a nice copy of the new record in stores WHEN it's new. By year's end we plan to release the proper follow up LP to Balletesque and I'd like that to come out in the UK and Europe regardless of who helps it gets there, so we might try and push for that to happen some way or another. It'll all come out eventually, but I do think it's kind of odd that we've put out a new record and then another one and the people who own our old ones might not even know.
What have the hipsters done to you?
They're all fine people. Just being cheeky. That's what you guys would say right?
On This Girl's Got Legs For Miles you sing "I can't wait to tour again in the UK". So when you coming back over?
Whether we have to fly ourselves over or have some help in that department, the talk has been to try and make it over for the fall season of next year. We miss you guys and I really do want to meet the chick from the Zutons…
I love the reworking of Girl From The Northern States. I'm all for this sort of revision. Can you rework Goodbye Town for me when next play London?
Well, thank you kindly sir! We're an accommodating and well mannered young band, so if you say jump and we'll say how high. Would a speed metal version with Chris singing in German work?
mp3: The Young Republic - Girl From The Northern States (Sky Mountain version)
mp3: The Young Republic - Bronagh
Buy the two new albums from the band's website. The YR tour the US from Saturday till 11 November (see myspace for full dates). All fans over here, sit tight for another year.