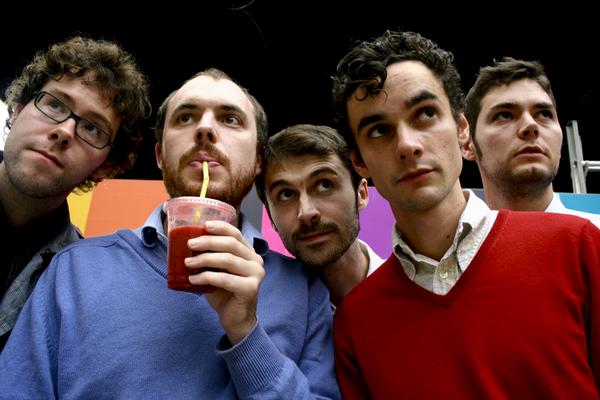 I don't want to go on about my blogging absence of late and how busy I am elsewhere, but it's precisely that which has prevented this feature from appearing much earlier. Ideally, it should have appeared at the start of the year, when long-time Daily Growl faves Left With Pictures started their new In Time project, releasing a song every month of this year. It didn't of course, but here it is now, in the form of a short interview with band leader Stuart Barter.
I'll leave it for him to explain more about In Time and all that involves, but before that I'd just like to say two things. First, the new material, despite being produced under pressure to a strict timetable, is excellent and any resulting album will probably be the best thing they've ever done. And two, the line-up for their Fleeting Fanfares gig on 5 September is one of the best I've seen in ages, so London people - get ye down the Queen's Head that day. Now read on…
Tell us a bit more about the In Time project
In Time is a project in which we release a song and video at the end of every month in 2010. Each new track is debuted on Gideon Coe's 6Music show on the last Monday of the month, and we email mailing list subscribers a free mp3 the following day, posting the video on our website. So in short, we have to come up with a new song and video every month!
The idea came after we finished and released our album at the end of last year. We already had new material which we wanted to get out, and we didn't want to disappear for another year working on a new album. Plus we wanted to start a proper band website - which we didn't have before - so posting a new video every month seemed a good way to get people to visit it!
You're now up to month 8 of the In Time project - how's it going so far?
Well. There are always songs you like more than others, but I'm very happy with the material overall. Plus, we've now got far more people on our mailing list, which is really important as it's our main communication tool with our fans. I can't deny it has been hard work - but I think it'll prove to be worth it.
How are you managing that crucial balance between producing good songs and doing it within a fixed time?
With In Time there just isn't the opportunity to sit back and think about things, you just have to go with the best idea you have at the time. There isn't the chance for songs to have their usual quality control process of playing them live, demo-ing and getting feedback etc. The result is that it feels much more risky when we're putting these songs out - sometimes NOBODY else has heard them before we send them to Gideon Coe's producer. There's much more of a feeling of uncertainty. So far the feedback has been really good though, which is lovely. There's still time for a howler though - 5 more songs to come!
How's the video side of things going? You said at the start of the year that you might struggle because you didn't know 12 film-makers. Have you managed to rope a few more in?
We've had to do a couple of them ourselves (which was good fun) but quite a few film-makers have come out of the woodwork since the start of the year, which is great. We have almost no budget for the videos, so we're relying on people's good will - people have been very kind so far. The difficulty is that we can't deliver the final tracks to film-makers until shortly before we need the videos finished, and we often make last minute alterations. We've got away with it so far though - and we've got some great people lined up for some of the last videos.
Are we going to get a nice CD or (even better) vinyl release at the end with all 12 tracks?
That is the plan. It will probably be a very limited edition physical release with some nice, hand-made artwork. I did have the fantasy of releasing it as a vinyl box set with six 7 inches, or three 10 inches, but there's almost no chance that'll happen. It's just too expensive for us indie-label types!
Tell us about your upcoming live plans
We are hosting our own mini-festival on September 5th at The Old Queen's Head. It's called Fleeting Fanfares and it will be the fifth such event. We'll be playing, alongside Lulu & The Lampshades, Sleeping States, Stairs to Korea and more. It's great that we get to play with people we really admire - so we can't wait for that. It's also free entry! After that we're off to End of The Road festival - we'll be playing The Local stage there on Saturday evening. Then, the next show will probably be a "wrap party" for the In Time project in December.
With writing, making videos, gigs and presumably day jobs too, you must be a busy bunch! What are your top tips for time management?
Work part time - and work in schools! That way you get some days free every week, and long holidays. There's no way we could have done this if we all had 9-5s! Sorry - I know that's not a very helpful answer….
mp3: Left With Pictures - Constantly
mp3: Left With Pictures - June
Here are a couple of the mp3s. For the complete set, sign up the the In Time mailing list on the Left With Pictures website.