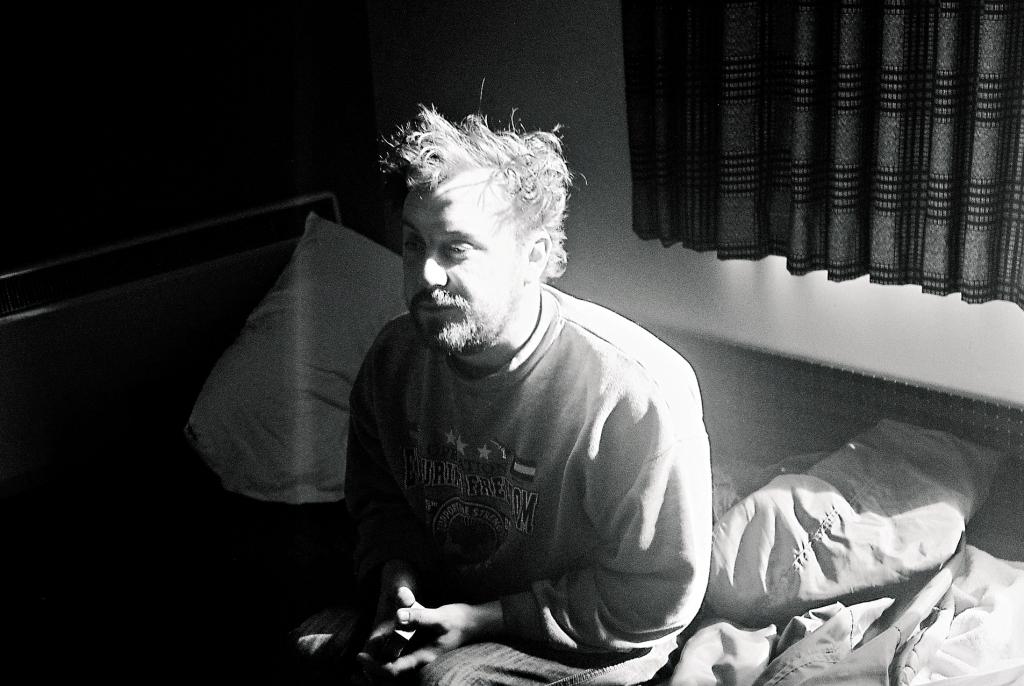 Even in the age of mass digital media, the best music recommendations still come directly from friends' tip-offs. And sometimes it's just as well. If I'd never been personally told about the album Cowabungler by Round Ron Virgin, I'd probably have overlooked it, or been put off by the dreadful double pun whammy. But I persevered, buoyed by the promise of "a pleasant kind of shuffling, English acoustic folk", and even better, a free download, and found myself enticed and entranced by a quaint little album full of heartfelt ballads, sea shanties and jaunty singalongs. One thing led to another and a few weeks later I was sitting outside Rough Trade on Brick Lane, drinking tea on a fine July afternoon with Oli Chance, the man who is Round Ron Virgin.
Before we get started properly, time for some history. Oli's not some wide-eyed young buck. He's been involved in making music for a good few years, but things have never quite worked out ideally. A while back he was doing solo stuff and despite spending two years recording an album, it just wasn't quite getting there. Naturally, he wanted to get it done, he recalls "in the course of getting it finished I spent a horrible two months in a studio mixing it with a manic depressive and a guy who smoked draw constantly to the point where I ended up going completely mad. I walked out of the studio the moment it was finished, binned the CD and never listened to it"
This was followed by a period where he lost interest in music, but there were still a few lingering songs which he managed to salvage. He was plunged back into playing again when he was booked for a gig so he put together a band, including his old mates from Devon, Tom and Henry who were in The Rumble Strips. This was the first incarnation of Oli 'n' Clive. The Rumble Strips' increasing popularity meant a line-up revision, which was the second version of Oli 'n' Clive, where Chance gathered "a bunch of people I knew who could play instruments but maybe hadn't played them in a while but wanted to have a go. We became what I used to call a 'special needs orchestra'" although he admits that sounds a bit harsh. He remembers that "it was really nice – it developed well together over a two or three years". But momentum was lost, a Christmas single "caused some weird tensions" after which he stopped writing songs, and by early 2008 it was all over.  Although he says that he doesn't have many regrets about doing this "it was nice to put an end to it while it was still positive and good rather than just petering it out", he admits that he "managed to piss of some people in the process. I don't think everyone in the band got and it's taken some of them quite a while to forgive me."
After this ending, he had another period of not doing music, during which he moved to work in Frankfurt. Given that city doesn't exactly have the reputation as a party town, unsurprisingly he got bored and sure enough, started writing songs again. But time it was working better, probably because he was "writing songs for my sake and not worrying about having to involve a band". When he left Frankfurt, earlier than planned because it wasn't working out – "It was quite dull" – he came back to London, and started writing and recording as Round Ron Virgin.
After starting recording, things seemed to develop naturally, and Oli and his friend Billy who was recording the songs, got people in to record different parts as it seemed fit. He recalls, "The beauty of it was that it was complete y different to the two previous things, in that I had complete control over it and could make it sounded like I wanted. So on some songs there's just me and others have 30 people; I had that flexibility. Once it started, I didn't want to stop, and it turned into an album."
And it's an album that is packed full of little pleasures. One of the unexpected pleasures is how it sounds. I had expected something quite lo-fi, but a lot of it sounds big, fully developed, and packed-full of well-realised ideas. According to Oli, not all these ideas came off, like the one to follow up a contact with the Metropolitan Police Marching Band, and another of having a real church organ, but Oli and Billy seem like a great team, knocking ideas about, some great, some mad, some not working but not causing much concern, but others turning out really well. Oli seems pleased with all this, "because of aiming big like that, we got a helluva lot of good things. We could try things and if didn't work, we'd just bin it and it wouldn't be much of a problem. And where it went big, it was really nice. So from just me to loads of players and stupid amounts of layers and loads of stuff." They've thrown everything including the kitchen sink at it, and surprisingly it mostly works.
One thing that stands out about the album is the juxtaposition of downbeat lyrical content with some pretty rousing tunes. Nowhere is this more obvious than on Old Sick and Die where Oli sings the chorus "We're gonna get old sick and die, every one" in the most cheerful way I've ever heard, backed by parping brass. I suddenly wondered how I've got to this stage in life without a pub singalong about the inevitability of mortality, but I'm very glad it's here now.
Pursuing these morbid themes further, Oli happily admits that "I've always been a little over obsessed by ageing and dying. Ever since I've been 16 I've felt old, like 'shit! I should be doing more, I'm going to be dead soon'. But I'm not doing it po-faced, it's more taking the piss out of myself." But he's quick to add "It's not a comedy thing, more of a 'fuck's sake, cheer up Oli' sort of thing." Although in all this, Billy was a tempering force: "He suggested things which helped and sometimes kept it from being too self-indulgent which is could have been if we hadn't been careful."
As far as influences go, Oli is a big Neutral Milk Hotel fan, and their music perhaps influenced him a little more than he'd realised. He confesses that "Billy noticed that I'd completely ripped off a Neutral Milk Hotel song in one of my songs, but instead of worrying that it would be a shit rip-off, we said 'let's embrace it'. So it worked out nicely in the end.". There's a lot of music that he likes that doesn't necessarily come across in his music. "The first thing I was obsessed with was Tom Waits. All 20 albums, but I'm not as musical as him, I can't write songs in the same way. When recording on my own I was obsessed by first two Beck albums. Recently I've become obsessed with Chad Van Gaalen, a guy on Sub Pop who records 25-song albums in his basement. His influence doesn't come across much – more in feel maybe than actual sound. "
I'm aware that Oli is part of a network of East London musicians that play together, and share members across various bands, such as Wet Paint, Absentee, Dan Michaelson and the Coastguards, even The Singing Adams (who aren't all from East London). So is there a collective? Oli laughs at the suggestion "that makes it sound cool! It's nowhere near that cool. It's just people meeting people, drinking together and making friends and. It's nothing conscious." As for the musicians which contributed to Round Ron Virgin, he offers "I grew up with Tom and Henry from the Rumble Strips. There are a couple of people from Oli 'n' Clive who didn't still hate me, so I got them involved. I Met Dan [Michaelson] through an old friend and I got to know Wet Paint and the others through him."  And so on.  "And because we know and like each other ask them to come along and help out with recording and playing live".
Live opportunities presented themselves without ever being pursued. " I hadn't thought about playing live, but went to pub with Dan, who asked if I'd  thought of playing live, before adding "you'd better because I've booked you as a support for a gig" So he had to put a band together in a couple of months. After that Angela from Magic Numbers booked them for tour support, and then came a Christmas gig on the back of that. It all seemed to grow quite naturally.
The line-up has been gradually evolving, and currently features Tom and Henry Rumblestrip again, Melinda and Babak from Wet Paint and Absentee, and a couple of others – Johnnie and William. One of the interesting things that Oli has found with taking Round Ron Virgin live is taking the songs with big arrangements and creating different versions to play live. "It's nice changes though, not compromises" he's quick to add.
The album's being made available to download for free, which seems like a brave move, but it's one designed to let more people hear it. It certainly worked for me. Oli elaborates. "I decided to offer it for free, rather than going with another small label which might not work out. Everyone I know who are on small labels (or even on big labels) there are always problems and no-one is making money out of it, and there's no point pretending people aren't going to pirate.  The main thing is that people hear it, and if they like it, they might want to buy it." Then he adds "It could get more coverage because it's free." Well, that's certainly worked in this instance at least.
He's not only given it away for people to hear, he's also given away some tracks, via the website, for people to remix, which has also worked out well. "I got one sent the other day from my friend Andre in Germany, which was an angry semi-techno remix of Old, Sick and Die – he's annoyed with the positive message at the end, so wanted to make his own super-miserable version".
Ultimately, he's relaxed about the whole free album thing, because he believes there's nothing to lose. "It hasn't cost much and it's been really good fun. It's the one thing I've done that I've been really proud of. I'm not suffering from self-consciousness like I did before and having to explain it and why may not be as good as hoped. I fucking love it; I want as many people as possible to hear it. That's about the size of it. I'm not a desperate youngster trying to make it. As long as it's out there and the people who want to hear it can hear it. That's enough."
The other interesting thing about the release of Cowabungler, is that it's being done under the banner of Records Records Records, less of a label, more of a collective umbrella for like minded souls to gather their stuff together, put their albums out, cross-promote their material, and generally do good things. All better than ploughing away alone. It came about because as Oli says, "we've found people who are interested in doing things in similar way. Melinda is doing her solo stuff on it and Babak is doing a comic/graphic novel which is coming out soon". He also hints at the possibility of some Singing Adams material, songs from a brand new boy-girl duo called Big Deal and some thing else involving someone much more famous which he was cagey about because it may not come off.
After a pleasant half hour, it was time for me to get back home to take my daughter swimming. Just time for one last question. Perhaps the one that I should have asked first. Why Round Ron Virgin? Some sort of cheesy reference to Silent Night? Well, the story goes like this:
"My mum is a teacher, and one year she got the kids drawing nativity schemes. One kid had drawn a big fat fella off to one side and she'd asked the kid who that was, and he said 'Round Ron Virgin'. He'd imagined that it was a person in the story, and ever since I've been little I've been obsessed with Christmas and I love the idea that there's this fat bloke in the nativity scene who isn't supposed to be there, and everyone's looking round and going 'who's he?' 'What's he doing?' It might not be a great band name and it may be a shitty pun, but it means a lot to me."
And with that, I'm much more satisfied. Sure, it may still look awkward on CDs and posters, but it's come from something personal, and rather amusing. If you've read this far, I hope you agree and are more likely to listen, enjoy and who knows? Maybe even buy a copy. Cowabungler may never make Oli Chance a rich man, but it's something he's proud of, it's a cracking album and as he says, that's probably enough.
mp3: Round Ron Virgin – Old, Sick and Die
mp3: Round Ron Virgin – Been Waiting
Download the album or even the Cowabungler CD from the Round Ron Virgin website, where you can also download the tracks to remix or even have a go at designing a new cover.
The album launch gig is at The Betsey Trotwood on Farringdon Road on Monday (9 August). Support comes from Big Deal.