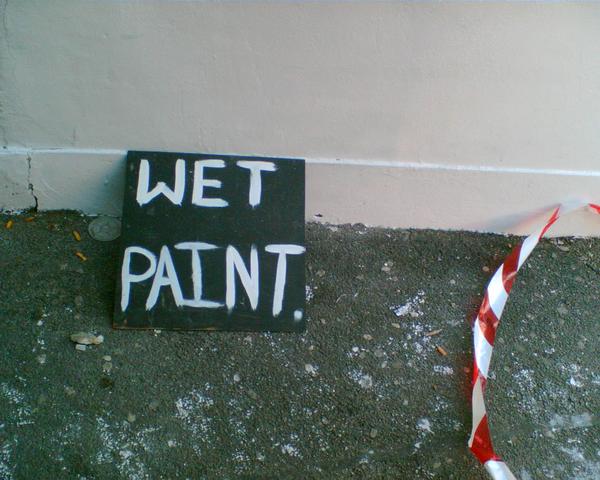 If, like me, you were one of the people who enjoyed the scuzzy, fuzzy slacker rock of It Rots, the debut album by East London band Wet Paint, then rejoice! They've recorded a new album which is out sometime soon. Not sure exactly when, but the main thing for now is that I've got a wee exclusive for you in the shape of a new track. The new record continues where the previous one left off, rattling along with plenty of good tunes, crunching riffs and ragged charm. Until it's all revealed, you can content yourself with Dead Night. Wet Paint frontman Babak Ganjei was good enough to pass the album onto me, and to answer a few of my silly questions.
The second album means that Wet Paint is a proper going concern now - did it go so well with the first album that you thought it's worth making another?
The first album was initially recorded in two days live - it was a means of documenting the songs we'd written  before we forgot them altogether. Each recording is a learning experience and it's fun to learn, so I just booked the studio time so we had a deadline to work to, then we panicked, then we improvised. To be honest we didn't think about the first album in relation to this, the good side of being a self sufficient band is that you're not gonna get dropped if you haven't sold much, and you can keep making records and working out what it is you do. In the not-so-distant past, bands seemed to have a lot longer life span and got to take a lot more chances. That's why a band like the Flaming Lips can exist today doing what they do. They have a huge back catalogue and  it's fun to hear a band evolving. Everyone these days seems to have a three album life span, I don't like that very much. We had to make this one it's a stepping stone to the fifth one, that's the one to get your lighters out to.
My short answer was gonna be that it's definitely a going concern on my bank balance. Also some blog gave the last one 0 out of 10, so the pressure this time was to better or at least equal that, and we relish a challenge.
How did the recording go?
I've been reading the Stool Pigeon's compilation of  Son of Dave's articles for their paper. It's called 'We Need You Lazzaro, You Lazy Greasy Bastard' it's really very good, and the first essay is about how there is nothing more boring than musicians talking about making music. It was a stirring argument, I feel like I have to watch myself here…
It went well we recorded with our friend Ash who produced and engineered and became like the fifth member and it was fun to have that influence.  Also we all record together live, none of that one by one going in stuff. So we are happy together and pissed off together. It keeps everyone in synch.
What can we expect from the new album?
Five top ten smash hits and five meandering wiggy noodle jams
Got any live plans?
Yes, we should be back to touring at the end of the summer. It's a lot more fun touring with a second record, picking off the best live songs off two records is a comfort and so we are looking forward to it.
…and other projects?
I'm gonna put out a comic book through a friends label Records Records Records. I play in his band Round Ron Virgin as does Melinda who is also in Wet Paint. I wrote it last year, and I've been compiling a soundtrack for it with lots of friends' bands on it. I'm looking forward to seeing and hearing the thing. Having a book with a soundtrack might be tricky. Due to different people's reading times it's hard to estimate the correct length for the soundtrack. Plus it's a comic book so there is an off chance someone might just stare at the pictures for longer than necessary, just to admire the penmanship…
Now that was a joke, in essence it's a book that deals with the motives of making music or art once you have responsibilities ( I have a boy now), but it offers no answers, as I am not that smart. The soundtrack is just lots of friends (Cheatas, Big Deal, Singing Adams, Round Ron Virgin, Dignan Porch and lots of others), who make excellent music to remind you why. I shouldn't go on about it too much till it's done but it's gonna be really good.
There seems to be a good group of people out there in east London playing in each others' bands, collaborating etc. I've counted Wet Paint, Absentee, Round Ron Virgin, The Singing Adams, The Coastguards. I'm sure there are more. What's going on - is this some sort of highly productive collective?
I think that is exactly what it's becoming, though not with any planning, we've all known each other a real long time and that's what became fun with putting this compilation together and helping with this label.   Maybe it will just keep spreading out further and further and break out of east London, Steven Adams isn't from East London so that's a start.