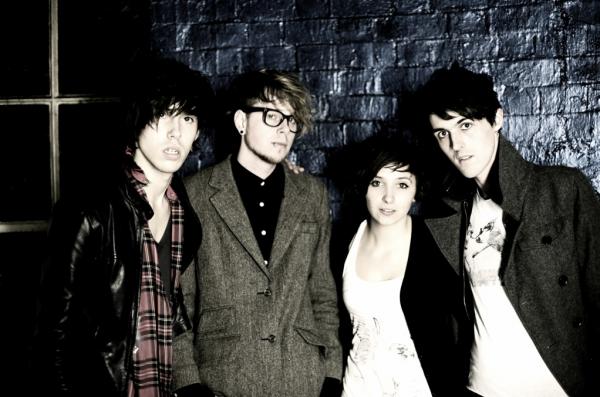 It's always nice when people give me more than just song titles for Seven Songs. I appreciate everyone who does it of course, and I know artists are busy and all that. But extra effort is always pleasing. If I were to measure bands by this criteria, Wilder would be top of the charts. Three out of the Bristol-based four-piece took time to enthuse about various songs at some length for which I'm grateful. Maybe it gives a glimpse of the music that drives them. For instance, Listen to Girls vs. Boys and the words 'Friendly' and 'Fires' may cross your mind. But that's OK, because the band are all big fans. What I'm really looking forward to is their cover of You Can Call Me Al.
1. A song that's been in your head today?
Jay: Girl You Turn Me On by Jefferson Ink,  It's pure funky analog synth driven song. They even use a Korg VC-10!
Sam: Outkast's Whole World - this track is a weird one and that's why I like it! It reminds me of when I worked in a cemetery and would dance around whilst selling flowers!
Joe: Tell 'Em by Sleigh Bells - this is a band I have newly discovered.  The first band I was in was a metal band and this really speaks to me from beyond the grave of metal so to speak.  It's like an electronic Slayer crossed with Yeah Yeah Yeahs. Very melodic and brutal at the same time.
2. A song that you can all agree is amazing?
Jay: I think we can all agree that Let's Dance by David Bowie is an amazing song.
Sam: Daft Punk's Harder, Better, Faster, Stronger. We all like this one… It oozes energy and has a certain French charm! We challenge anyone to put on this tune and not move your body or dance like a robot…
Joe: probably Jump In The Pool by Friendly Fires.  I know that Friendly Fires are quite a big influence on the band as a whole but their bass player is a huge influence on me personally.  His lines are so simple but he really knows how to use space in a song.  I think the whole band are very adept at this particular skill and it really shows in their amazing song construction.  Also, Jump in the Pool is the only song on Friendly Fires' album that is produced by Paul Epworth who is a favourite producer of Wilder.
3. The best song you've heard in the past week?
Jay: Best song all week for me has to be Dreaming of Another World by Mystery Jets. I love the guitar inrto it's very Hendrix-esque and how it fits perfectly into a dreamy synth line.
Sam: Gorillaz Empire Antz from the new album Plastic Beach. If summer was able to be caught, canned,and recorded it would sound like this! The track, for me, creates mental images of sun, sea, sand and euphoric dreams which ain't too shabby…
Joe: A DJ friend of mine came down and visited me a few days ago.  He was one of the people who first exposed me to electronic music.  He played me a track called Now Til '69 by a pair of DJs called Aeroplane which is off their Shortwave Set [it's their remix of a song by The Shortwave Set - DG]. It was amazing.  Aeroplane play some of the most melodic Italo Disco i've ever heard.  Go online and download some of their stuff.
4. A song that you think everybody should hear?
Jay: Mother - John Lennon. It's a very sad song about Lennon's relationship with his family. The film Nowhere Boy is a good film which  links closely with this song.
Sam: The Velvet Underground Sweet Jane. This song is amazing in every sense of the word! Lou Reed is perhaps the only person who knows what all the lyrics to this song mean, and maybe it doesnt matter… I think that is part of the charm and I kind of like it that way!
Joe: Any of the first 6 tracks on Paul Simon's Graceland album.  People seem to be so taken with the Afro beat world music sound of Vampire Weekend and their ilk but its just a big rip off of this album.  The bass solo in You Can Call Me Al is just incredible.  they recorded the first half of the solo normally and then just played the take backwards for the second half.
5. A song that you're enjoying playing live?
Jay: My favourite song to play live is Sky Full of Rainbows. It gets people dancing after the vocoder intro.
Sam: A new track called Singer and the Cigarette. It's all about the simple pleasures in life, things that boil the blood and animalistic tendency's… All wrapped up a in a 100 haircut groove vibe!
Joe: I think a big favourite that we're all enjoying playing at the moment is a song called White Noise.  it's a big mesh of all our influences with a very new wave verse leading into an almost psychedelic half time chorus with some dance breakdowns thrown in.  Also its about the transitory nature of life, and confusion.
6. Tell us something about a song from your debut album?
Jay: Crystal Cove is the only song that uses all 3 synths!
Joe: We have a song that we've been working on for some time called The Singer and the Cigarette.  It's a taut disco classic in the making.  The opening few bars have a bass homage to The Rapture and then the song develops a sort of stripped back Tom Tom Club vibe.  plus the synth solo breakdown is a sort of twisted take on Late of the Pier trying to do Jefferson Ink.  It's a great song.
7. A song from an album that you're enjoying just now?
Jay: Pull up the Roots - Talking Heads on the Speaking in Tongues album. Genius lyrics "…I could be right, I could be wrong… I feel nice when i sing this song" . I know I defiantly feel nice listening to it.
Sam: Paul Simon You Can Call me Al from the album Graceland It's one that I haven't listened to for a while but when you re-discover this track every so often you can't seem to get enough of it! It's just an uplifting track, with great groove and will be stuck in your head for days…
Joe: I've always been a huge Crystal Castles fan and i think their new album is an amazing development.  The song that i've been listening to most is called Vietnam.  Its slow, laconic and menacing but builds up to an amazing euphoric breakdown.  it makes you feel like you are floating away from a bad dream.
Girls vs Boys is out on 25 July on Rough Trade. Buy from the other Rough Trade. Wilder play at the Latitude festival on 18 July.