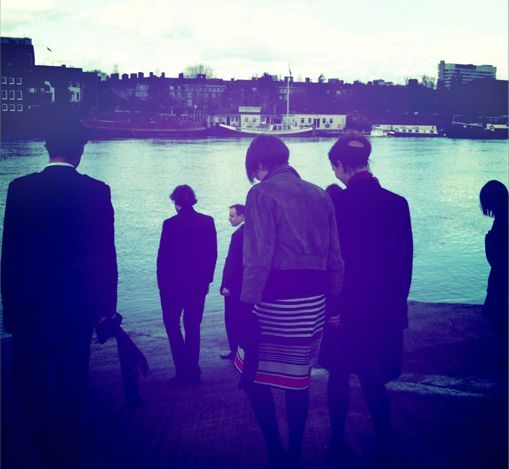 When I meet Nick Gill in a back street in Aldgate, he's in remarkably fine form for someone who's been up ill the previous night. It's impressive enough that he's made it in for work and I would have understood if he'd cancelled, but spurred on by a love for his job (old-style printing), he's keeping going with a good measure of cheer despite the circumstances. As it transpires, this is a nice reflection of his other work –with his music.
Nick is the founding member of The Monroe Transfer, a band which has evolved from being just him alone in his bedroom making music in 2002, through several line-up changes to the relatively stable seven-piece it is today. They play epic instrumental music both in sound and length and their new album Trials is an impressive showcase of their talents. In my opinion, it's one of the best of the year so far.
But enough of what I think, I wondered how Nick would describe his band's music. "Long whinging instrumentals" he suggests, somewhat self-deprecatingly. He's relaxed about labels too. 'Post rock' is not a tag he particularly likes, but he's aware that this sort of label can sometimes help by drawing people to bands – people who like 'post rock' (whatever that is) may look out for their releases. I offer that I've been hearing Trials more as a form of classical music – it contains some very long tracks including 25-minute long piece, which hardly makes it a normal album of pop songs. Nick sort of agrees. "I'd like to think I'm good enough to be a classical composer, but I've not had any classical training, so writing it is all basically theft, I'd imagine. Everything I've written has come from listening to other bands". There's that self-deprecation again.
Which brings us to influences. It's not as straightforward as it may seem, but sure enough, Nick mentions some of the bands you might expect if you've heard The Monroe Transfer's music – Godspeed, Sigur Ros's first album – but these are the artists that he was listening to 10 years ago. Nowadays he seems happier talking about Arvo Part, Steve Reich and Gavin Bryars. "Everyone who's in a pretentious indie band says these are our main influences", but he does actually mean it. He doesn't listen to many indie bands, and although he says he loves Wolf Parade, The National and Low - "I've probably stolen things from all of them" - these may be less obviously represented his music.  And amusingly, although he doesn't know any Black Sabbath, he's been told that there's a bit in his first album that sounds just like War Pigs.
Aside from the musical influences that drive his music, Nick confesses that "a lot of it is just being really miserable with the world. So you end up with a song about the Sellafield Disaster". He's referring to 6 Alarms, a track on Trials which plays an emergency message from the Sellafield nuclear plant's information line. One of the things that I like it is how a vaguely cheery northern voice reading out health and safety instructions is juxtaposed with some very gloomy music. Then again, although the voice is calming, the words aren't and as Nick says, what he really likes about it is "hearing her saying 'when you hear the alarm do this…' – it's not if you hear the alarm but when, which is basically what happens when you've got nuclear power."
The story of The Monroe Transfer is one that will sound familiar to many other people who make music. They're regularly hamstrung by logistics since everyone in the band also plays in other bands* and have day jobs as well, so it's hard to find time to rehearse and record. "If we want to record an album it's like saying 'what are you doing in 9 months time?'". This can pose problems because by the time they get round to recording the music, they've been playing it for a long time – years in some cases – and enthusiasm can begin to wane.
There are also tales of collapsing record labels -  "I Wish I was a Hammer… was supposed to be the second side of a 10 inch single but the record label that was doing it collapsed, and then we didn't have time to record the other side, so rather than sitting on a song that was already pretty old - we had been playing it for about three years already and wasn't particularly what we wanted to sound like any more – and rather than not releasing it or sticking it on an album – we released it as a single and someone made a nice film for it." Similarly, the internet-only release track (Joy) was originally supposed to be their side of a split 10 inch single on another label, but again that folded too.
The recording process usually takes the form of Nick writing out the basic structure of the music, then the band bringing their own ideas to it. Occasionally they'll do a bit of improv – on 6 Alarms for instance, Nick created a basic chord structure then everyone else improvised over the top, and even more impressively, did it in one take. This sort of approach makes it easier for the band to translate their music to the live setting, with the whole album recorded "pretty much live".
They're also deliberately an instrumental outfit. Nick decided not to have vocals, mainly because says he's a bad singer and at the start the 'band' was just him. Or more simply, "I find it easier to write music, and there more examples of bad lyrics than bad music." When it comes to live performance, I agree with him that it can be more interesting to see a band without a singer. Plus, he adds "when playing live, no-one can hear what the singers are singing anyway. At the time we were in Oxford playing metal bars – no-one could hear the lyrics". Despite the fact that there are no words, there are still stories behind the songs. They're just not conveyed in words. "I like subtlety" he says, though admits that the Sellafield voice on 6 Alarms "isn't the most subtle thing in the world, but if I'd tried to write a song about nuclear power, it would be clangingly awful. In a way it's easier [not to write lyrics]".
Since I enjoyed the film that accompanied If I Was a Hammer…, I ask if visuals are important to the band. Nick admits that they've thought about it a lot – "largely out of insecurity, because the band were thinking 'maybe it's not a particularly interesting live show, maybe we need to have a singer'. People want to look at something, or have something else, more exciting" But the problem with having films is having to rely on someone else to do it, and crucially as Nick adds, "I'd like to think that the music is enough to listen to on its own. And if you're putting a film up there, there's almost too much to concentrate on. There are some people who are doing it brilliantly, but there is a lot of laziness – like 'here's some old films', which often just distract from the fact that the band aren't very interesting."
The film angle is interesting though, because the Monroe Transfer's music seems to lend itself very well to film, particularly film soundtracks. They have done a couple of these – one was the soundtrack to an indie film (Coffee Sex Me) and the other a live soundtrack to a 1920s silent German film (Pandora's Box) commissioned by the BFI. This is something that Nick would like to do more of – it was "exciting but pressured. We found out what film they were doing in January and it was on in mid-April, so we had to do a soundtrack to a full two and a half hour film. We pulled out any old trick, including me whacking a wok with a mallet at one point and playing a saw. It was really fun and it went down pretty well." Annoyingly they didn't record it.
There were no upcoming gigs on The Monroe Transfer's website, so I ask about live plans. Last year they had a residency at The Macbeth in Hoxton, which was promoted by Neil from the band, and although it was a lot of hard work, Nick's sure that it was a good thing for the band to do. They managed to do some good collaborations and got slightly better known. They did it this way, running their own shows, because as Nick says "it was hard to find gigs that we fitted on. We'd get put on bills with run-of-the-mill indie bands with jangly guitars and if you've got a seven-piece band, it's hard to be put on supporting a smaller band". It's also not easy to get headline slots "because no-one has heard of us".
However, they are planning to go on a rare tour at the end of August or beginning of September. Rare, because they haven't played gigs outside London for five years. It's to be a co-headline tour with their friends Her Name is Calla, for whom Nick has played and done some string arrangements.
Other plans include working on new material. Oh yes. They are finding the time. They should have a new album's worth of material to play by the end of the year. Nick and the others really want to shorten the gap between writing it, being able to play it and then recording it, so don't get tired of the music before time.
The story of the Monroe Transfer is not an unusual one. There are plenty bands who struggle with logistics, time to record and play and with limited financial and human resources. It's particularly compounded when you're playing music that's not going to be seized upon by radio or commerce. Although Nick jokes about how they need to get a song on the Skins soundtrack ("an episode where at least three of them die" of course), he knows that their crossover potential is limited. But he seems content with this. Ultimately, it's about going on making the music you love, keeping at it despite all the difficulties, and even though your music may not be cheerful, maintaining a healthy dose of self-deprecating good humour.
mp3: The Monroe Transfer – Waltz
Trials is out now on Organ Grinder records – buy from the label shop or download from bandcamp. You can listen to the whole album on the player below.
The tour has now been confirmed. Dates are as follows:
30 Aug:  Manchester (Night & Day Café)
31 Aug: Cardiff (Clwb Ifor Bach)
1 Sep: Leicester (Firebug Bar)
2 Sep: London (The Luminaire)
*If you're interested some of the other bands include: Nick, Neil and Rhiannon play in Fireworks Night, Neil is also in Smoke Fairies and Nicole plays with The Irrepressibles.