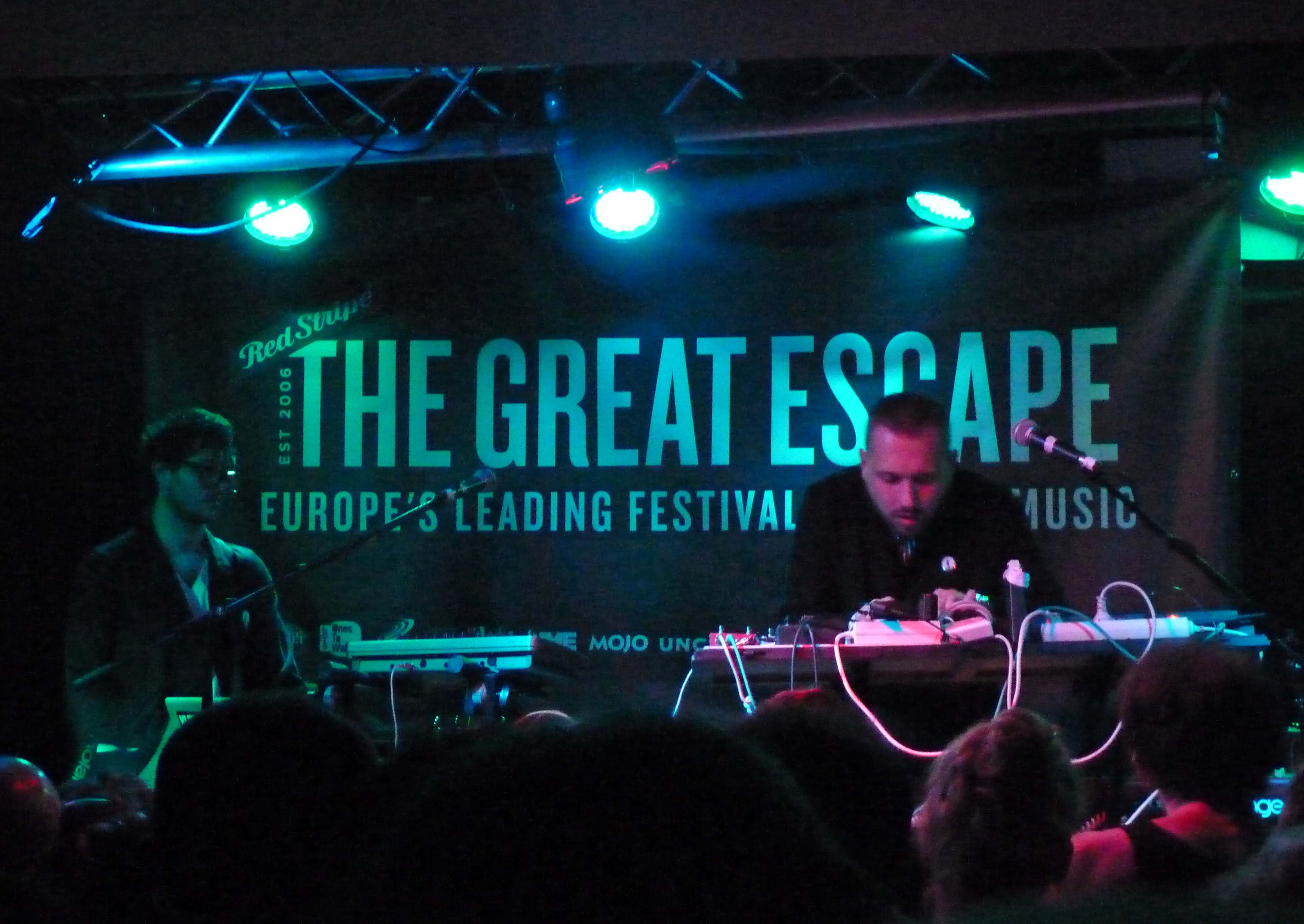 This is another horrendously late live review, but please bear with me. It's been hanging around in my drafts for weeks now and I don't want to delete it. Plus, I saw some good stuff the other weekend in Brighton and I'd like to share it with you.
Our day at The Great Escape started mid-afternoon down on the beach at Digital. The Aussie barbeque was in full swing outside, and judging by the queues for blackened meat, the outside attractions were proving more popular than the bands inside. However, there was a decent crowd inside for female five-piece Bridezilla, who were enjoyable enough with their sweeping guitar and string-laden songs. They had plenty of enthusiasm, but no real memorable songs to stick in the mind as we strolled across town to the Freebutt.
Now we're talking. Among the delights of The Great Esacpe was experiencing some of Brighton's venues and the Freebutt is one of the best. A classic scuzzy indie hole, tucked up a side street with a tiny bar and crammed area to watch bands. Weirdly enough, when we squeezed inside the door to watch The Bewitched Hands on the Tops of Our Heads they sounded like they were playing a stadium show miles away rather than about three metres in front of our noses. Sound issues aside, I enjoyed the few songs we saw - a French band singing in English and sounding like they were on the US indie rock scene in the mid 90s, which is a good thing I guess.
More intriguing though was the act that followed, fellow-countrymen The Shoes (there was a sort of French showcase this afternoon), and it all started so well, with the band - 2 blokes behind a some keyboards and synths - miming along to some high-pitched electronically enhanced vocals and blasting out some bass-heavy electro pop (that's them in the top photo). At gigs like this I'm never sure exactly what the guys on stage are doing, but they made a great noise and the fun factor was ratcheting up and people were even beginning to break out into a dance. Then disaster. Four songs in, the power just seemed to go. They muttered something about English sockets and left the stage. They weren't angry, just classic French diffidence, and with a shrug they were gone leaving the audience already making plans to see them again.
After this, there was a bit of a gig lull, which allowed us some time to refuel with fish and chips (what else?) before heading up to The Corn Exchange for a bunch of Canadian bands (there were quite a few of these national themes), but our stay didn't last long since the first band - Zeus - were so bad. The only reason we stayed longer than one song was because had some freshly-poured pints. Before we finished the drinks, we had to endure the worst kind of 70s rock pastiche, like they were trying to recreate Almost Famous in Brighton.
So intstead we found ourselves down at the sea again, and another musical mishap. We thought we were going to see Revolver (another French band who sounded OK from the programme), but ended up in the wrong seafront venue watching what turned out to be Rubber Kiss Goodbye, who apparently feature "Bryan Ferry's son Tara" I'm not even going to say anything about that name, just add that this was more stupid rock posturing with no tunes.
Escape this time was a few doors down to Coalition, a sort of shiny nightclub which didn't look like it was used to hosting live music, but this was the venue for what seemed like a much-anticipated show from Norwegian all-girl four-piece Katzenjammer. The programme described them as 'folk', but instead of wispy acoustic fjord music, what we got was folk music by way of Eurovison. I'm still not quite sure what to make of them. I'm very suspicious about bands like this - here are four impossibly attractive people, arriving so perfectly crafted that at best it screams 'stage school' and at worst, some sort of sinister svengali's plot. Their talent is undoubted (they all play at least four instruments and sing lead vocals in the short set) and the songs are all fun and super-catchy, but it's all a bit too polished for my liking.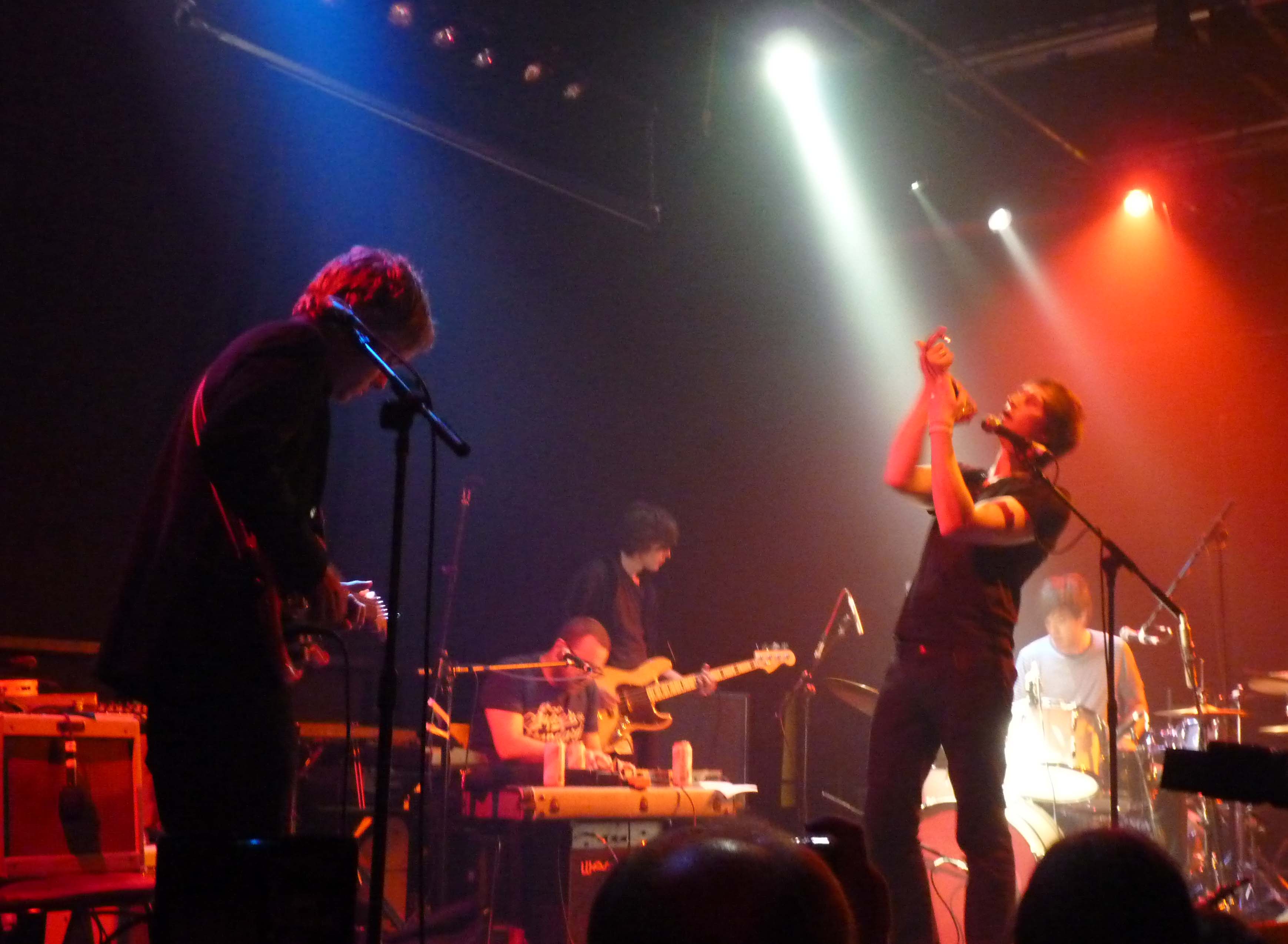 A quick exit up the road to Audio proves confusing at first when there is no Django Django on the stage times poster, then disappointing when we hear they've cancelled. However this weird period came to an end when we got up to the Komedia and catch Erland and the Canival. Now this is what I call a folk band. Many others wouldn't because they don't really do acoustic, but they actually sing proper folk songs, only overhauled and dressed up in full on psychedelic rock guise. It's a terrific performance, the tall gangly Erland makes a fine frontman and off on stage right, Simon Tong exudes a veteran's assurance as he messes about with effects pedals and lays ace surf guitar riffs over the band's excellent noise. I'm definitely seeing these guys again.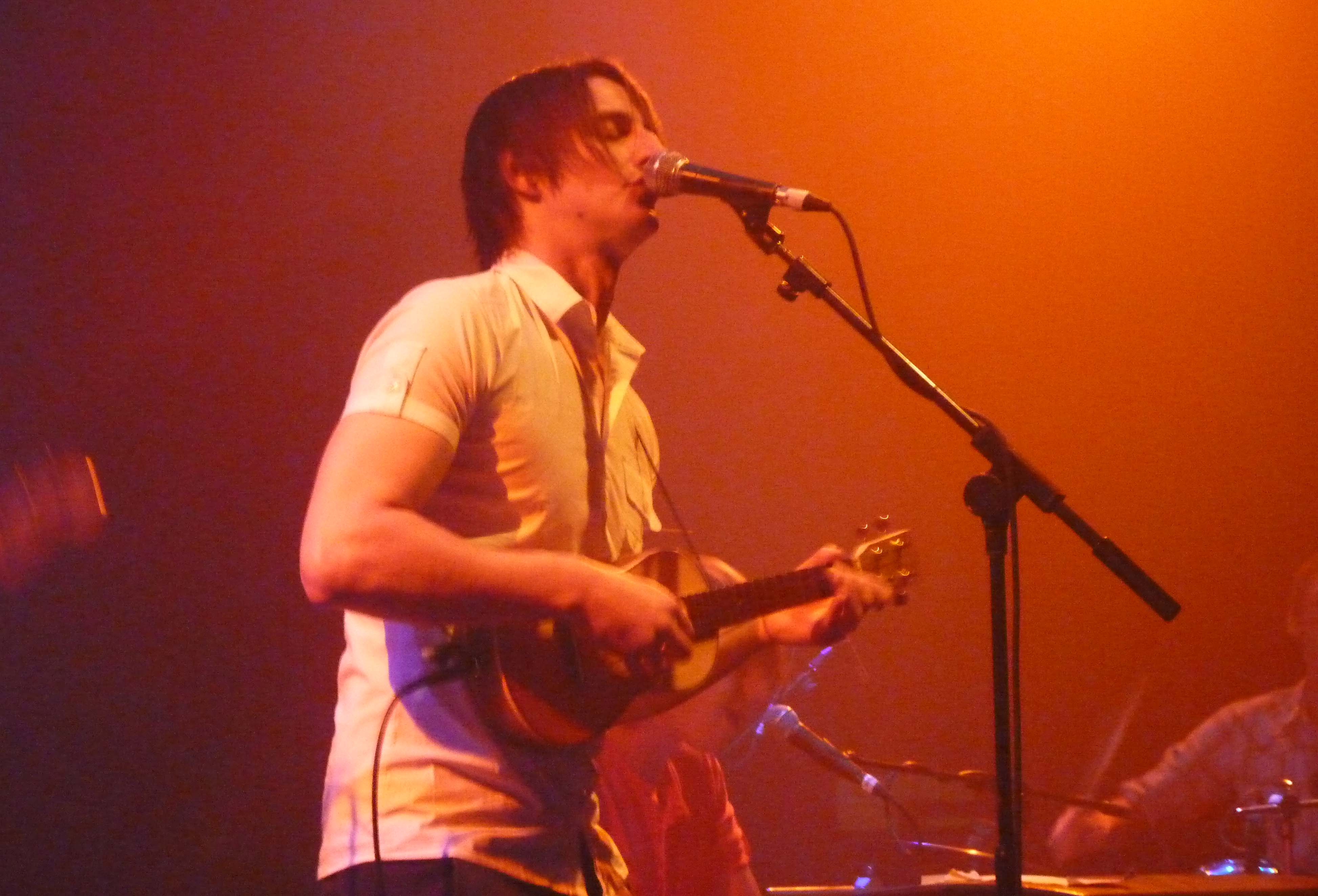 We stayed around for the next band, local heroes The Leisure Society who gave a triumphant rendition of a few songs from their well-received debut album The Sleeper, including this year's Ivor Novello nomination, but not last year's one which started them on the road to… well, some more recognition. I was hugely impressed with their set since, as much as I like their record, I sometimes feel that it's a little too restrained, wheras live they're not afraid to crank it up a bit. The sound is just more meaty and the it feels like they're putting in some passion and getting out a lot of enjoyment. They play a few new songs which bode well for the new album.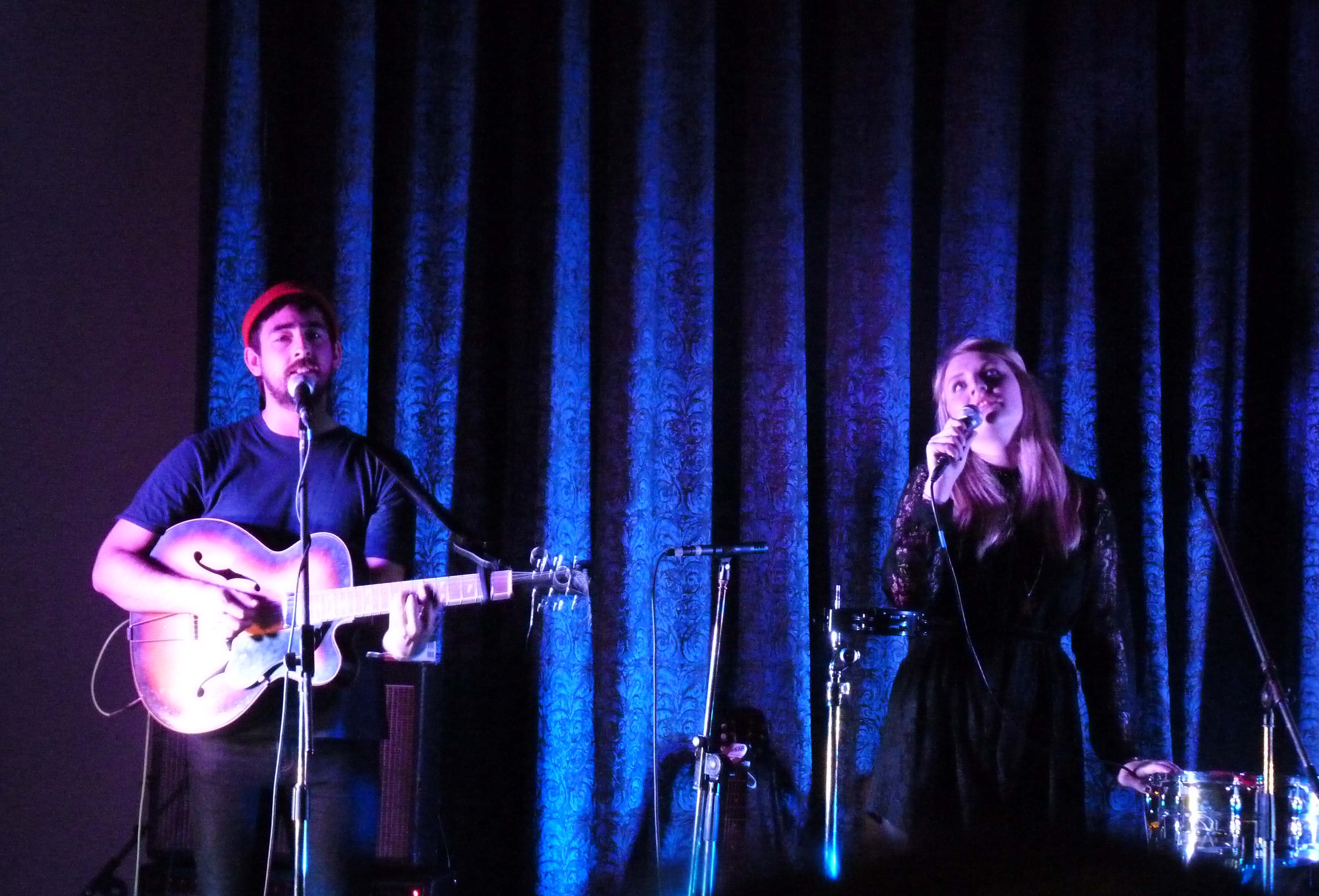 Almost across the road, the Unitarian Church as proving a popular destination to see Slow Club and we were the very last people allowed in, cramming in the doorway to see Charles and Rebecca starting off at a grand piano at the back of the church before making their way to the stage to perform crowd favourite from their debut album, and a fair few new songs too. I admit that I've been ambivalent about Slow Club in the past, but on this evening I was totally won over. A lot of this was to do with Rebecca - her voice is a lot better than I realised and when it was allowed to shine, almost a capella on a new number, it was the spine tingling highlight of their set. Plus her homely, informal Yorkshire charm is disarming and endearing. And of course, they've got some great songs, not least penultimate banstormer Giving Up on Love, one of the finest indiepop tunes of recent years.
And that was it. Not that there wasn't anything else on. We waited too long outside The Hope, at the mercy of an infuriatingly officious bouncer, to see The Jim Jones Revue, before giving it up as a dead loss and heading down the hill only to wince at a far longer queue to see Cornershop in The Pavilion Theatre. No chance. We couldn't be bothered to walk to the Duke of York cinema for some after-hours sets, so it was a case of retiring to an old man's pub for an ale, and home. Still, my first Great Escape was a great day out. This could be an annual outing.
mp3: The Shoes - Bored
mp3: Erland & The Carnival - My Name Is Carnival
mp3: Slow Club - Trophy Room