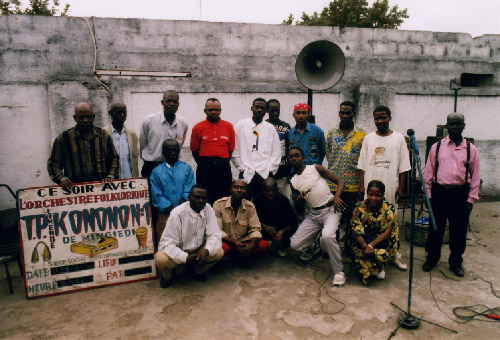 Here's my review of the new Konono No.1 album, which first appeared on Bearded. Speaking of which, have you seen their new website? It's good.
The tale of Konono No.1 makes a pleasant change from the usual band formation story. You can guess what that is: something like "we met at uni, found we were all into Sonic Youth, played a few gigs and now we're recording our first single". I see your standard tale and raise you this: "we formed sometime in the 60s (no-one's sure quite when), wanted some sort of amplification for our thumb pianos, so we made some microphones from magnets salvaged from old car parts, and plugged them into amplifiers. For our rhythm section we used some other stuff we found like pans, pots and car parts. Then we brought in three singers, three dancers and a sound system."
Sorry if I'm putting words into the mouths of legendary Congolese group, but that's the gist of their amazing story, one which continues to this day and sees founder member Mingiedi approaching 80 and only just passing the soloing baton to his son. Remarkably, this new release is only their second proper album (not counting a 2007 live record). It was recorded in their home town of Kinshasa by Congotronics series producer Vincent Kenis, and amusingly features electric guitars and bass played by neighbourhood musicians from a young Konono covers band.
If you're familiar with their 2005 album Congotronics, you'll know exactly what to expect with Assume Crash Position: the unique sound of the likembés (thumb pianos), a bit of distortion, some lovely singing and harmonies, chanting, carnival whistles, and a lot of brilliant percussion. The latter is where Konono is strongest, when they lock themselves into a groove and just keep going. Some of the tracks are long enough ('Konono Wa Wa Wa' clocks in at almost 12 minutes) but when they really get going, you wish they could just keep on all night.
However, it's the familiarity than can initially pose a little problem. The best thing about Konono No 1 is hearing them for the first time. It's the shock of the new, because it sounds like nothing else you've heard before, even if you are familiar with African music. And when you add the backstory, it's a heady sonic mix. So the temptation is to come to Assume Crash Position and think it's just more of the same. And while that's true, I'm reluctant to use words like 'treading water', because who am I to use that as a slight on a band who have been producing this impressive music for decades? They just do their thing, and it works superbly well. Plus, the recorded music is likely only half the picture and it's no doubt experienced best in a big outdoor dance party. Just because there's no seismic musical shift doesn't mean that it's not terrific fun. It's DIY music of the highest order.