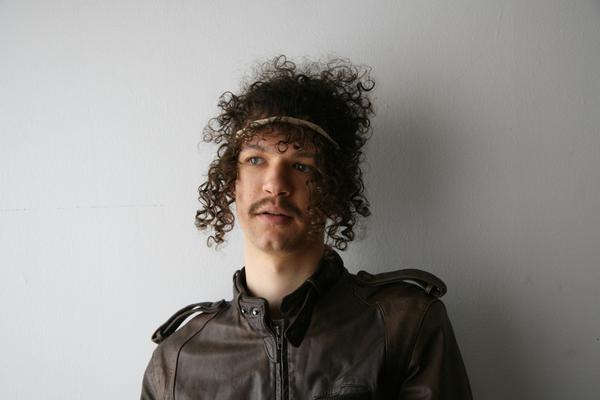 I'm a bit sheepish about this one. Mainly because Darwin Deez is a star and answered by seven silly questions super-quick and it's taken me a month to post them up. So apologies to the curly haired one. Although I'm a slowcoach, speed is the order of the Deez game right now - you have to be fast to catch him. He's upgraded from little indie venues to the likes of Koko with nary a paise for breath (actually, I think he was there when he responded). What next? Summer festivals - he's all over them like a rash. A nice, breezy, spiky new wavey pop sort of rash though. You won't mind catching it.
Oh, and that's the second time in successive posts that Mystery Jets Two Doors down has come up. Spooky.
1. A song that's been in your head today
Talking About a Revolution is on in the club right now while Hurts is setting up their assloads of gear.
2. A song that's inspired you to do what you're doing now
The Love That I Crave by The Blow
3. The best song you've heard in the past week
Two Doors Down by the Mystery Jets - I know I'm late on this one but I have a good excuse: I'm from America.
4. A song that you think everybody should hear
That Mystery Jets song.
5. Something that you're enjoying playing live
The guitar part for forthcoming b-side Hey Mom, which is usually challenging, but since tour builds up my chops, it's pleasing to be able to rock it.
6. Tell us something about a track from your new album
Deep Sea Divers was the first one I wrote and I used it as the blueprint for the rest of the album.  I'm very proud of it.
7. A song from an album that you're enjoying just now
No One Else from Weezer's blue album.  We can only listen to familiar musics [sic] in the van because the motor is so fucking loud. It only leaves a few dB for the treble to creep through.
Darwin Deez - Deep Sea Divers by LuckyNumberMusic
Darwin Deez - Constellations by LuckyNumberMusic
Darwin Deez is out now on Lucky Number. Buy from Pure Groove.