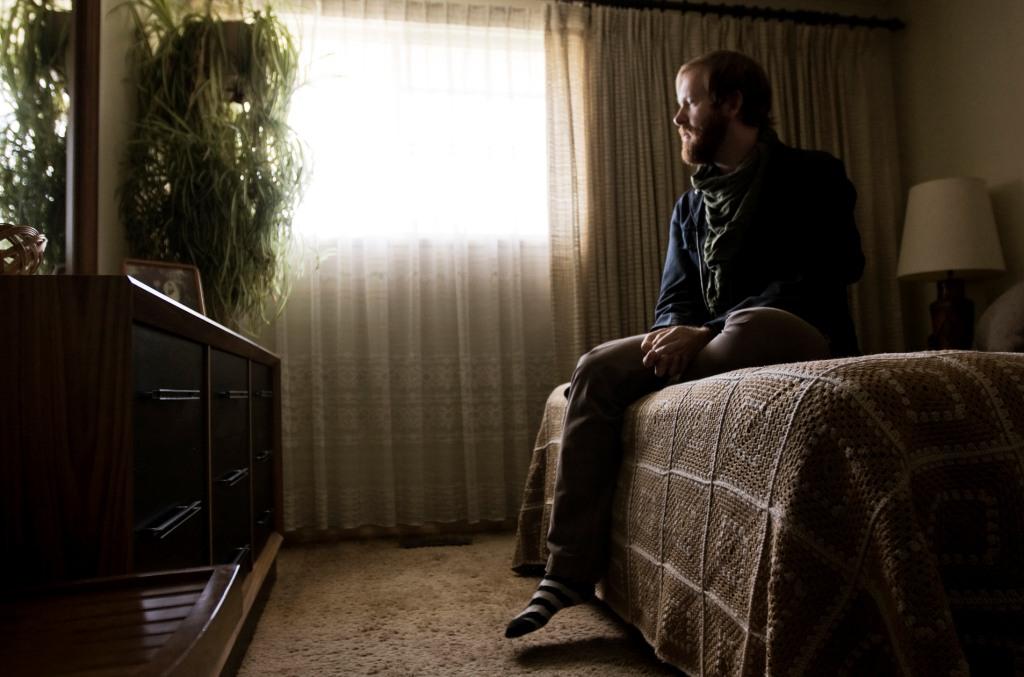 Woodpigeon's new album Die Stadt Muzikanten is probably their best yet. Or at least their most consistently good. Even though it clocks in at a hefty 16 tracks, there's little let-up in the quality. We know what to expect from Mark Hamilton and his merry band of Calgary musicians - sweeping string-laden indie-pop with bolstered with gorgeous harmonies and a easy way with sweet melancholia. - and this album fulfills all these promises. But it also seems to take things up a notch - where I've sometimes found them a little restrained in the past, here they're not afraid to let loose and crank up the volume. And with songs like Empty Hall Sing-Along and The Street Noise Gives You Away, they have some of the best they've ever recorded. I got a little glimpse of what's behind this surge in goodness when I asked Mark a few rudimentary questions during a lull in his European tour.
What lies behind the album title?
It's based on a German folk tale called De Bremen Stadtmusikanten. I thought it looked better as three words with a  'z'. I'm not sure how many Germans I've annoyed with that
How would you compare Die Stadt Muzikanten with your previous albums?
It's a definite progression from the first two, and an attempt to stretch out as far as I can with the kind of epic orchestral folk stuff we've been doing from the start. It's a nice way to end a chapter — it's my indie rock The Royal Tenenbaums, I suppose. A lot of characters, a large over-arching story, and a big finale ending with everyone singing along.
How's the tour going?
Well, it's over now for a couple of weeks. I'm on the island of Gotland by Sweden. It's a beautiful place. Playing a lot of piano and working on a couple of things while I've got a couple of days here. I'll be back playing live in Germany with The Acorn in a couple of weeks' time. Looking forward to switching things up into the solo mode for those shows again.
I know that Woodpigeon can be anything from you alone to a whole stage full of people. How do you balance the fully orchestrated sound on record with the demands of touring far from home?
At the moment I'm really lucky to work with people who are capable of not only playing multiple instruments, but of making big sounds with those limited means. Foon [Yap] alone can create a massive sound with just a violin, a delay pedal, and a loop station. I also like the idea that the live versions and presentations are quite different than the solo in-studio stuff. I spend months working on those records putting every piece in its place, and then everything changes once I play along with other musicians in the rehearsal room. Another important aspect of Die Stadt Muzikanten is that I want to start making records in a more live-off-the-floor kind of way … I've experimented a bit with that so far, working with awesome producers like Steve Albini and Husky Hoskulds and Howard Bilerman at the Banff Centre for the Performing Arts in Canada … Truly mind-blowing and life-changing experiences.
Did you actually collborate with Eagleowl on Strength in Numbers? If so, how did that work?
We haven't collaborated with Eagleowl yet, but it's something I'd like to do. In fact, we're working on a split 7" featuring a new version of WP vs EO and backed up by Eagleowl's song Eagleowl vs. Woodpigeon. I can't wait.
You used to live in Edinburgh - do you get back much and have you sampled the city's current burgeoning music scene?  Do you miss anything about that city?
Something I do miss about the city (beyond the incredible friends I've got there and the sense of living in a postcard) is most certainly the music scene. It's such a thrill seeing the folks that I knew while I was in Edinburgh going on to do such awesome things — Eagleowl, Withered Hand, Wounded Knee, and on and on and on. If I was to move anywhere for the sake of music and a music scene, it would be Edinburgh.
After this European tour - what next for Eagleowl? [whoops! - my mistake - I think it was late when I sent these questions]
You'll have to ask Eagleowl that one! As for Woodpigeon, it's time to record.
mp3: Woodpigeon - Woodpigeon vs. Eagleown [Strength in Numbers]
Die Stadt Muzikanten is out now on End of the Road records. Buy from Rough Trade.