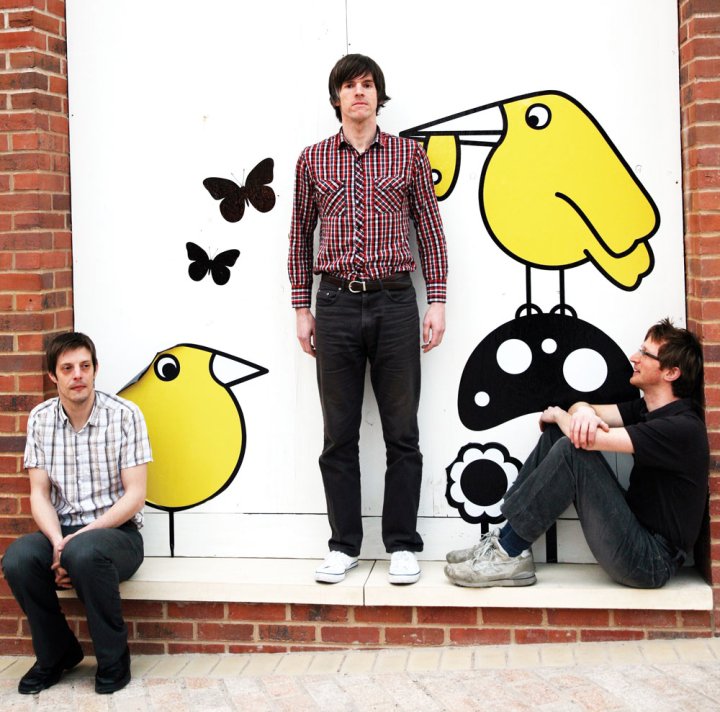 It's rare these days to stumble across a band you've never heard of before, and come away breathless and gaping at the mouth, but that's exactly what happened at End of the Road last year when my friend and I wandered into The Local tent and witnessed the live spectacle that it Quack Quack in full effect. I've rarely seen such an energetic performance, which is even more remarkable given that the band don't even have a singer. It was a riot of synths, drums and awesome Krautrock grooves which took the roof off, so you can only expect that the recorded version of the songs will be a tamer affair. Now that they've released their debut album, these songs can be fully appraised. And it's a cracking album - more restrained than the live shows maybe, but still seething with that same energy. The band have just finished a tour to launch the record, and I caught drummer Neil Turpin to pop a few quick questions.
I first came across you at End of the Road Festival last year, and was blown away by your show. Where do you get the energy to perform like that? Do you work out in preparation? Or just get really drunk?
If we're lucky we'll find time to have a band practice before a gig. That's the only preparation we get into before playing. The energy for performing live is simply stoked by the act itself. Playing live is pretty exciting! At End Of The Road, we were thrilled to be playing there anyway. The feeling coming back at us from the audience was immense and we just reciprocated.
The new album is great, but some of the tracks are less frantic than I expected after seeing you play. How important is the studio recording side of the band compared to live performances? Do you see them as different parts of the same band?
Yes, recording and playing live are different parts of the same band. They're both pretty important to us. Playing live is where we can let go. Once we know the songs well enough to depart from any concious thought about how to play them right then the music is invested with something more vital. There's more room for improvising live and the playing becomes freer. In the studio the emphasis is on trying to document the music and play it in a way that we're all happy with when we hear it played back. It's generally more laid back than the live version. The priority is to play it right, capture some energy, but hold on to the reins enough to make it endure repeated listening.
You've been around as a band since 2005, but this is the first album. Were you just biding your time or making sure that you had something amazing to release?
The new album took longer than expected mainly because we didn't have a label to release it.  Total studio time was around three weeks, spread over 18 months. Then figure in mixing, mastering, artwork and all the unseen yet inevitable setbacks and before you know it three years has elapsed. We've released a 5 song CD, a 7″ vinyl, written a steady amount of new tunes and played nearly 150 gigs in that time too though.
You're involved in other bands and projects too - can you tell me a bit about these?
Stu has recently been playing live doing a solo set involving contact mics, tape recorders and other manipulated noises. Moz plays in Two Minute Noodles, Pifco and The Declining Winter. I play in Bilge Pump and occasionally with David Thomas Broughton.
How was the recent tour? Any other live plans on the horizon?
The tour was highly enjoyable. We all shared the driving and reduced the grind as much as possible. The gigs went well and we met a lot of nice people along the way. Future plans are just being sorted out at the moment, but so far it looks like we'll be playing The Cube Cinema in Bristol on 26 June, the Incubate festival in Holland on 18 Sept, and maybe Fell Foot Sound in Cumbria on 10 Sept. It would be lovely to play End Of The Road again, but we shall see what happens…
mp3: Quack Quack - Jack of None
The Slow as an Eyeball CD is out next week on Cuckundoo Records - order the CD from their site. It's on iTunes now if you want to do the download thing.