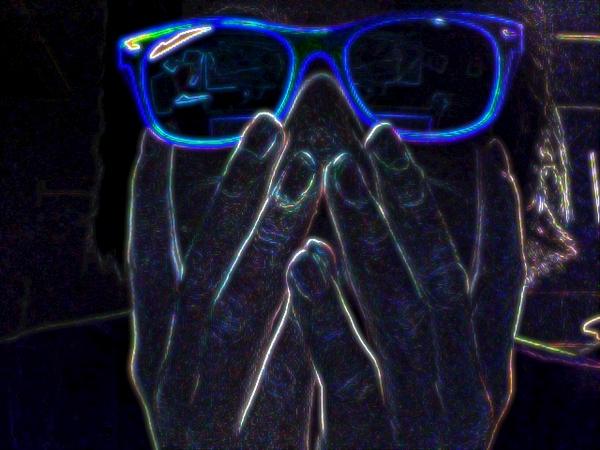 I was lucky enough to get Harry Smith's Anthology of American Folk Music as a present a few years back. It's an amazing collection and in particular, volume two may just be the greatest item of music I own. Supreme among the songs on that volume is Rocky Road by The Alabama Sacred Harp Singers, a crackly 1928 recording of this gospel choir. So I was greatly impressed to hear that this song was a major inspiration for young Joseph Denney, an Indiana-based student who makes music under the name Spirit Spine. The sacred harp influence may not be immediately obvious, especially if you're hearing his warm, melodic bedroom electronica and thinking that he's coming across like a lo-fi Panda Bear, or a less glitchy, singing Gold Panda (although I may just be saying the latter just because his new EP is released on the same label as Quitters Raga last year). However, it's clear that Denney is a man of very good taste who's bringing all sorts of impressive influences to bear on his music. With one LP under his belt already, there's no doubt a lot of interesting and excellent stuff to come.
After the jump Joseph gives me seven songs and waxes lyrical over all his choices. His enthusiasm is infectious. It's hard not be inspired to check these tracks out. And his own music of course.
1. A song that's been in your head today
Born Free by M.I.A - When I first listened to it I remember how excited I was when I kept hearing all these new things like the drum kit intro and the Suicide sample. I was listening to Ghost Rider earlier that day and then I heard her sample it and I was like "Ahhhh!!!! That's so awesome!" It's almost like thrash music. I didn't think the music video was that great though. I wish it was more violent. The fat security guy who goes "Woo!" at the beginning was cool though. The rest was just "Meh…"
2. A song that's inspired you to do what you're doing now
Rocky Road by Alabama Sacred Harp Singers - I first heard the song on a mixtape Avey Tare from Animal Collective made and it was amazing. I actually bought the Anthology of American Folk Music that the song comes from. That song made me decide to make the album that I'm working on right now. Not just the song, but the raw quality of it makes it sound so unique. It got me listening to Sacred Harp music and got me started in a new direction musically. I have about 35 songs in a playlist that I listen to that help me shape the album. It's got some John Fahey, Nick Drake, and two Beck songs.
3. The best song you've heard in the past week
Summer Majestic by His Clancyness - It starts out like a normal surf rock or garage rock song with the drum beat and guitar line, but then there's this awesome chord change, or I don't know what it is, at 35 seconds in where it adds this new, unexpected layer to the song. The singer kind of sounds like John Maus in some parts, which is a good thing. It's really catchy too.
4. A song that you think everybody should hear
13 Angels Standing Guard Round the Side of Your Bed by A Silver Mt. Zion - I've gone on late-night walks where this song comes up and it's one of the most emotional things I've ever listened to. I've cried listening to this song, but I can't pinpoint why. I'll be happy if I can ever make anything half this beautiful.
5. Something that you're enjoying playing live
No Psychic - I've only played this song once, but the live version is completely different from the version that got released. When I exported the different parts of the song to my sampler it was really boring to play. So I changed it up and sampled Nine Inch Nails, 2 Isaac Hayes songs, Solomon Burke, and The Crystals. It got turned into this song that sounds like Thom Yorke's solo stuff mixed with some new age synths mixed with like, Moby or something. I'll post eventually on my blog or something, but as a new song. It's weird because that's how the song Orange Glow was made. It was originally a live rendition of my song How Soon? but it got turned into something else.
6. Tell us something about a track from your new album
Feels Like It Everyday - The background ambience and the synth melody in the song is actually just the melody from the song before it, India Electric, played backwards. Pretty sneaky! There's also a backwards vocal in it that says something like "Hey, how was the album? That's nice. Go make something too." I don't remember what I said exactly.
7. A song from an album that you're enjoying just now
Pimeankarkelo from Laulu Laakson Kukista by Paavoharju - This is another song that's in my new album playlist. The album came out in 2008 and the band is a group of ascetic Christians from Finland. When I listen to it I imagine it's an old radio broadcast being picked up by aliens somewhere. Like if they tuned into Earth's radio signals that's what they'd get. It fades in and out from static to electronic orchestras and vocal lines with nature sounds. The whole album sounds just like a weird radio broadcast. I highly recommend it.
mp3: Spirit Spine - Slept Away
Crashers (Highs and Lows) is out now on Make Mine. Buy from Bleep.