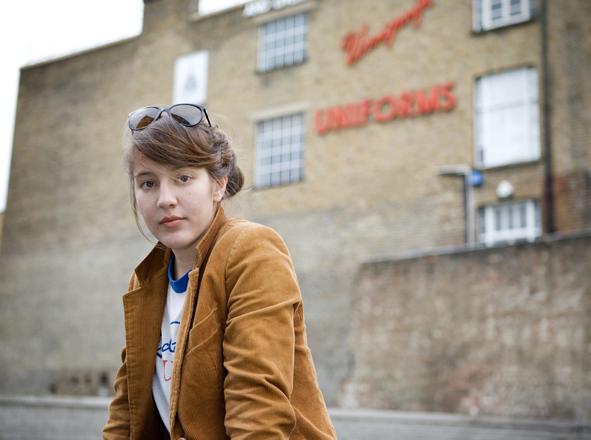 Caitlin Rose is back. After a brief sojourn in London at the end of last year into which she managed to cram in a good number of gigs, she's back in the capital for three shows next week, starting at The Black Heart next Tuesday. The most interesting one of the trio though has to be the show at the Screen on the Green in Islington where Caitlin is performing before a screening of Terence Malick's Badlands - one of a series of live music / film combos put on by the good folks at The Local. There's a new album from Caitlin coming in the autumn, so for the moment these gigs are your chance to hear the new songs that aren't on her cracking debut Dead Flowers EP. Sorry people outside London, she won't be round your way just yet, but will be back later in the summer for Green Man and End of the Road at least.
Caitlin, bless her, not only answered my seven questions, but also gave me Youtube links to her choices. So read, then watch. And enjoy - thse are some good tunes.
1. A song that's been in your head today
Thelonius Monk in 1948 doing I Should Care. This or Lilac Wine by Nina Simone is usually in my head.
2. A song that's inspired you to do what you're doing now
Going To Georgia by The Mountain Goats - I used to cover it with an ex-boyfriend. Singing this song with him was the best I ever felt doing anything up to that point in my life.
3. The best song you've heard in the past week
Estranha Forma de Vida by Amalia Rodrigues - something about a stubborn, bleeding & independent heart.
4. A song that you think everybody should hear
Sylvia's Mother by Dr. Hook. The owner of my favorite bar makes customers play this on the jukebox. Maybe it's because he thinks everyone should hear it too.
5. The last song to make you cry
Avalanche by Tristen. I was telling my mom about a new song that my friend, Tristen, wrote called Avalanche. It makes me cry every time I think about it.
6. A song that you're enjoying playing live
Spare Me is the most fun to play live.
7. Tell us something about a song from your new album
New York is an entirely true story.
mp3: Caitlin Rose - Answer In One Of These Bottles
Dead Flowers is out now on Names. Buy from Rough Trade or download from bandcamp.
Some of the seven songs also in this Spotify playlist.