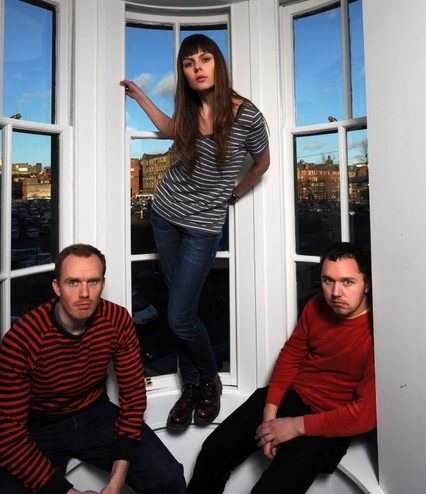 It's taken me a while to get into the new Sparrow And The Workshop album. Not because it's weak - far from it. I'm sure that it's one of the best debuts I'll hear all year. The problem I initially had was that after falling in love with the Glasgow-based three piece's two EPs last year, it was odd to hear most of the songs from these records re-ordered and combined with a sprinkling of new tracks. It felt disjointed, not like a new album. But I'm all over that now. Thanks to having it on regular digital rotation, I'm properly feeling it and it's a cracker which just keeps getting better. A good old-fashioned indie rock album with great tunes and a real kick. To find out a little more about it and what the band have been up to lately, I had a quick word with Jill O'Sullivan, the band's frontwoman.
I saw you in a great show at The Slaughtered Lamb in November, but you've played a lot of gigs since then - how have they gone?
Wow, thanks so much. It's funny, but being on the road make days, weeks and months blend together, the Slaughtered Lamb gig feels like ages ago. We're just finishing up our tour with Idlewild right now (and sad to be leaving). Idlewild are awesome guys and a brilliant band, their live energy is great so we have learned a lot from them. The fans have been surprisingly nice, there's always a fear that people with boo us because we're just the support band but it hasn't happened yet, in fact, people have been really encouraging.
How did you decide which songs to go on the album? How do you feel about is as a new entity?
The EPs came out as we were writing the songs on them, and so we were just going with the flow at the time. But we always wanted to put an album out and we wanted it to be something we were really really proud of and so when we started recording some new songs with Paul Savage it seemed like the time was right, our label offered to help us put out the album and we were ready to do it and felt confident with our choices, we re-recorded The Gun and I Will Break You and a few others because we felt our performances had improved, and we picked our faves off the two EPs plus added three new songs. And voila, it's finally out there!
My favourite new song is Mercenary - can you tell me a bit about it?
Aw cool, Mercenary is a funny one because sometimes we joke it's two songs in one, since the second half kicks in with the sort of country ballad with the slide and all. But it's loosely about misguided people who have no sense of individual responsibility and take their cues from elsewhere.
It looks like you haven't been in Glasgow very much lately. What do you miss about it?
There is a new expressway being built by our house so we love coming home and seeing how much longer the road stretches, I know Nick misses this… I can't speak for Gregor, but I miss going to the cinema and walking through Queens Park. I'm sure that he misses his good coffees from Where the Monkey Sleeps.
mp3: Sparrow & The Workshop - The Gun
Crystals Fall is out now on Distiller Records. Buy from Rough Trade. The band are currently touring Europe with The Brian Jonestown Massacre, but are back in the UK for a load of festivals in the summer. They play the Water Rats on 1 June.