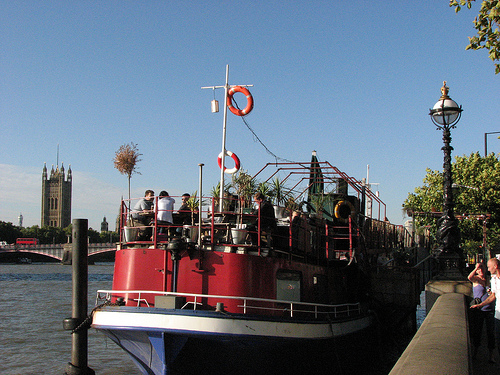 It's sunny, it's spring, so time to head down to the river. If you'd like some live music while you're there, how about The Tamesis Dock, a converted, 1933 Dutch barge, now doubling as a bar-restaurant and a gig venue. And starting next week, there's a whole bunch of Daily Growl-friendly shows, put on by ace London promoters God Don't Like It.
Stuff coming up that I'm particularly interested in includes Liz Green, Tristram and the debut gig and album launch by The Climbers. I know I've gone all Willkommen Collective on your asses lately, but it's worth bigging up this one a little, as it's another project featuring the ubiquitous Nick Hemming. Here though, him and Christian from The Leisure Society are performing the songs of the band's ostensible leader Tim West. And very good they are too, or at least the two I've heard. The album is out on 31 May on Wilkommen records so we can judge for ourselves. Or head down the the riverbak between Lambeth and Vauxhall bridges and find out in person.
Check these
28 April
Mary Hampton, Rachel Dadd & Emaline & the Emboldened Wanderlust.
5 May
Tristram / Thee Single Spy / Jamie N Commons
12 May
Peasant, Jerry Desicca (The Black Swans) & Line and a Dot:
19 May
Liz Green, Laura Hocking & Little Ray
26 May
Mariee Sioux, Padraig Whelan
2 June
The Climbers, Mariners Children
And no doubt a whole bunch more by the end of the summer.
mp3: The Climbers - The Good Ship
Tamesis phot by only1loopie.