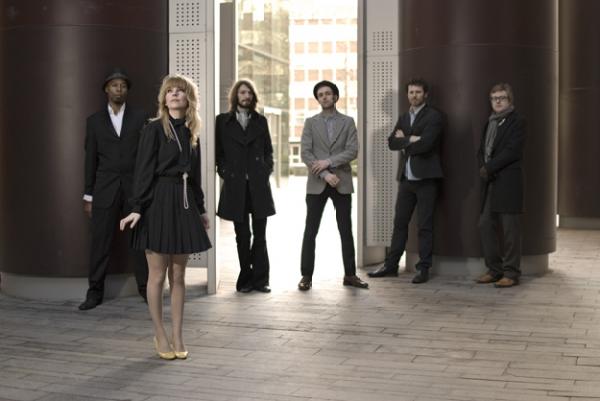 When Lucky Soul released their debut album The Great Unwanted in 2007, it got a lot of critical acclaim, but criminally it lived up to is title. Not long afterwards, songwriter Andrew Laidlaw found himself broke and living inside the band's studio, then a draught-ridden converted fire station on the gloomier side of Greenwich. Some of the resulting emotial energy from that has been channelled into the new record, which picks up there the previous record left off, and it's full of ace soul-pop songs which, though they never cross the four-minute point, are stuffed full of rollicking rhythms and soaring strings, topped off by singer Ali Howard's sweet vocals.
Andrew and Ali were good enough to answer my seven questions at the tail end of last year, but this is only being resurrected now, just in time to miss the release of A Coming of Age last week. The main reason was that I had intended to draw Seven Songs to a close, but here it is again, back and bett… erm just the same - as before. There's more to follow too, but in the meantime, here are Lucky Soul's overdue selections.
1. A song that's been in your head today
Stuck in a Wind Up by our friends, Lord Large. It's insanely catchy. (Ali)
2. A current live favourite
I like getting my teeth into The Great Unwanted at the moment, but new one Up In Flames is a stormer too. (Andrew)
3. The best thing you've heard in the last week
The XX's cover of Teardrops by Womack and Womack. It's been around for a while I know but it's the first time I've heard it in a club. They're special. (Andrew)
4. A guilty pleasure
Could It Be Forever? By David Cassidy. It's cheesy but it's a great pop record. (Ali)
5. A song you think everybody should hear
Otis Redding's These Arms of Mine. It's a masterclass in singing like you mean it and it has the power to do things to you physically. (Ali)
6. A song from an album you're enjoying just now
I'm Afraid The Masquerade Is Over by Timi Yuro (The Amazing Timi Yuro) is so melodramatic I'm surprised she doesn't faint during the song. Amazing though, imagine Shirley Bassey if you asked her to tone it down a bit. (Andrew)
7. Tell us something about a track from your new album
A Coming of Age is the title track from the new album. It's a big Scott Walker /Edith Piaf thing and already it's been likened to a classic James Bond theme tune. Hopefully more Goldfinger than Die Another Day.
mp3: Lucky Soul - A Coming of Age
A Coming of Age is out now on Ruffa Lane Records. Buy from Rough Trade or download from emusic.