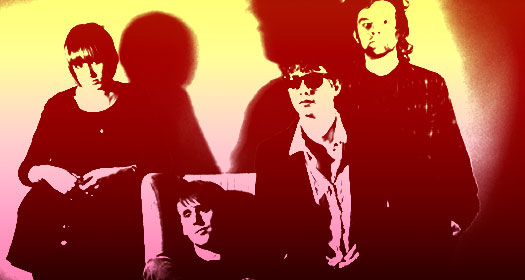 There's a lot of great fuzzy lo-fi indie pop around at the moment, but one mark of quality among the masses is Captured Tracks - the Brooklyn label run by Mike 'Blank Dogs' Sniper. He's already snagged our Veronica Falls and Spectrals, and the latest noisy Brits to release something on his label are South London quartet Dignan Porch, who according to their PR live in "unfashionable" Tooting and practice in the upstairs bedroom of band members Joe and Sam Walsh's parents' house. In the first of a new feature on The Daily Growl, I caught up with Joe to ask a few daft questions.
So what's with the name?
Dignan = Name of a friends dog. Porch = The porch of a house. Overall vibe = dog on a porch?
Are you still rehearsing in the upstairs bedroom your parent's house? Any plans to move?
Sometimes we go there to rehearse because there is a drumkit, but we dont live there anymore. I'm considering booking a rehearsal at a proper studio, otherwise we may never get around to working on new songs. We rehearsed at my flat a few times but we got complaints from the neighbours and the police. The lady downstairs made it very clear that she thinks our music is really awful.
How have your recent gigs gone?
Absolutely awesomefully. Apart from a weird one at Bardens where there was hardly anyone there. but even that was still fun.

How did the Captured Tracks thing come about? Did Mike Sniper woo you with limos and mounds of cash?
Mike offered me a red pill and a blue pill, i ate the red one and woke up with a 7 inch in one hand and an album in the other.
Is your lo-fi sound a circumstantial necessity or an essential aesthetic?
I think it is how it is. I recorded the songs on my Tascam 8 track and Mike said he liked the recordings and wanted to release them. We never considered re-recording in a studio. What's the point? You record something, decide it's done, then move on. The first recordings are always the purest, most honest. We are going to record in a small studio next, the fi will be upped, but not too far, we like working quickly.
Tell us three great things about Tooting
1. Pepperonicino, the pizza place owned by our neighbour Zak. He feeds us when we are drunk. 2. Gilbey Road, home of Dignan HQ, come round, we have a box of wine on the go at all times. And we have pet rats. 3. The Tram and Social, a late night bar that used to be a tram shed where they stored trams.
mp3: Dignan Porch - As You Were
The On a Ride 7 inch is out now on Captured Tracks. buy from Rough Trade, and pre-order their LP Tendrils.