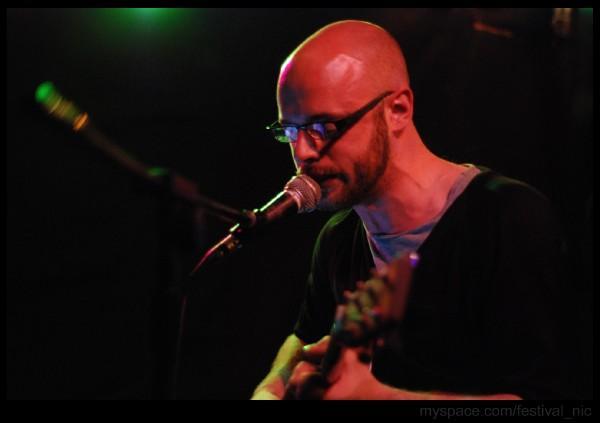 My four-month gig drought was finally broken on Saturday night at the Slaughtered Lamb. I've been itching for a while now, but in a way, it had to be Meursault. Not only because I think they're one of the best bands in the country right now, but also because despite them playing a handful of London gigs in the past year, I've managed to miss all of them. Not any more.
They didn't disappoint, although it felt like they weren't firing on all cylinders. The band was slimmed down to a four-piece and it was a gig of two halves, which in an way seems to sum up the strange beast that is Meursault. A few songs of ferocious electronics and thumping bass - A Few Kind Words being a particular stand-out - followed by some more acoustic and almost unamplified. The one common feature of both though is Neil Pennycook's voice - a strong, mournful howl that is the passionate heart of all the songs.
I only wished they'd been able to play for longer, because with two covers in the set (Daniel Johnston and Withered Hand) there wasn't enough room for more of their own brilliant tunes. And there are plenty of them around - especially with a new album on the way in a couple of months time. The new numbers sounded impressive and the appetite for the album was well and truly whetted. As was my appetite for more gigs. I see they're back in London in June. I may well have to make a date.
mp3: Meursault - A Few Kind Words
mp3: Meursault - Red Candle Bulb
Buy Meursault records and CDs from Song, By Toad. Speaking of which it was good to see Mr and Mrs Toad (Matthew and Kate) at the gig, shame I had to dash off at the end. At the start of British Summer Time, losing one hour's sleep was enough already.