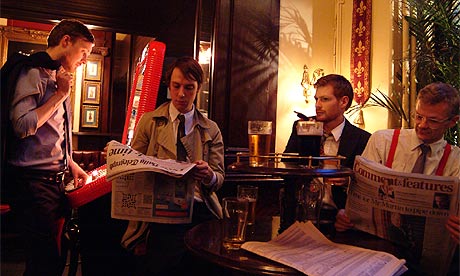 It's shaping up to be a good year for old Beta Band fans. Not only do we have the long-awaited return of Steve Mason. And surely we're due another Aliens album? But even better than these, we have Django Django. Since the various members of the great defunct outfit won't be wanting to retread former glories, there's no other band out there channeling prime-era Betas as brilliantly as Django Django. I'm sure they're tired of the comparisons, but hey, its a very good thing. Their new single WOR/Skies over Cairo is probably the best record I've heard all year. I have to stop listening to it at work, otherwise I'll be reprimanded for standing on my desk and punching the air. Although I'm a little late catching on (I've posted one of Django's remixes, but never listened to their own material till recently) I'm really quite excited about this band, you may have guessed. Beta band or no, it's going to be a good year.
mp3: Django Django - Love's Dart
The new single is physically released at the end of the month, but you can get it now by ordering from Django's bandcamp page. 7 inch or download, plus previous single Storm/Love's Dart to download.