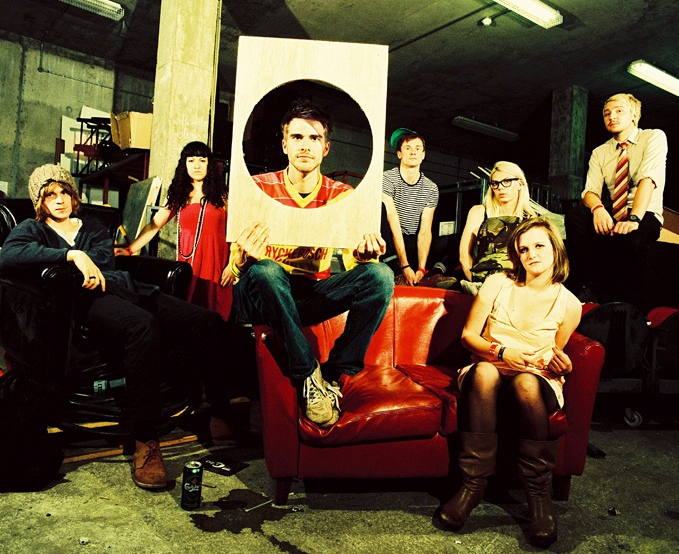 It'll be no surprise to anyone that having a new baby in the house is not conducive to a gig-going habit. But although night-time pursuits are off the agenda for now, any withdrawal symptoms I have are being staved off by Pure Groove's lunchtime gigs. A couple of weeks ago I went to see Broadcast 2000.
I already had their self-titled debut album on regular play and had really warmed to it. Joe Steer's fine songwriting abilities were established on 2008's Building Blocks EP, and are confirmed again. But it wasn't just his knack for a tune that stood out on the new record, it was the song's arrangements that lifted them from the merely good to the exceptional. And seeing them live, it was even more apparent. Joe has gathered an excellent band around him, and everything worked perfectly, from the string section (two violins and a cello on this occasion), through the percussion to the gorgeous harmonies and backing vocals. And something I've never seen in any other band before - a guy whose only job is to play glockenspiel, which he does spectacularly well. For a few short songs, as the band played unamplified in a silent and reverent bar, everything seemed sublime. If this is the sort of thing I can get for lunch, I can hold off the evening gigs for a while longer.
mp3: Broadcast 2000 - Rouse Your Bones
mp3: Broadcast 2000 - Pep Talk (acoustic)
The album Broadcast 2000 is out now - buy from the band's website. They've also got a 'superfan bundle' including a t-shirt, badges and erm, a baseball cap. Or download it from emusic.
By the way, Rouse Your Bones is from the new album, the original version of Pep Talk is on Building Blocks.