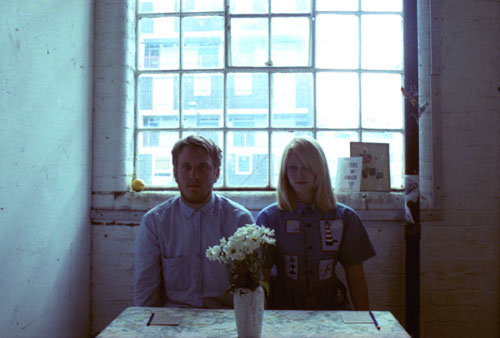 Victoria & Jacob are messing with you. They almost had me fooled. Take a look at the picture and remember their name. You're thinking whimsical acoustic-folky stuff aren't you? No? What's that - electro pop? Surely not?  Well, not quite, that's a bit misleading. Don't expect to throw any dance moves, but do expect to be seduced by some woozy synth-infused melancholic pop music in which they mess about with voice manipulation without veering towards the horrors of autotune. New single With No Certainty is a good showcase for what they do, with its filtered samples and easy, laidback melody. And the dreamy slow-building b-side There's a War might be even better.  Now that you've read this, Victoria & Jacob may not have the element of surprise, but they'll still win you over.
mp3: Victoria & Jacob - Clash
mp3: Victoria & Jacob - With No Certainty (Bright Light Bright Light Uncertain remix)
The single's out on 5 April on Voga Parochia, which brought you the wonderful Feet to the Sky by Lulu and the Lampshades. Buy the seven inch from the label's myspace. I'm not posting the single tracks for obvious reasons, but you can have their previous single Clash and a remix of the new a-side.