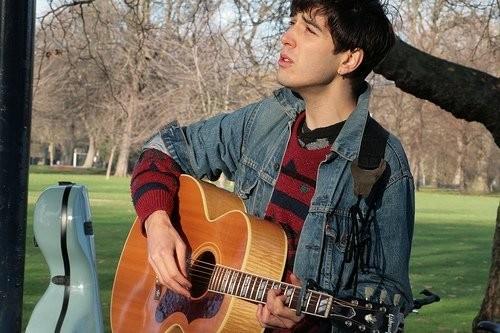 It seems like another age now, but back in early January I spent a very pleasant half hour one lunchtime at Pure Groove watching Tristram play a sparkling lunchtime set. My memory is a little clouded, but through the sleepless haze I can remember the place being unusually full for an artist that wasn't very well known, and being solidly entertained by Tristram and the band (who share his name it seems) with their lovely acoustic folky pop songs.
There was a song about how Tristram will save you from a zombie holocaust, delivered so beautifully and sincerely that you really believe that he will. He's got a song about a getting his bike nicked. And he's got a nautically-themed one called Someone Told Me a Poem, which is actually out this week as a single and only 300 lucky people can have a physical copy. So even though although my Tristram blog post is long overdue, it's now oddly timely. I'm expecting good things from this young chap. It's hard not to like him.
mp3: Tristram - Someone Told Me a Poem (live)
This mp3 is taken from a short set recorded live at a gig in Brighton by Jonathan of the Assistant Blog. He has five more tracks on his blog post which reviews a Brighton gig last year - go get 'em. And while you're on Tristram internet business, make sure you order one of the EPs.