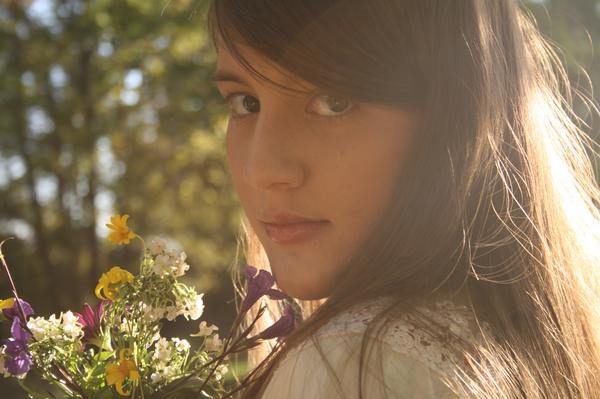 I had heard good things about Caitlin Rose before, but my first live encounter was still startling. Sandwiched between two Local stalwarts at their Christmas bash in December, her voice stood out starkly - pure, clear and strong, singing her fine songs and a few choice covers, all with a distinctly country feel. The set was sweet and way too short, so the least I could do was rush to purchase a 10 inch mini-album from the good lady herself after the gig, and she was lovely too. Turns out that this record was only officially released this week, so what better time to post this interview I did with her a few weeks back, before I got distracted by all things baby. After the jump, Caitlin talks giant stilettos, learning to howl and dreaming of Big Ben.
I saw your gig at The Local Christmas bash at the Big Chill House in December. Great set. How was your little festive tour of London? What was your favourite thing about our city?
The shows were great. I didn't get to do much sightseeing, but I loved all the phonebooths and this giant sparkly stiletto heel outside a theatre that was put up for Adventures of Priscilla Queen of Desert.
I bought your vinyl EP at that gig. I like it a lot, and maybe because I listen to quite a lot of female folky stuff, it's been a refreshing change to listen to a proper country singer instead. Do you see yourself as a country singer?
I don't consider myself a proper anything because I don't want to have to sing one thing. I want to sing all things. Country music is beautiful, but it's not all I listen to and certainly not all I am influenced by.
What's influenced your musical direction? The amazing Nashville musical heritage? Music you heard growing up? Something else?
Just making music and feeling it out. Country's a good thing to cut your teeth on musically. There's a lot of funny sadness to it. More of a "well… shit." kind of attitude. When you're sad you drink a beer, write a song and say "well, shit…" Sometimes that doesn't work. More often than not. Certain things can only matter so much.
Speaking of which, who's your favourite country singer?
Today it is Willie Nelson.
What are your current musical loves?
Amalia Rodrigues, the Queen of Fado. Her voice has that same Edith Piaf songbird  quality. I've been listening to the new Deer Tick record and a whole lot of The Replacements. Also Linda Ronstadt's version of Tumbling Dice.
There's a couple of great covers on Dead Flowers. What are your favourite songs to cover?
I love to sing Amarillo by Emmylou Harris and a Dillard & Clark song that Linda Ronstadt sang on an older record called He Darked the Sun. You Are My Sunshine is another favorite of mine.
When's the new album coming out? Tell me a little about how it came about. What songs should I pay special attention to?
We've got a week of tracking to do in February so it'll probably be out a couple months after that. Most of these songs are brand new and a couple had been previously recorded for a record that was never released. I went through a shitty six or seven months. I really learned how to howl last year and not in a musical sense. I got a few songs out of it. Shanghai Cigarettes is one of the new ones. sums it all up really.
Here's one from a friend who's known your music longer than me: did your previous band Save Macaulay ever record anything and if so, what?
Three years ago I started a record under the name Save Macaulay, but we put out Dead Flowers halfway through that project under my own name. I think I want to put out the other one and call it Save Macaulay.
When are you coming back over here again? Solo again or with a band? Which do you prefer?
I'll be returning after the new record is done. Maybe April. I always prefer to play with a band though. I will sing songs by myself, but I much prefer playing with the band. Way more fun.
I visited Nashville briefly in 2006, but my stay was too short. When I manage to get back over there, what should I check out?
My favorite bars are Dino's on Gallatin and The Melrose on 8th Ave. The Country Music Hall of Fame is pretty cool. I had a weird dream about it last night. Funny story, ever since I went to London my dream city scape has a new addition to it. Big Ben! It's so bizarre. It's half New York, half suburbs, half Nashville skyline with the clocktower right in the middle and I'm usually crossing a really long bridge on foot heading towards it all. It usually looks as far away as Oz on those painted backdrops.
mp3: Caitlin Rose - Shotgun Wedding
The Dead Flowers mini-album is out now on Names. Buy from Rough Trade.