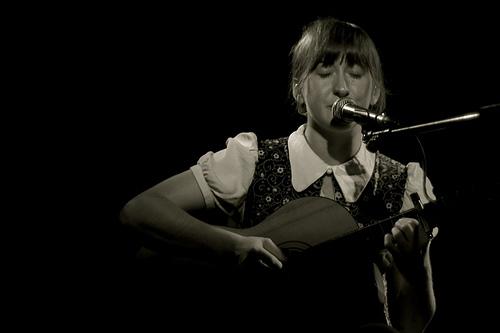 It's too late to talk about the BBC's Sound of 2010 now, but I can talk about the artists who I nominated, since none of them were popular enough to make the list. The longest shot of all three votes was Liz Green, the publicity-shy, Manchester-based singer songwriter has only released two seven inch singles in two and a half years, and is nowhere near a major label wallet. So don't expect to see her coming to an awards ceremony near you anytime soon. But do expect some brilliance in the style of a latter-day Karen Dalton, if she gets round to releasing her long-awaited debut album this year.
Two further proofs of said brilliance were found in a pre-Christmas live radio session for Marc Riley. A new song ("a true story that I read in the Metro about an old man who goes to all the funerals in his home town, regardless of whether he knows the person or not") and a stunning a capella version of a Son House song.
mp3: Liz Green - Lewis (live on BBC 6 Music)
mp3: Liz Green - Grinnin' in your Face (live on BBC 6 Music)
Buy Liz's records from her label, Humble Soul.