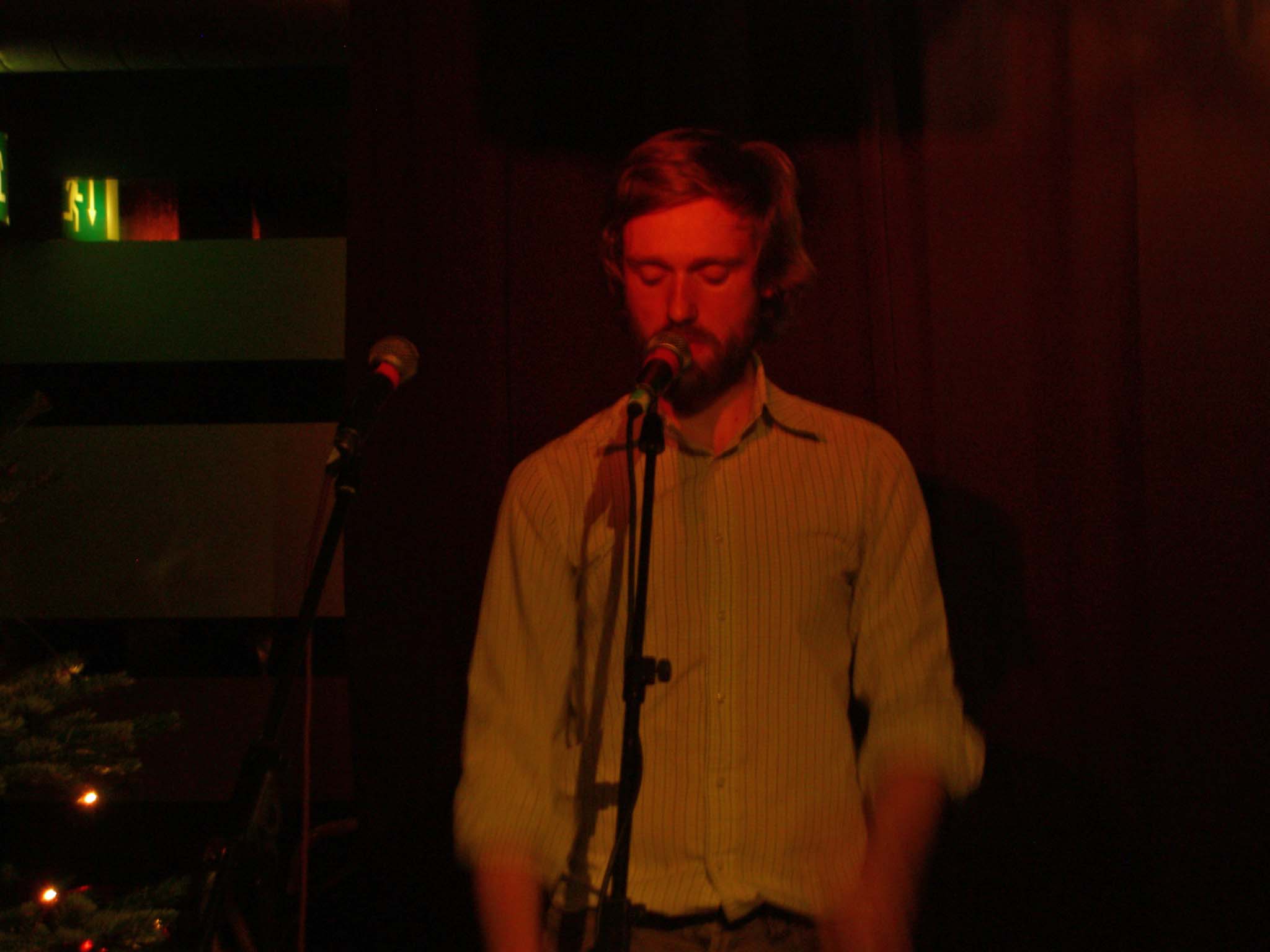 It's a Friday night in Kings Cross. Downstairs, weekend revellers are getting busy to some quality dance beats, but we're upstairs in the appropriately named 'Snug', complete with Christmas tree, having a singalong. "Jesus, won't you come my way" sings the bearded guy on stage, and the small, select audience joins in at his invitation. Nervously at first, then a little more enthusiastically as the song goes on. It's a bit strange, but maybe oddly fitting, given that this evening is billed as a Christmas Party. Reason for the season and all that…
Anyway, the bearded dude is one Eoin O'Ruainigh, playing under the name Oh Ruin, and he's good. Seated and plucking at an old guitar, his music is warm, engaging and literate. I'd never heard of him before, but he held the early crowd silent and reverential for the duration of his set. He played way more than the three songs on his myspace, and with an EP coming out he's one to watch out for.
Next up was Caitlin Rose, rounding off a short, 5-day tour of London, brought over by Names Records (the evening's co-hosts, along with The Local) who've just given her 2008 EP Dead Flowers a UK release and will be putting out her new album next year. For someone who had succumbed to food poisoning the previous day, she was in fine voice. That's her best feature - clear, strong, high vocals, which suit her music perfectly. Whilst I was enjoying her short set,  I suddenly realised that I had been missing something. I seem to spend a lot of time listening to female folky types, which are all fine and good, but I've been lacking a proper woman country singer lately. Sure, it got my friend and I wondering what happened to Laura Cantrell, but Caitlin's stuff is strong and more than a suitable replacement. Her set, featuring her own songs and covers - is short and lovely . She even gets in the Christmas spirit with a cover of Willie Nelson's Pretty Paper. She'll be back early next year with her band, but the simple beauty of this solo performance will be hard to beat.
After Caitlin finished, a lot of people left. More fool them, not hanging around for David Thomas Broughton. His approach may be a bit different to Caitlin and Eoin's, but he's still the most original performer around. After seeing him a few times lately playing with other musicians, it's great to see him on his own,  unrestrained and even more able to do whatever he wants. He plays some familiar songs, some which sound new to me, all of which are deconstructed, aided by his ever-present loop pedals, with the usual humour, self-deprecation and slight touch of madness. I could write about how he uses static as percussion and his deliberate (and hilarious) messing up of basic keyboard chords, but there's little point. It's hard to do justice to a DTB show in mere words, you really have to experience it. But there are a good few people who appreciate his wayward genius tonight. And when his set ends and he starts some crazy robotic dancing to Padded Cell's Savage Skulls, slipped on by the DJ, it feels a long way from a singalong. The party's really just getting started.
mp3: Caitlin Rose - Pretty Paper
mp3: David Thomas Broughton - Weight of my Love
Buy Caitlin Rose's Dead Flowers EP from Rough Trade, and download DTB's classic The Complete Guide to Insufficiency from emusic.