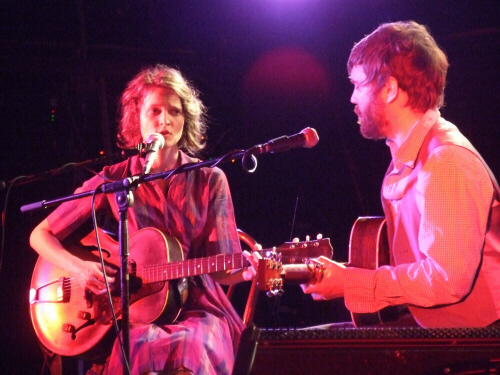 Husband-wife bands are rife across the music world. You don't have far to look to see spouses picking up instruments together, from Arcade Fire to Wildbirds and Peacedrums, from The Handsome Furs to The Handsome Family. But here's something a wee bit different - a husband and wife, both closely involved in each other's music but who both have separate solo musical ventures. And that's a good thing.
Devon Sproule is the one that you're most likely to have heard. Don't Hurry for Heaven, her fourth album, is a natural follow-on from last year's Keep Your Silver Shined. What I like most about Sproule is her vocal style, a lugubrious drawl which wraps itself round her lyrics a little like a less-ravaged Lucinda Williams. The songs are mostly very good too - very much in in the classic Americana vein, and there's an effortless charm which make them hugely likable. My only problem with them is that I think that they sometimes feel slightly over-produced. It's kinda hard to say that, especially since it's her husband Paul Curreri on the other side of the desk, and this isn't a major label release where she's been pressed into a mould to sell more copy. So I can only assume that's how they wanted it to sound, and although it's mostly fine, having seen her live and heard her play on the radio with minimum backing band, that works much better and lets the lovely songs shine a little brighter. Sometimes the production does seem right, like on the title track with its lush pedal steel and barbershop backing vocals giving it a real old-school Nashville gloss which is very pleasing, but in other places, like on the bizarrely titled Sponji Reggae, it all ends up a bit plodding and MOR.
Don't Hurry For Heaven may have benefited from the approach Paul Curreri has taken to his own new solo album. Whilst hardly a minimal affair, things are a bit more reined in, and it's often the most stripped-back songs where it really shines (like When What You Do Don't Do It Anymore). The tracks here are tightly-focused and mostly work well, with my chief complaint only about the length of the album. There's a lot to enjoy here and California covers a lot of sonic ground, augmented by  Curreri's careworn vocals, well-constructed songs and plain old good tunes. His wife even pops up to lend vocals to a gorgeous duet take on Michael Hurley's Wildegeeses and he even throat-sings at the end of I Can Hear The Future Calling.
It's mostly good stuff, and although I think Devon Sproule has better tunes, her husband's album may be the one that lingers the longest. Some sort of combination of the two approaches could be brilliant. Who cares if they might end up sounding the same.
mp3: Devon Sproule - Don't Hurry for Heaven
mp3: Paul Curreri - I Can Hear The Future Calling
Photo from Northern Sky Photographs' Flickr.