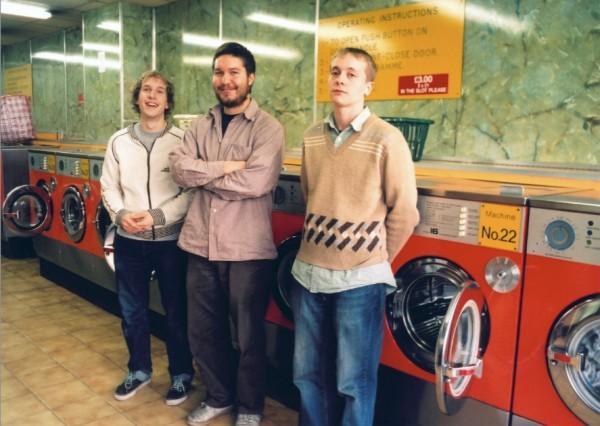 Although I've spent a lot of time bigging up The Wave Pictures in the past, I'm afraid I've been a bit lax this year. It's not like East London's kings of scruffy lo-fi pop haven't been busy, they're still plying their excellent trade in the capital's seedier venues, and they had an album - If You Leave It Alone - out this year, which I'm only becoming acquainted with now. Still, time to make amends, and the release of their single Strawberry Cables seemed like a good opportunity to get the band to come up with Seven Songs. Alas, I've missed the boat on that one too, so here I am six weeks later presenting you with the interview. But this is all my problem, the Wave Pictures are still awesome, and David Tattersall (frontman, guitar) and Franic Rozycki (bass) are decent dudes who have spent some time answering my cheesy questions. My apologies to them and I wish them a happy Christmas.
1. A song that's been in your head today
David: I AM A LONESOME HOBO by Bob Dylan
Franic: Daniel Johnston's True Love Will Find You In The End. We've just come off tour with him, and each night this is the song he closed the set with.
2. A current live favourite
David: For me to play or for me to hear? It's exciting when you hear The Fall doing Hip Priest live. For me to play, I enjoy singing many Wave Pictures songs. At the moment my favourite song to sing live is I Thought Of You Again.
Franic: You Ask Too Many Questions. We've been trying to remember to play more songs off the If You Leave It Alone album. Stanley Brinks played some of his wonderful saxophone on this one when we toured together in the last few weeks.
3. The best thing you've heard in the last week
David: I AM A LONESOME HOBO by Bob Dylan
Franic: While on tour with Daniel Johnston he wanted to listen to Queen in the tour van. There were no speakers in the back of the van, so to enable Daniel to hear in the back we had the volume pumped up to the maximum in the front. I was driving, and it was terrible. After Queen we put on the Creedence Clearwater Revival album Green River. I love that album, but after Queen it sounded even better.
4. A guilty pleasure
David: I don't think I like a song and feel guilty for liking it at the same time. I sort of either like something or I don't.
Franic: I don't think I have any. If I like like it, that's fine with me.
5. A song you think everybody should hear
David: I would like it if everybody heard I Saw Your Hair Between The Trees, which I wrote and which is on my new solo album.
Franic: Wave Pictures, by Stanley Brinks and David Tattersall. I don't think it's about the band. Saw them playing it live and it was always great.
6. A song from an album you're enjoying just now
David: I AM LONESOME HOBO by Bob Dylan. It's from his John Wesley Harding album.
Franic: L.A., by Neil Young. This is on his Time Fades Away album, which isn't highly regarded. I don't know why though. I think it's great. It's mostly a live album, and has a typically ragged Neil Young band backing him up. There are lots of great Neil Young guitar solos. And the songs aren't worse than on any other Neil Young album.
7. Tell us something about a track from your new album
David: In the song My Kiss from the album If You Leave It Alone, I sing "your father swims with the fishes" when I was supposed to sing "your father sleeps with the fishes". "Sleeps with the fishes" is old gangster slang to say that someone is dead, because they used to shoot people and throw them in the river. "Swims with the fishes" means that someone has gone swimming. This was a mistake.
Franic: Our new single Strawberry Cables is out now on Moshi Moshi records. Strawberry cables are those red licorice rope sweets
mp3: The Wave Pictures - Strawberry Cables
New single Strawberry Cables is out now, taken from their current album If You Leave It Alone on Moshi Moshi Records. The band play a Christmas gig at The George Tavern in East London on 16 December, although they probably won't be playing any Christmas songs.