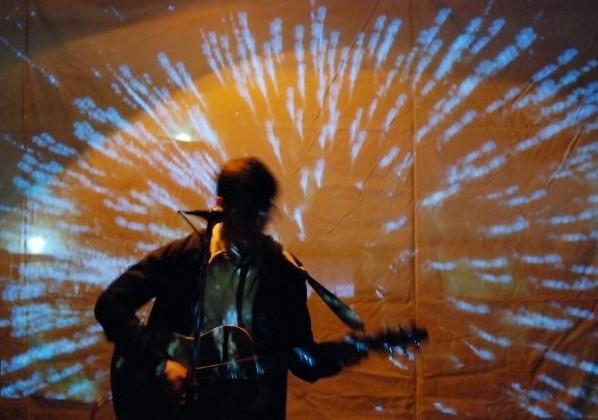 You may have heard that Jeremy Warmsley has a new band called Acres, Acres. You may have listened to the four excellent songs on their myspace or downloaded one of them from my previous post or from bandcamp. You may even be interested to find out more about the new band, in which case ta-da: here you go. I caught up with Jeremy last week to ask a few questions about ventures new and old.
You're an well-respected solo artist, why form a band?
Well, thank you Tim. Thank you, thank you. A variety of reasons. The other guys in Acres, Acres were my backing band before. We developed a 'sound' that was really quite far removed from how the songs sounded on records. That sound excited and inspired me to write a bunch of new songs that I just knew I couldn't properly do justice to alone. They needed the expansive feeling that working with other people, close friends, would bring. Also I was kind of bored of being a lone wolf. I never really expected or planed to get typecast in the guy-with-a-guitar mould (which is why my records sound like that) and I figured getting together with a band would allow people to hear the music we were making in a new light. We could just be making this same music under the name 'Jeremy Warmsley' but that wouldn't really do justice to the contributions of the other guys.
Pretty boring reasons all told. I could make up some more interesting ones. Like the guy from Fight Club told me to do it or he would come back and kill me in a month's time.
Presumably this doesn't mean that your solo career is on hold? Your recent solo tour surely dismisses that fear.
Weeeeeeeeeelllllllll……
By the way, how did tour go?
Good. I remembered how much I enjoyed holding a stage on my own, telling jokes, pulling out covers (I played two or three different covers every night to keep things fresh). It was fun. Not so busy though. Live music = the future of music my smelly bum.
Who are your Acres, Acres bandmates?
They are (alphabetical order)
Adam Beach - bass guitar. Ed Broad - drums and high singing. Hugo Sheppard - guitar, keyboards and low singing. Beach is just ridiculous. He's amazing to watch on stage, very inspiring. Also B-E-A-C-H spells out the most incredible dirgey heavy riff you ever heard. Ed hits the snare louder than anyone else and sings like a  bird. Hugo is full of integrity and can literally play anything. Good guys to be on a stage with.
Why Acres, Acres? Are you going to have to change your name when you tour Canada in case a band called Acres and Acres come after you?
We literally made a massive list of every name we could think of and that was the best. It's better than The Coral but not as good as The Flaming Lips.
What's the news on a new album? Or label? More importantly, when are we going to hear more than the four songs on your myspace?
No news to speak of. There's another three songs we recorded at the same session as the first four songs which are being mixed at the moment, although I'm not sure if we'll be sharing it with the world at large just yet. I think we're just going to take our time, write lots, and emerge a fully-formed beast when the time is right. We've got management interest and all that boring stuff going so it's all good.
Any more gigs lined up?
Yup, December 3rd we're playing the Off Modern clubnight at Corsica Studios, Elephant & Castle, London. And there are vague plans for a few regional shows in the New Year.
*****
You heard the man. If you're in London on 3rd December, head down to one of its more salubrious parts for some top quality live action. Also on the bill is Plugs.
Photo by Alex Hoban