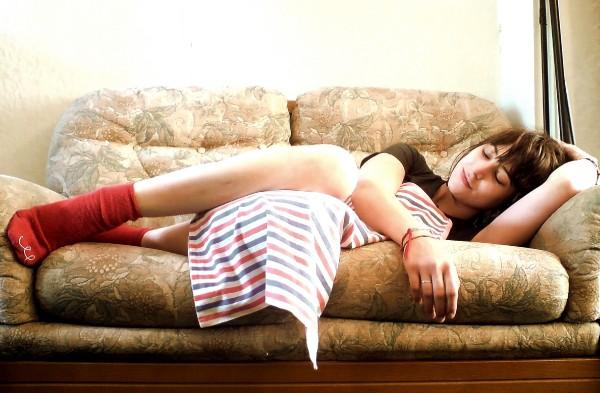 Today's Seven Songs comes from someone you probably haven't heard of, but I think you should. Line and a Dot - who is more ordinarily Sarah from Northampton - was first pitched to me by a small indie label called Things to Make and Do as new female folk artist along the lines of Elliot Smith, Alela Diane and Neutral Milk Hotel. However, what her songs remind me of most are early Emmy the Great demos.
Listening to them takes me back to the time long before Emmy got round to recording her debut album when her fans were kept happy by a bunch of demos circulating around the internets. There was a real purity to these lo-fi recordings, where in the absence of anything like arrangements, the simple beauty of the songs shone through. And it's a bit like that with Line and a Dot. There's nothing complicated here, just simple tunes delivered intimately with a lot of care and love. That she's a reluctant solo artist merely adds to the charm, as we see her taking tentative steps to developing into something which could be quite awesome. Oh, and she talks about seven songs too…
1. A song that's been in your head today
I Don't Think of You All the Time by Liam Dullaghan. This song is in my head pretty much every day, because I habitually sing in the shower… If I don't have this song in my head, you can be sure I have not showered that day, there's a little fact.
2. A current live favorite
I like covering Styrafoam Boots by Modest Mouse. Its my favourite example of their music and I have performed that song everywhere, from New York to Norway. Recently a friend, Matthew King of The Pluto Gang, saw me do this and decided to make the song a regular feature in his OWN setlist. Much to my dismay. Still, I thought 'if you can't beat 'em join 'em…' Matthew and I now perform it together, at our respective shows. The bugger.
3. The best thing you've heard this week
The new Why? record - Eskimo Snow. Yoni Wolf makes my tiny little world go round.
4. A guilty pleasure
I don't have one! There's some music I love that people consider lame, or shite, perhaps. But I never understood or cared why. I'd happily argue the coolness of any song I'm into, especially if its Dire Straits. So there…
5. A song you think everyone should hear
I'll be Here in the Morning by Townes Van Zandt and Poison Cup by M Ward. Thats two songs. 'Cause I didnt have a guilty pleasure.
6. A song from an album you're enjoying just now
Rancho Santa Fe by Evan Dando. Its from a great album called Baby I'm Bored, which came out in 2003. I must have listened to this record a couple thousand times. Last week I played it to this guy, Kevin Micka of Animal Hospital, who pointed out to me that its actually produced by Jon Brion. Jon Brion is a hero of mine. Kevin read the liner notes. I never read the liner notes.
7. Tell us something about a track from your new EP
L-O-V-E is the first song I ever wrote. I guess that was summer 2007. I used to be a very happy bass player, before the switch to unhappy soloist. This song, like all the others, was never intended to be on a record. Although releasing an EP might seem like a natural progression, its really not what I had in mind. With these songs, for me, the record thing was a bizarre outcome.
mp3: Line and a Dot - Outside The Theatre Hall
mp3: Line and a Dot - The Worst Thing You Could Do
There will be a Line & a Dot EP out next year. In the meantime, you could listen to her homemade offerings at her myspace.