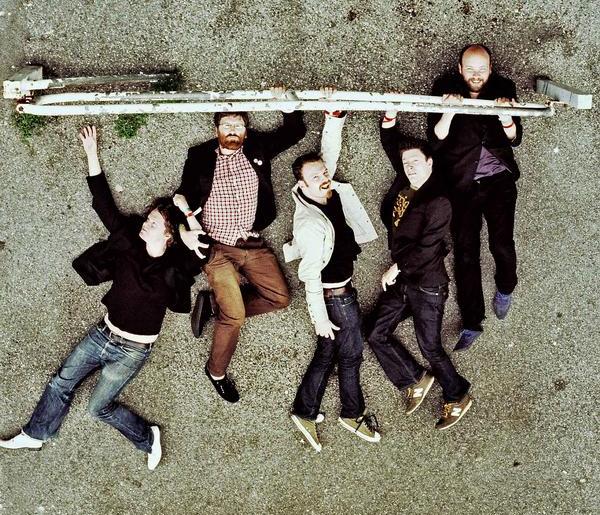 The first time I saw The Miserable Rich, one of the stand-out songs from their set was the cover of Hot Chip's Over and Over. Usually the best cover versions are those which totally re-interpret a song and somehow keep the spirit of the original intact, and their version certainly did that. Look it up somewhere, it's great.
A couple of years on, the Brighton band have a little stop-gap EP between albums, presenting four cover versions where they dress up some famous songs in their own bar-room chamber pop fashion. It's a pleasing little curiosity, and if you're interested in hearing what the Pixies, The Stranglers, Iggy Pop and Annie Lennox might have sounded like if they donned tweed and picked up a cello, I'd recommend checking it out. My favourite is the version of Gigantic, but band frontman James de Malplaquet prefers their take on Iggy and Bowie's Shades, as he explains, whilst choosing seven songs below.
1. A song that's been in your head today
A song for now - Such Trying Times by Marlene Dietrich
2. A current live favourite
Andrew Bird and Denis Jones
3. The best thing you've heard in the last week
London Girl by The Invisible. I know it's the Another One Bites The Dust thing again, but I LOVE the hi-hat groove on this one.
4. A guilty pleasure
I Would Give Anything I Own by Andy Williams. Lovely lovely - hard to believe it's the same song Culture Club set about with such fists of ham.
5. A song you think everybody should hear
Do What You Gotta Do by Roberta Flack. Proud, resilient, forgiving, strong and loving. A masterpiece of the heartbreak song genre and an exquisite vocal performance. I listen to it when I want to feel sad then happy then sad then free.
6. A song from an album you're enjoying just now
While You Wait For The Others by Grizzly Bear. Been about for a bit now, and i got into this track from a website last year. Still my favourite album of this year though.
7. Tell us something about a track from your new EP
Well, they're all covers we liked. There's one that reminds me of the National Gallery (Golden Brown) all the way through to one about a rather large male appendage (Gigantic). Someone who ought to know told me that with famous covers, you've got to take them, wrestle them to the ground, and stomp your authority all over them. We hope we've done that - but I guess there's always the one you think people might not know - one you want to make you're own by exposing to an unknowing audience. For that one, it has to be Shades. Written by Iggy Pop and Bowie, it was on the slightly dodgy Blah-Blah-Blah album from the 80s - the one with Real Wild Child on it. The production, despite some typical Bowie moves, is now really dated, but I just love the idea of this jaded tough guy rocker being absolutely blown away when his girlfriend gives him a surprise present - the very thing he wants - a good pair of shades. The character is so well drawn, and it's poignant and funny - and an absolute pleasure to sing.
mp3: The Miserable Rich - Shades
The Covers EP is out this week on Humble Soul. Buy from Play. The Miserable Rich play the following venues next month:
9 Dec Hoxton Bar and Kitchen, London
10 Dec St George's Church, Brighton