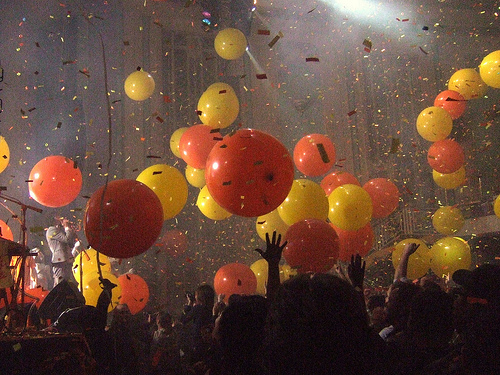 They know how to put on a show. 'Course they do. They've been doing it for what seems like decades. In fact, some may argue, they've been doing the same show for the past ten years. Now, although that's sort of true, each time they have new songs and new tricks. And even though you know all this and have seen them before, it's still a thrill when they emerge from inside a giant screen, Wayne Coyne does his giant space bubble thing, and the band open with Race for the Prize, in a riot of cannon-fired ticker tape, streamers and  balloons. So much that you almost don't notice how good that song is. Then it's on with the show as the balloons continue to bounce around the venue, old classics tumble out, the green lasers and the big gong make their appearance, and there's a lot of fun going down.
But it's not all great. Maybe we got off to a bad start, with the double whammy of not having tickets in the place they were bought for, and ending up at the back of the balcony on what must be the worst seats I've ever sat in (I mean, Mrs Growl is 5′3″ and her knees were hard up against the seat in front, so what chance did I have?). But I'm not sure it was just the mood set at the outset. The new songs, as much as I like them in the context of the new album, and despite coming across fine live, sit uncomfortably next to the older pop tunes, which most of the crowd have come to see. But the main problems for me are the poor sound and what seems like an unnecessary need for praise. We've paid £25 for tickets to see them, so why the need to desperately coax everyone with a seat to stand up and cheer? Why all the irritating false endings to illicit more claps and cheers? I mean, one may be excusable, but four or five is just tedious. And don't get me started on Coyne's between-song ramblings, suffice to say that if he had just said 'thanks' after each number, he'd probably had time to play at least one more.
On balance, it's a not a bad evening, though the plus points like Fight Test, In the Morning and a big singalong Yoshimi, were dampened a little by all of the above. And although the inevitable set-closer Do You Realize?? was a blast, and seeing the downstairs of the Troxy looking like it had been hit by a blizzard of orange and yellow paper snow was passingly amusing, our grins were far from fixed. Maybe if it had been our first time seeing The Lips it might have been a different story.
mp3: The Flaming Lips - Fight Test
mp3: The Flaming Lips - Race For The Prize
Embryonic is out now. Buy from Rough Trade. The band continue their UK tour.
Gig photo from the_junes's Flickr.