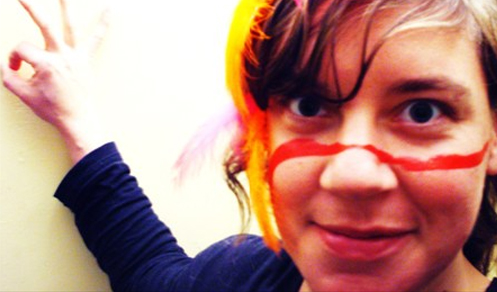 When I hear albums like this, I get convinced that there's no need for expensive recording studios, engineers, producers or any of that stuff. If you're Merrill Garbus all you need is a digital voice recorder and Audacity, or so the legend goes. Whatever the case, this is a triumph of lo-fi pop that draws from so many influences, and crams so much into 13 tracks that makes for exhausting listening at first. But after a while, the distortion and eclecticism become a familiar friend and you can appreciate just how great this album is.
This is the sound of true artist, not just making the most of what she's got, but deliberately doing things in a rougher, more immediate way. Her approach is clearly inspired by classic folk field recordings, and she even incorporates some of her own into her music, whilst gathering in fragments of everything from ancient folk music to hip-hip and R'nB, by way of Africa and plainsong. Then she assembles these, along with amazing vocals, into a beautifully ragged shape which actually makes no sense, but that's what's so good about it. I've no idea what her lyrics are about, because I've not really listened to them yet. There's so much else going on, and this record works best at that raw, sensual level. Pure oddball brilliance.
mp3: Tune-Yards - Sunlight
mp3: Tune-Yards - Fiya

Bird-Brains has been out for a while, but gets its official UK release next week on 4AD. Buy from Rough Trade. Merrill is touring North America with Dirty Projectors at the moment. She'll be back over here next year, but in the meantime I'm sating my live Tune-Yards appetite with this awesome 4AD session.