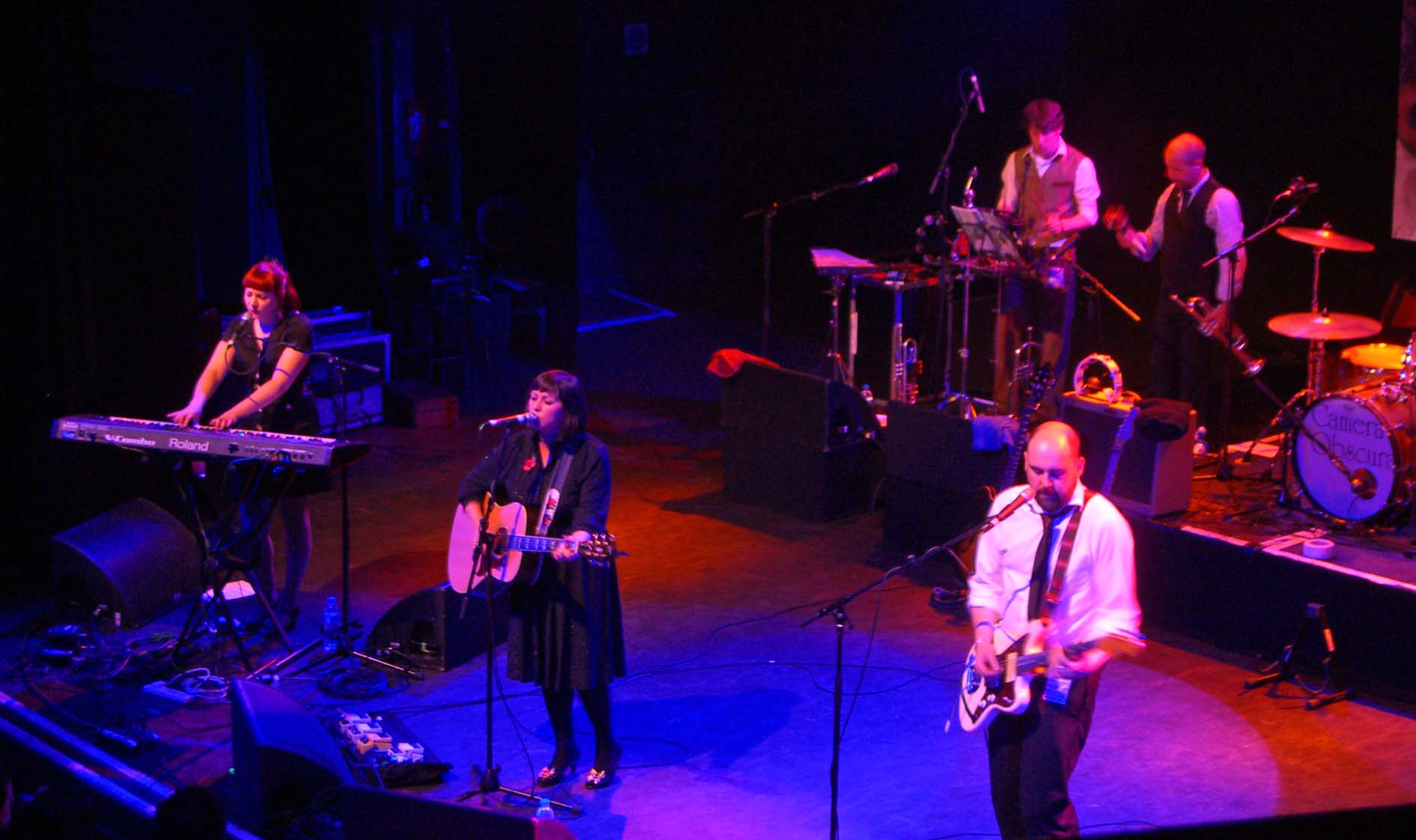 In the end the main difference is the scale. Camera Obscura put on a good show, but it's hard not to compare this gig with the previous time I've seen the Glasgow band this year. That was back in March at The Lexington when they played their first gig after recording their latest album My Maudlin Career. It was billed as a warm-up for SXSW and Traceyanne Campbell admitted to being a bit nervous, but there were only a few minor glitches, and in a cracking little venue with a partisan crowd, the gig was a blast.
Tonight is a lot different. We're in the 2000 capacity (though under-sold) Shepherds Bush Empire, and the band are down below on stage, playing their lovely songs with confidence and to plenty acclaim from the crowd packed downstairs. There are no glitches this time - they've been touring pretty much non-stop since that March gig and everything runs as smoothly as you'd expect. But that's part of the problem. It feels like they're churning the set out on yet another night on the tour, which they are of course - and it may be churlish to criticise them for doing what they're meant to do - but the gig lacks the special factor of the previous one. Sure there are some fine moments, a lot of which come early in the set as one excellent song tumbles out after another. There are a few tunes from the first two albums for the diehard fans, including a rare outing for Pen and Notebook, but most is drawn from My Maudlin Career and Let's Get Out of This Country, which is fine by me. The encore sees them cover Springsteen's Tougher Than The Rest, and close with another fantastic version of Razzle Dazzle Rose, the perfect set closer.
So plenty to enjoy, but it's the same old story. Take a band you like and put them in two different venues - one large, one small, with similar sets, and see which one you like best. I know what most people would say. And that's why this gig was good rather than great.
mp3: Camera Obscura - Eighties Fan
mp3: Camera Obscura - James
My Maudlin Career is out now on 4AD. Buy from Rough Trade. Camera Obscura's North American tour starts on 18 November in New Orleans.