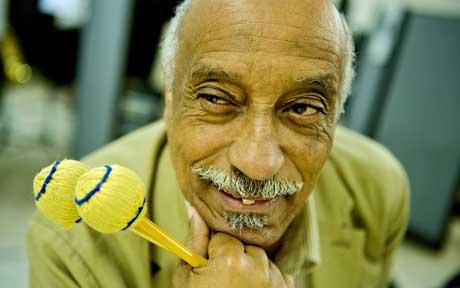 People use words like 'legend' a bit too loosely in this business. Does being able to play an instrument really well, or releasing loads of albums, or having cult appeal really make someone a legend? How about actually creating your own type of music,  inventing your own musical instrument, and being the main man of your country's music scene so much that you've had your country's ambassador dancing on stage at one of your recent gigs.
All this is true if we're talking about master arranger and bandleader, Mulatu Astatke, one of the all-time greats of Ethiopian music. After cutting his musical teeth on the London jazz scene in the early 60s, he became the first African student to attend the prestigious Berklee School of Music in Boston, and lived and recorded in New York, developing a his unique sound that fused Western jazz with traditional Ethiopian melodies, creating his own genre - Ethio jazz. He returned to his homeland in time to launch himself right into 'Swinging Addis' in the late 60s, where he became the main man in the party, hanging around even after Selassie was kicked out and the Commies closed the clubs and made fun illegal. His classic album Mulatu of Ethiopia even became a rich source of samples for hip-hop artists.
And he's still going strong today. After having his work compiled on the fourth volume of the legendary Ethiopiques series, he sprung into Western public (or at least cinema-going) consciousess in the soundtrack to Jim Jarmusch's Broken Flowers, where his song Yekermo Sew was the soundtrack to Bill Murray's travels. Last year he teamed up with London band The Heliocentrics for the awesome collaborative album released as part of Strut's Inspiration Information series. Now Strut, who are on fire just now, have compiled a proper Mulatu career retrospective with some of his acclaimed '60s and '70s recordings from the three titular cities  Now in one place, over 20 tracks, you can properly check out what this legendary dude is all about.
Sorry if this review so far has been all about the background. That's because I think some is required, but also because I'm filling up space with the facts because I haven't got to many reference points for the music to properly review this compilation. I don't listen to jazz and I'm certainly no expert on Ethiopian music, but I really like this. There's a swing and a groove to a lot of the tunes to keep you going, and if you think that the vibes - Mulatu's main instrument - is just bland hotel cocktail bar background music, then rethink. Especially when he covers in in squalling sax and a loping bassline. And even if some of the jazzy rhythms are within your frame of reference, the vocal tracks will knock you out of that zone. That's where you really experience what Ethio Jazz is all about. So whatever it is, it's brilliant. And Mulatu is a true legend, right?
mp3: Mulatu Astatke - Tezeta
mp3: Mulatu Astatke - Ebo Lala (with Seifu Yohannes)
Mulatu Astatke: New York-Addis-London is out now. Listen to some tracks here and buy from Rough Trade.