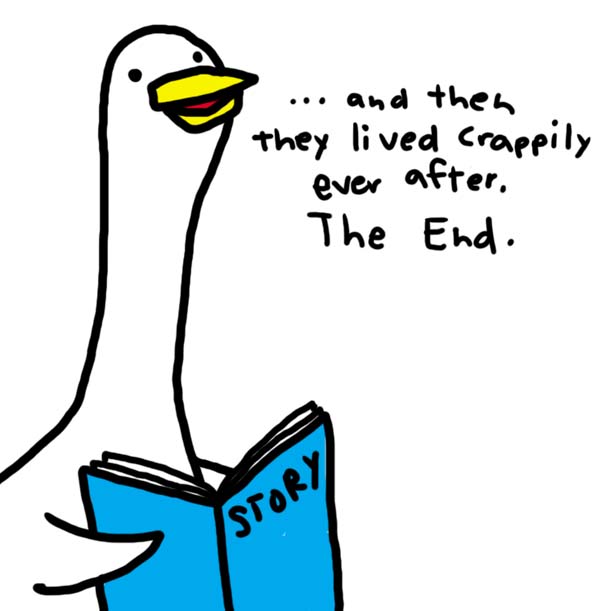 Stories are a big part of my life these days. Bedtime stories mainly, but stories at any part of the day really, as Growl Junior whets her vast appetite for books. So with two years of being softened up by children's stories, it's perhaps no surprise that I love the the b-side to Aidan Moffat's latest single. It's a story, a simple spoken word track, where Aidan reads a poem about a wee girl whose folks can't afford a dress for her school ball. It could be so mawkish, but as you might expect from Moffat, it toys with sentimentality but never tips over into barf territory. In fact, I almost shed a tear. Like I said, maybe I've gone soft, but on the other hand, as a connoisseur of children's stories, I might know what I'm talking about here. It's wonderful.
This got me thinking about other spoken word children's stories in my possession. So I've pulled out a track from the album Songs For The Young At Heart, where Dave Boulter and Stuart Staples from Tindersticks rope in a bunch of guest vocalists to sing children's songs. It's a mixed bag of an album, but one of its best features is the packaging - a hardback book with a story by Jarvis Cocker about a boy who was eaten a lion. He reads the story on the album, and it's a quaint, macabre little tale.
The other track here is from Tom Waits' Orphans compilation. It's called Children's Story, but I can't imagine telling this bleak tale to any child. He's having a laugh, ain't he? Anyway, enjoy today's storytime, and make sure you're in bed early.
mp3: Aidan Moffat - The Lavender Dress
mp3: Songs For The Young At Heart - The Lion and Albert (told by Jarvis Cocker)
mp3: Tom Waits - Children's Story

Buy Aidan Moffat's Knock on the Wall of Your Womb single from Chemikal Underground.
Image via Nataliedee